1/3 籤表會出來
很快的 下週1/05又有
ATP卡達公開賽
了
這次ESPN和衛視體育台要播3項網球賽事
霍普曼盃 (沒小費的事,但時間多的人還是可以看啦)
卡達
澳網
下面是破整理的卡達公開賽時間表
播出頻道:ESPN
1/05 (一) 21:30 ~ 1/06 (二) 3:00 (LIVE)
1/06 (二) 12:30 ~ 16:30 (REPLAY)
1/06 (二) 21:30 ~ 1/07 (三) 3:00 (LIVE)
1/07 (三) 13:00 ~ 17:00 (REPLAY)
1/07 (三) 21:30 ~ 1/08 (四) 3:00 (LIVE)
1/08 (四) 12:30 ~ 16:30 (REPLAY)
1/08 (四) 21:30 ~ 1/09 (五) 3:00 (LIVE)
1/09 (五) 12:00 ~ 14:00 (REPLAY)
1/09 (五) 21:30 ~ 1/10 (六) 1:00 (LIVE)
1/10 (六) 12:30 ~ 16:30 (REPLAY)
1/10 (六) 23:30 ~ 1/11 (日) 1:30 (LIVE)
(怎麼覺得很像少一天的感覺 = =)
另外 有人想看澳網回顧的話
目前只查到1/14
播出頻道:STAR SPORTS
1/12 (一)
12:00~15:00 澳洲公開賽 2006經典賽
19:00~20:00 澳洲公開賽 2004年度回顧
1/13 (二)
00:00~03:00 澳洲公開賽 2008精英賽 MATCH
12:00~14:00 澳洲公開賽 2007精英賽 MATCH
14:00~15:00 澳洲公開賽 2004 OFFICIAL FILM
19:00~20:00 澳洲公開賽 2005 OFFICIAL FILM
21:00~00:00 澳洲公開賽 1996精英賽 MATCH
1/14 (三)
14:00~15:00 澳洲公開賽 2005 OFFICIAL FILM
19:00~20:00 澳洲公開賽 2006 OFFICIAL FILM
1/15 (四)
00:30~15:30 澳洲公開賽 2006經典賽事
07:00~08:00 澳洲公開賽 2005年度回顧
14:00~15:00 澳洲公開賽 2006年度回顧
19:00~20:00 澳洲公開賽 2007年度回顧
1/16(五)
00:00~03:00 澳洲公開賽 2008經典賽事
07:00~08:00 澳洲公開賽 2006年度回顧
09:00~11:00 澳洲公開賽 2007經典賽事
14:00~15:00 澳洲公開賽 2007年度回顧
19:00~20:00 澳洲公開賽 2008年度回顧
1/17(六)
00:00~03:00 澳洲公開賽 1996經典賽事
07:00~08:00 澳洲公開賽 2007年度回顧
14:00~15:00 澳洲公開賽 2008年度回顧
1/18(日)
11:00~12:00 澳洲公開賽 2008年度回顧
15:00~18:00 澳洲公開賽 2008經典賽事
21:00~24:00 澳洲公開賽 1996經典賽事
****************************
* 2009 澳洲網球公開賽 衛視體育台 *
****************************
(目前只查到1/26)
1/19(一)
00:00~00:30 澳洲公開賽網球 2009 展望
07:00~07:30 澳洲公開賽網球 2009 展望
08:00~16:30 澳洲公開賽 2009 男子 / WOMENS 1ST ROUND (LIVE)
16:30~20:00 澳洲公開賽 2009 男子 / WOMENS 1ST ROUND (LIVE)
22:00~23:00 澳洲公開賽網球 2009 第一天精華精華
23:00~02:00 澳洲公開賽 2009 男子 / WOMENS 1ST ROUND
1/20(二)
02:00~03:00 澳洲公開賽網球 2009 第一天夜間賽事精華
07:00~08:00 澳洲公開賽網球 2009 第一天夜間賽事精華 01:00
08:00~16:30 澳洲公開賽 2009 男子 / WOMENS 1ST ROUND (LIVE)
16:30~20:00 澳洲公開賽 2009 男子 / WOMENS 1ST ROUND (LIVE)
22:00~23:00 澳洲公開賽網球 2009 DAY第二集精華
23:00:02:00 澳洲公開賽 2009 男子 / WOMENS 1ST ROUND
1/21(三)
02:00~03:00 澳洲公開賽網球 2009 NIGHT第二集精華
07:00~08:00 澳洲公開賽網球 2009 NIGHT第二集精華
08:00~16:30 澳洲公開賽 2009 男子 / WOMENS 2ND ROUND (LIVE)
16:30~20:00 澳洲公開賽 2009 男子 / WOMENS 2ND ROUND (LIVE)
22:00~23:00 澳洲公開賽網球 2009 DAY第三集精華
23:00~02:00 澳洲公開賽 2009 男子 / WOMENS 2ND ROUND
1/22(四)
02:00~03:00 澳洲公開賽網球 NIGHT第三集精華 (同日延播)
07:00~08:00 澳洲公開賽網球 NIGHT第三集精華
08:00~11:00 澳洲公開賽 男子 / WOMENS 2ND ROUND (LIVE)
16:30~19:30 澳洲公開賽 男子 / WOMENS 2ND ROUND (LIVE)
22:30~23:30 澳洲公開賽網球 DAY第四集精華 (同日延播)
23:30~02:30 澳洲公開賽 男子 / WOMENS 2ND ROUND
1/23(五)
02:30~03:30 澳洲公開賽網球 NIGHT第四集精華(同日延播)
07:00~08:00 澳洲公開賽網球 NIGHT第四集精華
12:00~16:30 澳洲公開賽 男子 / WOMENS 3RD ROUND (LIVE)
16:30~17:30 澳洲公開賽 男子 / WOMENS 3RD ROUND (LIVE)
22:30~23:30 澳洲公開賽網球 DAY第五集精華 (同日延播)
23:30~02:30 澳洲公開賽 男子 / WOMENS 3RD ROUND
1/24(六)
02:30~03:30 澳洲公開賽網球 NIGHT第五集精華 (同日延播)
07:00~08:00 澳洲公開賽網球 NIGHT第五集精華
16:30~20:00 澳洲公開賽 男子 / WOMENS 3RD ROUND (LIVE)
1/25(日)
01:00~02:00 澳洲公開賽網球 DAY第六集精華 (同日延播)
02:00~05:00 澳洲公開賽 男子 / WOMENS 3RD ROUND 03:00
05:00~06:00 澳洲公開賽網球 NIGHT第六集精華 (同日延播)
07:00~08:00 澳洲公開賽網球 NIGHT第六集精華
08:00~16:30 澳洲公開賽 男子 / WOMENS 4TH ROUND (LIVE)
16:30~20:00 澳洲公開賽 男子 / WOMENS 4TH ROUND (LIVE)
22:00~23:00 澳洲公開賽網球 DAY第七集精華 (同日延播)
23:00~02:00 澳洲公開賽 男子 / WOMENS 4TH ROUND
1/26(一)
02:00~03:00 澳洲公開賽網球 NIGHT第七集精華 (同日延播)
07:00~08:00 澳洲公開賽網球 NIGHT第七集精華
08:00~14:30 澳洲公開賽 男子 / WOMENS 4TH ROUND (LIVE)
16:30~20:00 澳洲公開賽 男子 / WOMENS 4TH ROUND (LIVE)
22:00~23:00 澳洲公開賽網球 DAY第八集精華 (同日延播)
23:00~02:00 澳洲公開賽 男子 / WOMENS 4TH ROUND
來源:
STAR SPORTS、ESPN網站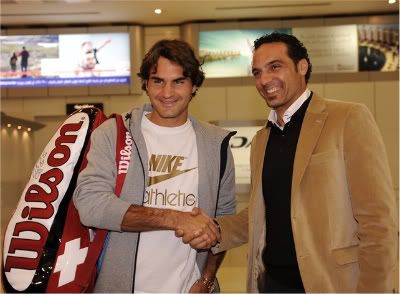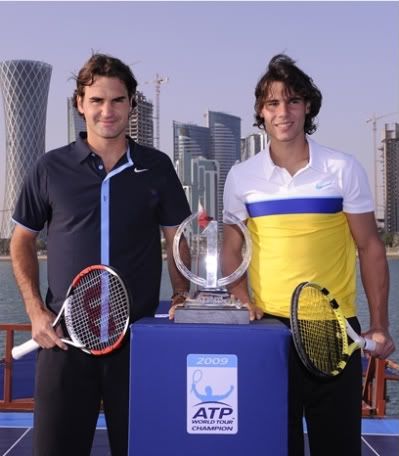 ---
小費感覺很有自信呢~
Roger Federer is one Grand Slam title away from of Pete Sampras' record of 14.
DOHA, Qatar - Former No 1 Roger Federer believes he can dominate men's tennis again.
The 27-year-old Swiss star, who is one short of Pete Sampras' record of 14 Grand Slam titles, said he is looking forward to a big year in 2009.
"This could be a very meaningful season for me,"
Federer said.
"I can equal Pete Sampras' record. I can add another Wimbledon title and this is something that is very dear to me. I can also win my first French Open title, so I am looking forward to my season."
Federer was slowed by mononucleosis last year and lost his No 1 ranking to Rafael Nadal.
"I feel much better this year,"
Federer said.
"Last year, I couldn't practice the way I wanted to because of health reasons. But this year I have trained really well and I feel very confident about myself. I have less pressure now and it is not a bad thing."
Federer plays Potito Starace of Italy in the first round at the season-opening Qatar Open tomorrow as he builds toward the Australian Open, which starts on January 19.
"Obviously, I can dominate the game,"
he said.
"I have worked hard at my game and when you do that, things become easy for you. If I can play two good matches then I will feel really good going into the Australian Open."
The second-ranked Federer was eclipsed last year by Nadal, who won Wimbledon, the French Open and the Beijing Olympics gold medal.
"Rafa is my main rival,"
Federer said.
"We have been doing it for so many years and have had great matches.
Andy Murray beat Federer and Nadal last week at an exhibition tournament in the United Arab Emirates. Federer could face Murray in the semifinals here after having defeated the Briton in the US Open final for his only Grand Slam title of 2008.
雖然說了好幾次 但還是要說小費的眼睛好漂亮 眼睫毛好長 我最喜歡觀察他的下眼瞼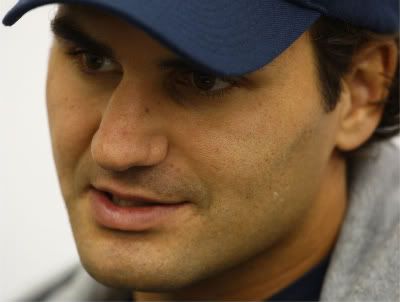 認真訓練的小費...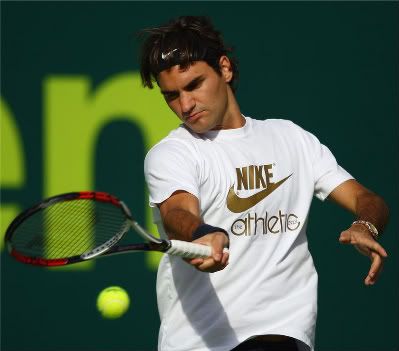 小費很開心的樣子~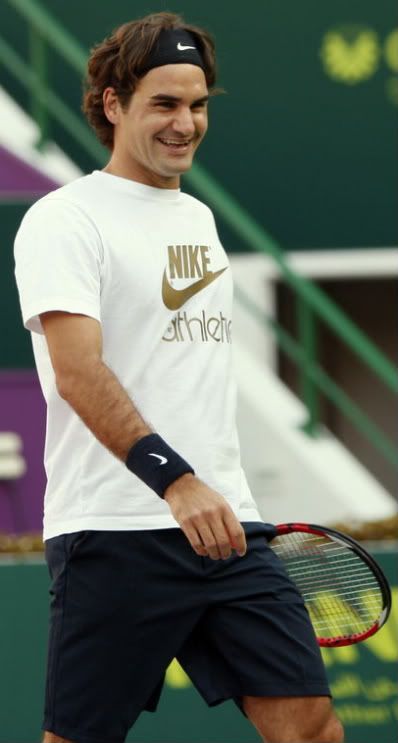 我喜歡這件T-shirt