Sweet Roger 終於來跟我們分享明年的Schedule了 ^^
有兩站是在亞洲ㄝ~ XD
01/01
Capitala World Tennis Championship
- Abu Dhabi (UAE) - [Other/hard]
01/05
Qatar ExxonMobil Open
- Doha (QAT) - [250/hard]
01/14
AAMI Classic
- Kooyong (AUS) - [Other/hard]
01/19
Australian Open
- Melbourne (AUS) - [GS/hard]
02/23
Barclays Dubai Tennis Championships
- Dubai (UAE) - [500/hard]
03/06
Davis Cup, World Group First Round
- n/a (USA) - [DC/hard]
03/09
Indian Wells
- Indian Wells (USA) - [1000/hard]
03/23
Sony Ericsson Open
- Miami (USA) - [1000/hard]
04/27
Internazionali BNL d'Italia
- Rome (ITA) - [1000/clay]
05/11
Mutua Madrileña Masters
- Madrid (ESP) - [1000/clay]
05/24
Roland Garros
- Paris (FRA) - [GS/clay]
06/08
Gerry Weber Open
- Halle (GER) - [250/grass]
06/22
Wimbledon
- Wimbledon (GBR) - [GS/grass]
08/10
Rogers Cup
- Montreal (CAN) - [1000/hard]
08/17
Western & Southern Financial Group Masters
- Cincinnati (USA) - [1000/hard]
08/31
US Open
- New York (USA) - [GS/hard]
10/05
AIG Japan Open Tennis Championships
- Tokyo (JPN) - [500/hard]
10/12
Shanghai
- Shanghai (CHN) - [1000/hard]
11/02
Davidoff Swiss Indoors
- Basel (SUI) - [500/hard]
11/09
BNP Paribas Masters
- Paris (FRA) - [1000/hard]
11/23
Barclays ATP World Tour Finals
- London (GBR) - [WTF/hard]
---
DC - Davis Cup
Other - Other
250 - ATP 250 Series
500 - ATP 500 Series
1000 - ATP 1000 Series
WTF - ATP World Tour Finals
from
RF.com
在官網看到小費迷提供的計分表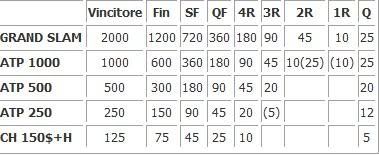 Dear Fans
It is my pleasure to inform you that my schedule for 2009 has been finalised and I am glad to share it with you. You can find it under 'schedule' or just follow the link below. I am really pleased with the season the way we have planned it and I am looking forward to an exciting year!
I am still enjoying a few more days on holiday.
It is such a treat to just enjoy the sun and the sea together with Mirka.
After that we'll start the preparations for 2009 with a training camp in Dubai. That is always very intense, but it's a vital part to a successful start of the new year - which begins very soon!
Kind regards
Roger
吼 不知道在甜蜜什麼 XD