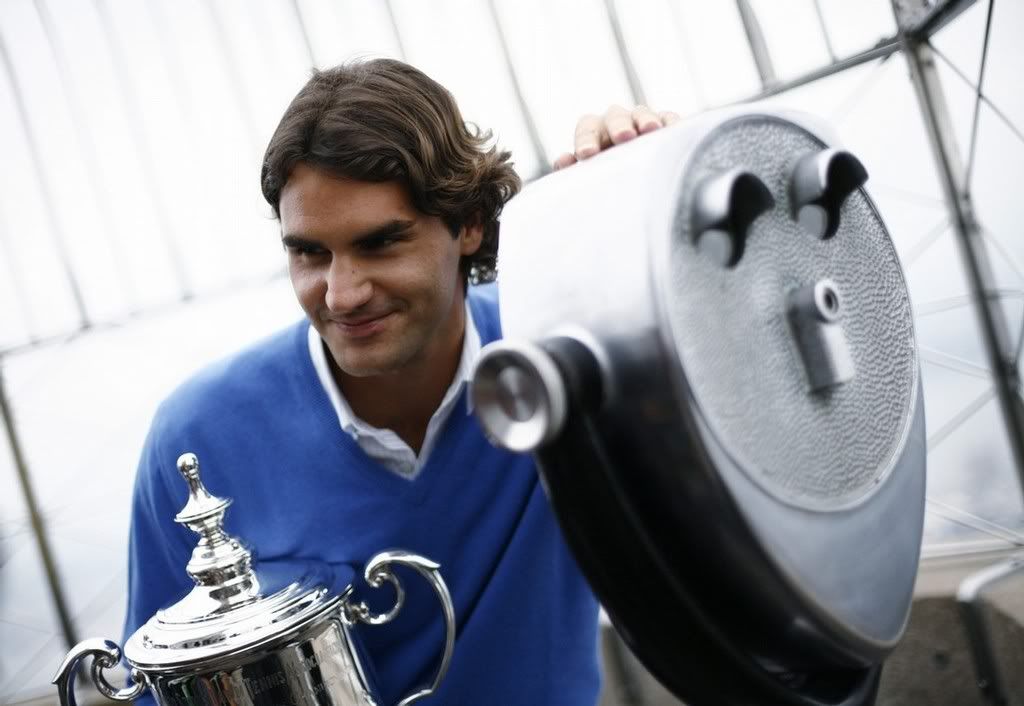 小費穿藍色毛衣 好看極了
今年看到小費
信心不斷被打擊
狀況稍有好一點後
一步步逼近目標後
總是在最後關頭被狠狠的痛擊
小費一直在掙扎 一直在抵抗
現在終於實現目標
小費的韌性 真讓人感動和佩服
奧運雙打結束後
就一直等不及要看小費美網的比賽
其實這兩週 我都還蠻放心的在看小費比賽的
第一輪 很想趕快看看他的狀態怎樣
心情比較有點起伏的 反而是第三輪的捷克選手
今年小費被打敗的那場 我有看
那天小費打得太差了 他打得太好了
沒想到美網這輪 是相反啊~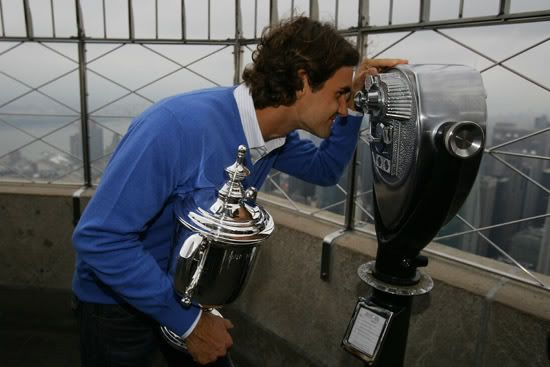 之所以可以放心的看比賽
我想除了看到小費第一輪狀況感覺不錯之外
還有就是就算情況再怎麼糟
也沒有什麼好傷心了吧
因為奧運之前的一切 都傷心過了
如果再度發生同樣的事情
就再等等吧
總之 走一步算一步
而小費的每一步 我都要看 我都要追 我都要幫他加油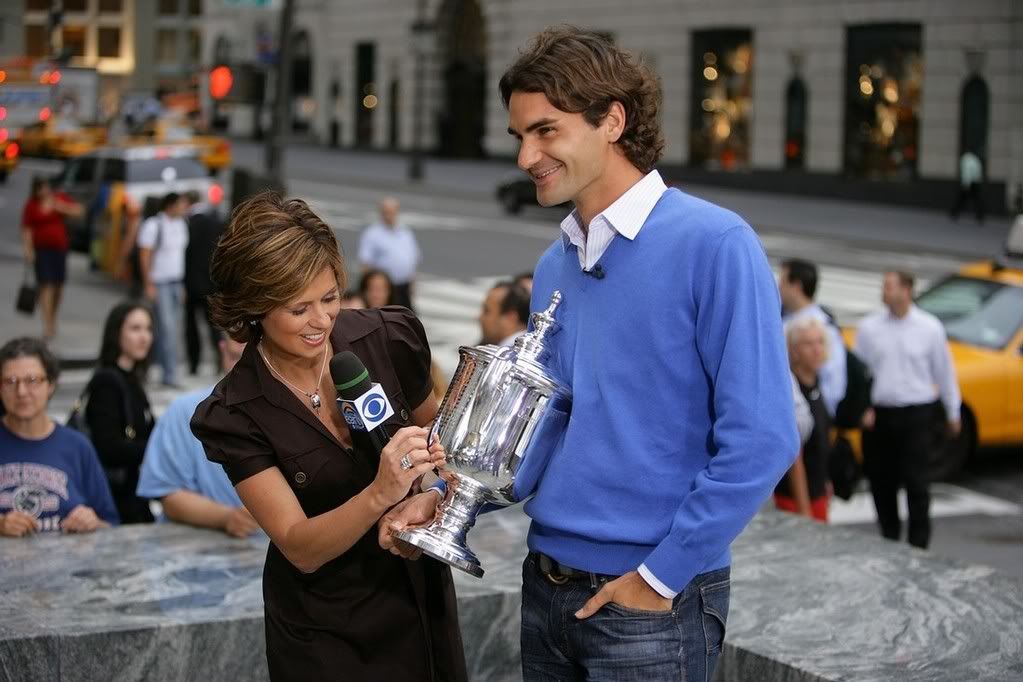 這次每當對方發球局 比分是小費落後的局面
0-30 0-40
不知道哪來的信心
我心中都會對小費大喊 跟他拼deuce啦
then 美網的小費 很少讓我失望
都會拼球拼到deuce 甚至破發
記得以前看比賽 看到0-30 就會心想 可能沒機會了
這是我察覺到小費的一點點改變
這改變 讓我更愛小費了
尤其是印象最深的在第4輪比賽中
好像是第4盤吧 對手的盤末發球局
面對0-40 小費展現了他的態度
他在拼 他在拼看有沒有deuce的機會
這很棒!
還有現在救球 也很會救
以前對方殺球 小費幾乎都會讓他過
下一分再拿就好
but這次 什麼球 能救的就救
之前溫布頓決賽 還有硬地的大師賽
小費每次救球都會失敗
現在不管是緊要關頭的接發
、對方的殺球 或是從場外打進來 還是高吊
小費都會放手一搏、奮力一擊
救球的進球率和贏分率都提高了
就像以前一樣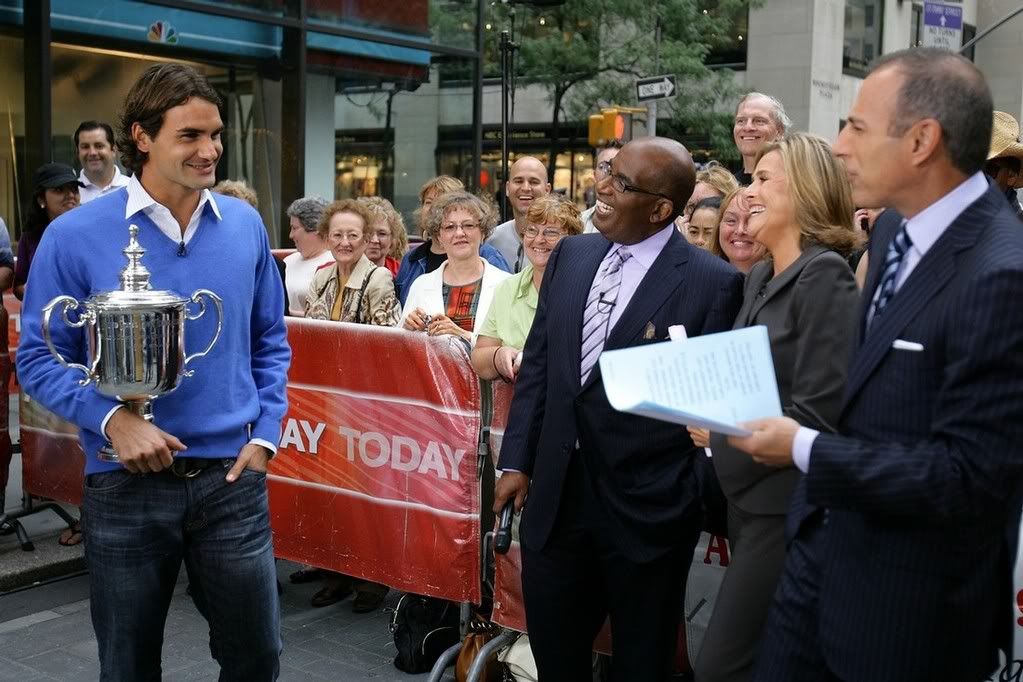 另外 感覺今年對抽不穩
反拍感覺只有在防守打回去而已
但美網的小費感覺很有耐心
反拍也偶爾會轉守為攻 變成致勝球
或者是正拍反拍變線 都不錯
以前看比賽 我老是認為小費不能跟對方抽太久
因為 我覺得最後小費一定會掛網 不然就出界
幾乎都果不其然 照著我的結局演
後來每次一抽久 我就開始緊張 甚至害怕
可是溫網的小費 好像不跟納豆對抽不行了
也因為那次決賽 讓我見到了小費的膽識和勇氣
美網小費的穩定度變得比較好
小費也很有耐心的跟對方用抽球決勝這一分
增加了我看比賽的信心啊~~~
如果對手一直狂攻小費的反拍
小費也狠狠的打回去
還不斷一次又一次的調整角度
最後來個致命一擊
再來就是放小球了
這個 不管是今年還是去年的Roger
都一樣厲害~
有時候看到對手突然放小球很氣
就會大喊:我們家小費 不怕你放小球啦!!!
敢對我們家的小費放小球 不要命啦 想白白送分是吧XD
還有 網前截擊 最快速的就是對小德那場了吧
真的有把在奧運練的都搬出來了
奧運之後 小費在場上也變得比較emotional了
我想應該蠻多人都很愛這一點吧 哈XD
有時候真的快被小費笑翻了
這麼任性 這麼孩子氣的亂用挑戰
或者緊張時刻 贏得關鍵分的歡呼舉動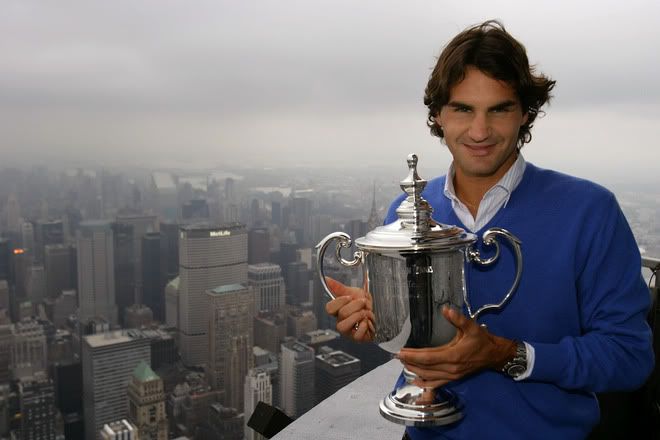 以上的這些這些
都是我們家的Roger Federer
也是我這兩星期感受到小費的一點點改變
經過美網又更喜歡小費了說
小費到底有什麼魔力 讓人一次又一次 而且越來越迷他?!
征服了紐約 征服了全世界
為什麼這麼喜歡小費 我實在無法用言語表達
只能試著描述小費帶給我的點點滴滴
這些點點滴滴累積起來 就是這個問題的答案了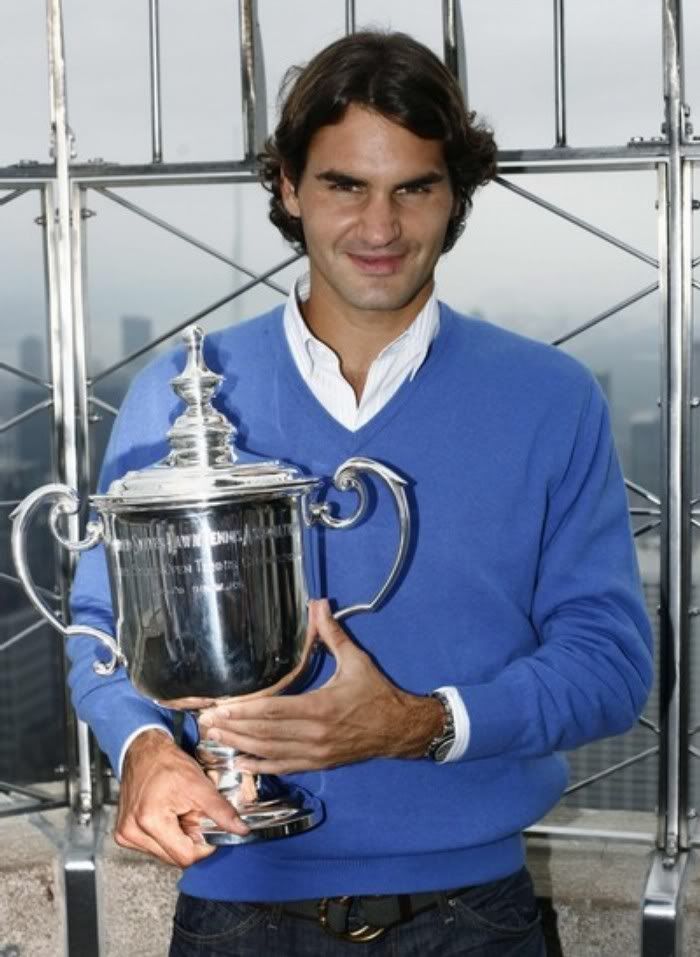 美網之路還真漫長
第一週結束時 老實說 我有種要撐不下去的感覺了
因為都是凌晨比賽啊~~~
但隨著賽事進入第二週
隨著小費一步步逼近決賽
我開始享受看著太陽出來的感覺
一天美好的開始又來了
現在開學了 前兩週累積的疲累還在
但我覺得一切都很值得
今年小費在場上遭遇到的一切
只要想到我都在 我都有參與到
就覺得很開心 很高興 不管這一切是傷心還是歡樂
看小費比賽已經變成我生活的一部分啦~
我喜歡這樣的生活
我很滿足
最後我也很想勉勵自己
要有小費的韌性、勇氣、膽識、積極和樂觀
這對我來說有難度 But I'll try it!
p.s.
我覺得美網的頒獎訪問 怎麼這麼快
溫網超難熬的啊~~~
Watch CBS Videos Online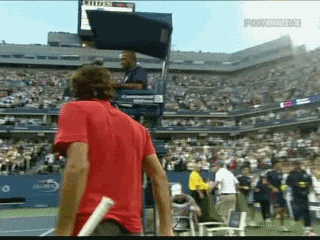 THX to RF.com - Mark
PHOTOS FROM
RF.com
 ***
Federer feels 'much better … than I ever have'
Still, plenty of people were, and he heard them. Federer delivered a response with his fifth consecutive U.S. Open championship and his 13th career Grand Slam title, moving within one of Pete Sampras' record of 14.
The response amounted to this:
Don't for a minute think I'm done.

Don't for a minute think I'm going away.

Don't for a minute think I won't be collecting more of these titles.
His play delivered that message at Flushing Meadows—particularly in one-sided victories over Novak Djokovic in the semifinals and Andy Murray in the final. Then Federer went ahead and articulated it Tuesday when asked how long he can continue to win major tournaments.
"I have the belief right now that I can do it as long as I'm healthy, really. That's the way I feel. I'm going to believe till the end of my tennis days that I probably can win a Grand Slam,"
he told a small group of reporters at the Empire State Building.
"And if it's not the case, or I don't believe in it anymore, then I'll probably retire."
Here's the really bad news for men with designs on winning Grand Slam events: Federer is healthier than ever.
Not only is his bout with mononucleosis a distant memory, but his extra dedication to taking care of his body is paying dividends.
"What I'm striving for is longevity. … I feel so much better physically today than I ever have. I mean, like, maybe this year was difficult, but right now, the day after the U.S. Open, I feel like, 'My God, I'm fresh,"'
Federer said.
"I don't have these niggling injuries any more like I used to have when I was younger. I remember I had a sore arm every day when I was 20, 21. I had muscle pain all over my body after, like, a four-setter."
He mentioned, as he has in the past, that he intends to compete at the 2012 London Olympics—tennis will be contested at his beloved All England Club—and beyond.
And why not?
He's still only 27, and unlike U.S. Open women's champion Serena Williams, who doesn't hide her interests in fashion and acting, Federer can be heard to say,
"I live and breathe tennis,"
as he did Tuesday.
"I feel, for a very long time, that I'll always be able to win Wimbledon, always going to be able to win the U.S. Open,"
Federer said, his latest silver trophy sitting inches away on a table.
"The first thing that's probably going to go is the French Open, even though I think that should also not be a problem, you know—having a shot there—because I'm such a good all-arounder and I've proven myself so much over the years there."
Ah, the French Open.
It's the one real gap on his resume, although he also listed leading Switzerland to a Davis Cup title and winning an Olympic gold medal in singles among his "many dreams" as yet unfulfilled.
Unlike Sampras, who only once made the semifinals at Roland Garros, Federer reached the past three finals there, losing each time to four-time champion Rafael Nadal. Nadal, of course, also stopped Federer's reign at Wimbledon and recently ended his 4 1/2 -year stay at No. 1 in the rankings.
At least Federer can joke about his French Open history.
這段很有趣↓
As he and Murray posed for postmatch pictures Monday night, one with the champion's prize and the other with his runner-up dish, first-time Grand Slam finalist Murray asked whether Federer gets to keep the trophy.
So Federer explained that the U.S. Open replica trophy is the best of the lot because it's the same size as the original. What they give you at Wimbledon is only 75 percent as big as the real one, he pointed out, and the one at the Australian Open is quite small.
But, Federer recounted, smiling at his own punchline,
"I told him, 'I don't know about the French Open."'
小費真是自娛娛人啊~~~ XD
Later, Murray said he figured Federer probably has at least four years left "right at the top."
"It depends how much everybody else improves, I guess," Murray said. "He's still playing great tennis, but, I mean, I wouldn't be surprised at all if he did overtake Sampras."
If Federer wins the Australian Open for No. 14, the pursuit of record-breaking No. 15 would begin at the French Open, of all places.
But instead of looking ahead to that, let's look back for a moment.
Until Monday night, everyone seemed concerned about Federer. About his game, about his health, about his mental state.
Everyone, that is, save Federer himself.
"I never really had any moment where I was like, 'Things are just not working out for me,"'
he said,
"because at the big tournaments, I actually did play very well."
That certainly is true: He reached the semifinals at the Australian Open and the finals at the French Open and Wimbledon.
And yet, Federer acknowledged Tuesday, he did feel a need to win this particular U.S. Open. Not because he harbored doubts about whether he could. But because, rather, he wondered whether he approached this trying year properly.
"Maybe I proved to myself that I was doing the right things, and that the season was difficult and tough for me and that I maybe did pick the right schedule,"
he said.
"I have energy left at the end of the trip. I definitely came out here fresh. I'm still fresh today. I'm very happy with what my decision-making was."
He also is pleased to be heading into 2009 on a positive note.
No more "What's wrong with Roger?" questions.
"It's the end of the year, it's the last Grand Slam. He didn't have a bad year, but for his standards, not as good as he would have liked," Federer's part-time coach, Jose Higueras, said outside the locker room after Monday night's champagne celebration. "It's a great thing going into next year. It gives him a lot of hope to get ready for next season, and I think it's a great feeling for him."
 ***
"It's better than 2003 when I made the breakthrough and won Wimbledon,"
a rather fresh-looking Federer told an invited group of journalists on Tuesday despite sleeping for only 20 minutes following his triumph.
"I lost in the first round in Paris (in 2003) so obviously it's way better. If it's a good, a great or a super year, it doesn't matter for me. I got the grand slam I wanted.

"I always say one grand slam (a year) in my eyes saves a season. That's definitively what it did. But 'saving a season' doesn't sound right. I proved to myself that I was doing the right things.

"I played excellent towards the end of the tournament and it's the first time I felt invincible again for a change."

"Winning a fifth U.S. Open is a dream come true. You don't think a player needs five but it does create something incredible for your legacy and makes you very proud,"
added Federer, the first man since 1924 to win five in a row here.
While there is no doubting Federer's legacy, he is still irked by the comments made by some former champions, including Swedish great Bjorn Borg, who were ready to write him off after his three-set mauling by Rafael Nadal in the French Open final.
"I was quite shocked with what happened at Wimbledon. In Paris everybody was saying I was going to win Paris and then I come to Wimbledon (and they are saying) basically I'm not going to win a thing anymore. I thought that was a bit extreme,"
said Federer, who suffered from a bout of glandular fever at the start of the season.
那些人都在亂說話啦  現在可以閉嘴了吧!!!
FINAL FOE
The Swiss had wanted to silence his critics when, as five-times Wimbledon champion, he reached his sixth consecutive final at the All England Club.
But with his bogeyman Nadal once again as his final foe, many predicted the Spaniard would steal Federer's crown.
Nadal did end Federer's reign but it turned out to be a heart-stopping five-set epic which has since been hailed as the greatest match ever.
Although Federer still finds it hard to accept that he lost, he feels the match achieved one of his life-time ambitions.
"I was aware of how incredible the match was. Unfortunately there had to be a winner. From my point of view many left feeling sorry for me instead of being happy for Rafa. Which hurts,"
said Federer, whose 4-1/2 year stint as world number one was also ended by Nadal last month.
"But at the same time Wimbledon was great. I felt tennis went up a notch and that's what I've been trying to do for five years since I was number one in the world. Trying to get tennis more popular& and that Wimbledon final has finally achieved what I have been wanting to."
Other long-term goals include winning a gold medal in singles at the London 2012 Olympics, the Davis Cup for Switzerland and claiming an elusive French Open crown. Having turned 27 last month, Federer feels he has many years to fulfill those dreams and is also keen to test his skills against the future generations in the sport.
"I live and breathe tennis. I get away from tennis but subconsciously I always have it right there. It's what I love doing the most that's why I'll do anything for it,"
said the world number two, who won a doubles gold at the Beijing Games.
"I'd like to play through as many generations as possible. It's so fascinating to see in golf when the greats are still around to face the juniors. What I'm striving for is longevity … and I feel so much better physically today than I ever have."
小費真的是活過來的感覺~
看到他的訪問
說的話
都這麼有自信
這樣很好 很棒
小費加油!!!
 ***
Roger回到家鄉 接受表揚~
這裡有小費的訪問
 不過是瑞士德文
小費講德文好聽極了 
SF.tv
也有
but 我ㄧ直無法看到 ><