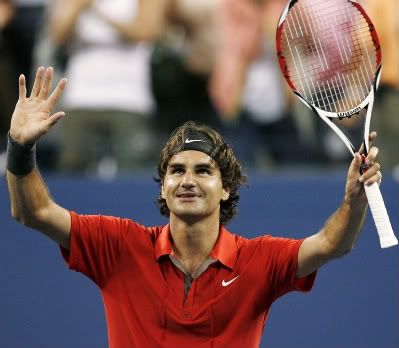 6(5)-7, 7-6(5), 6-3, 3-6, 6-3
五盤大戰啊~~~~ 各位
Roger的意志果然不是蓋的
對手一上來我就覺得他狀況不錯
又跟納豆一樣打那種狂轟人家的壓線球啦
不過敗給自己的心理狀態
在關鍵時刻 不管是居於優勢
還是劣勢 都挺容易緊張的
正好讓Roger有了機會
今天靠上網截擊得分保分蠻多的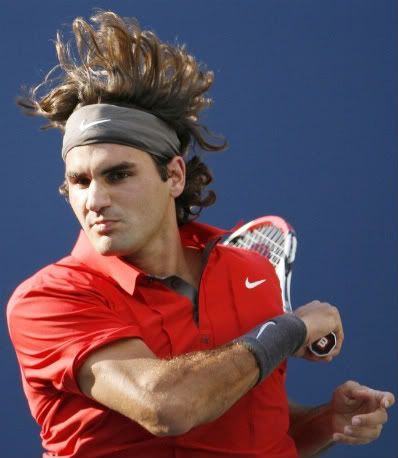 第一盤 Roger先發
第一局就被破
發球和回擊都不佳
第三局 第一分打出界失分
對手挑戰 小費跟主審argue
因為對手沒有馬上提出挑戰
而是等這一分打完自己的球出界
才去挑戰Roger的球出界
我ㄧ直聽到主審說 he still has the right.
第七局出現一被破發點
失誤太多
對手球出界後deuce
還好小費多次上網截擊化解
第10局 0-30後
對手一直失誤到最後
小費出現一個破發點 then破發5-5
球評說 對手好像在告訴Roger他在緊張
接這就來到了搶七
小費先發 掛網失誤
第七分 對手雙誤4-3(費)
第九分 小費失誤
6(5)-7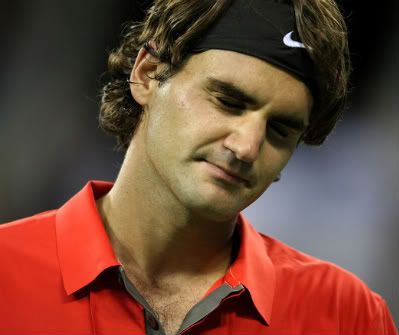 第二盤 對手先發
小費自己的發球局也是持續不穩中
第二局 五個被破發點之後
小費終於靠發球拿下這局
第五局也是輸二贏四 對方失誤後 靠發球和截擊解決
對方發球不錯 沒讓小費拿到太多機會
所以又來搶七
對手先發 小費被帶出去反拍從外打進來in
小費兩次發球得分3-0
後來驚險擋住passing shot保住
但是正拍掛網 4-3
小費上網反拍截擊5-3
對手大出界 小費6-3
小費打出界 6-4
小費失分6-5
對手發球 小費反拍截擊 搶下第二盤
7-6(5)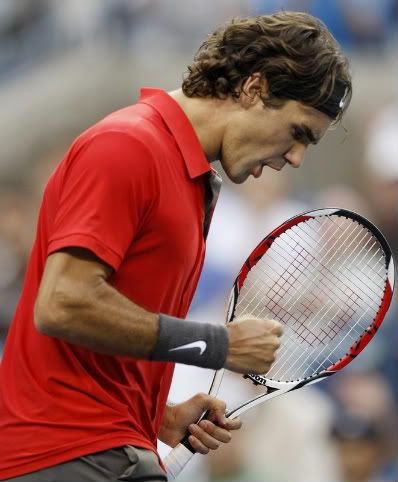 第三盤 小費先發
第4局 小費回擊過短 對手放小球 最後小費截擊成功
1破發點 小費馬上把握住 和對手對抽後 正拍破發3-1
最後靠上網截擊保發拿下第三盤6-3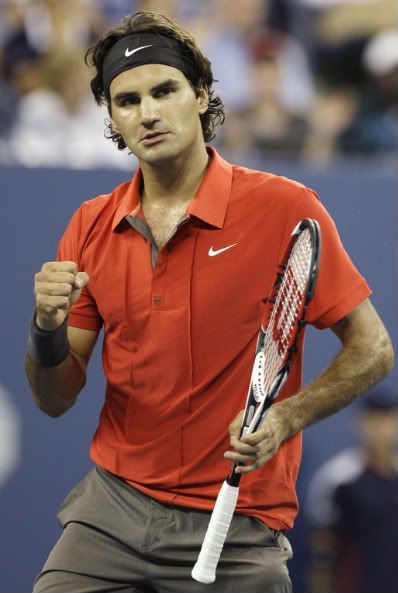 第四盤 對手先發
第4局 小費有3個被破發點
因為失誤太多 又有雙誤
救了一個
then 對手截擊觸網 就這樣過了網
小費被破發了
後來小費在對方發球局也打不好 失控大叫
第六局 小費發球不好 對手持續掛網失誤
才讓小費保下發球局4-2
第九局 即使面對對方3個盤末點
小費依然不放棄追到deuce
he's never ever quit
Roger is showing his character
這局展現Roger面對艱困情況的態度
就是不放棄
不過很可惜 最後這盤還是對手拿下3-6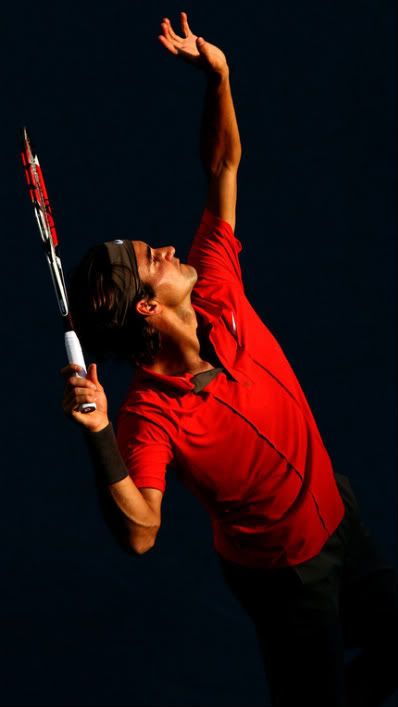 第五盤 小費先發
第2局 deuce 非常精采
對手已把小費重心破壞
小費努力救球 球有過網
對手回擊 小費趕快趕上前作高吊球有進(我以為會出界)
對手再回擊大出界 終於破發
then 小費的慶祝動作 讓我笑了出來~
這場比賽這時候他最激動了
現場也被小費帶得超high的啊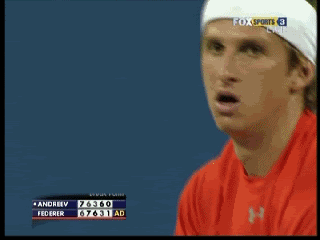 第七局 小費歷經6次deuce 才保住5-2
讓大家鬆了一大口氣
第9局 triple match points
小費馬上第五盤6-3拿下比賽
Match Point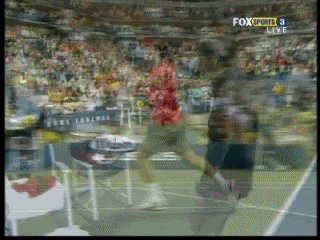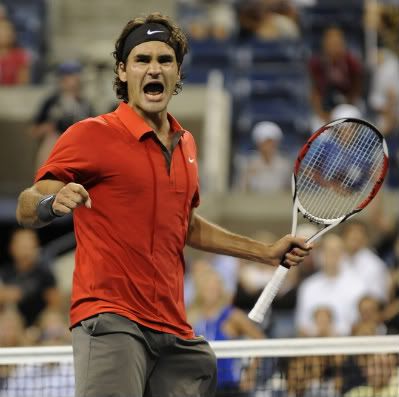 My God!
不過這次還是沒有澳網對Tip這麼嚇人
6次deuce 還有面對3個被破發點的時候
讓我想到溫布頓
溫布頓這麼沒有機會 都可以扳成這樣了
這算什麼~
小費真的是夾縫中求生存
小費的態度也沒讓人失望!!!
接下來 是對上另一個夾縫中求生存的Muller了
My God Muller很愛打五盤
小費要加油囉~
今天UE好像多得不像話啊
真的是前三輪這麼順
我就覺得這次會怪怪的
= = 不管~
不管是怎樣晉級
反正就是晉級
希望對上Muller
小費可以拿出好狀態喔
Roger 超開心的
小費對自己的失誤氣到怒吼 他一定又在怪自己是笨蛋了
這是今年我看他比賽 吼得最大聲的一次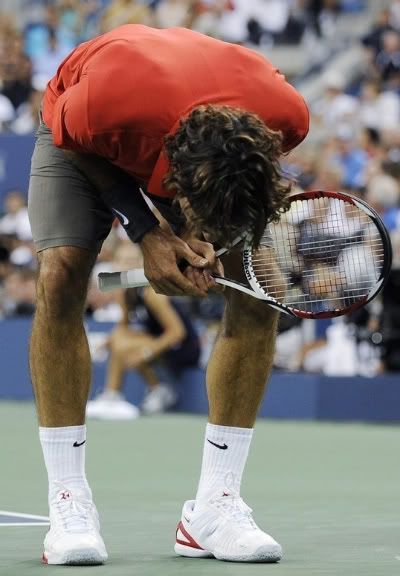 Elapsed Time by Set: 54 53 29 31 45
Andreev(RUS) / Federer(SUI)
1st Serve %: 100 of 165 = 61 % / 113 of 168 = 67 %
Aces: 8 / 11
Double Faults: 7 / 5
Unforced Errors: 42 /
60
Winning % on 1st Serve: 78 of 100 = 78 % / 86 of 113 = 76 %
Winning % on 2nd Serve: 32 of 65 = 49 % / 31 of 55 = 56 %
Winners (Including Service): 54 / 66
Receiving Points Won: 51 of 168 = 30 % / 55 of 165 = 33 %
Break Point Conversions: 2 of 15 = 13 % / 3 of 7 = 43 %
Net Approaches: 12 of 28 = 43 % / 58 of 84 = 69 %
Total Points Won: 161 / 172
Fastest Serve: 134 MPH / 131 MPH
Average 1st Serve Speed:117 MPH / 115 MPH
Average 2nd Serve Speed: 96 MPH / 94 MPH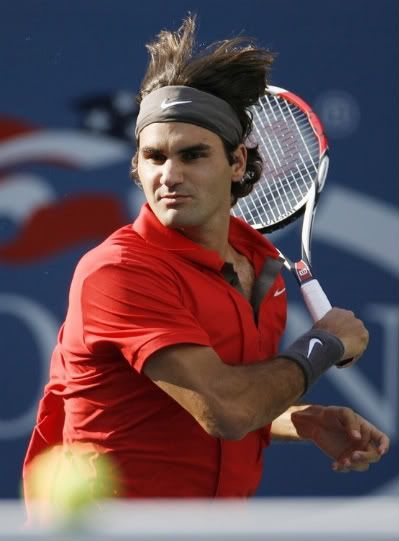 PHOTOS FROM
RF.com
 ***
Q. Did you think there was a chance you were going home today?
ROGER FEDERER: Well, I mean, being down a set and tiebreak in the second set, obviously, you know, there's danger written all over that situation. But it's not really that much time to waste, you know, thinking about that kind of stuff.
You just hope that it's going to turn your way. It did. So I'm happy.
Q. Did he really surprise you tonight? And if he did, what did he surprise you with?
ROGER FEDERER: Well, I mean, he couldn't really surprise me, because I haven't played him that much. You know, I only played him four years ago. That's such a long time ago.
There I remember set 3 and 4, he started playing really well and I was happy to win in four. Now, today, I've seen him play quite often. I've seen how hard he can hit the ball, how well he can serve. So he was just proving himself tonight what a good player he is, you know.
I expected a tough one, you know. You always was get ready for five‑setters, but they're fun when you play them, you know. Sometimes, of course, they're hard physically and mentally and the pressure is huge on me, you know, because Igor doesn't have a whole lot to lose, you know. For me it's way worse, so I'm very happy with the way we competed tonight.
I think it was really fair. He's a wonderful player.
Q. It seemed like a turning point in that match was that one point where he hit the dropshot. You raced in to get it, the crowd was cheering while you were running in. You lobbed him and then he missed the backhand. Could you hear the crowd cheering as you were running? Did you sense that was a turning point in the match?
ROGER FEDERER: Well, I mean, obviously it was a break point, it was huge to get the first break in the fifth set. All I remember was just I was hoping to get the ball back in play, and I had the feeling I had kind of a good contact, but I wasn't sure if it was high enough to make it over the net.
As I was turning around, I looked and I saw him actually attempting to do a dropshot, so I just started to run, and once I got up there, I felt better again after the whole spinning and running and everything. I just thought, you know what, I think even if he can get to it as a volley, he has to backhand smash it, which is probably not his favorite shot and he went in; he missed it. It was a good moment. I think the moment of the night.
Q. You said on your on‑court interview that you were happy with how you played tonight. And you seemed genuinely elated. I mean ‑‑
ROGER FEDERER: Genuinely?
Q. Elated.
ROGER FEDERER: I don't understand "elated" yet.
Q. Happy. A very high point in emotion, if you will.
ROGER FEDERER: Okay.
Roger也有不知道的字啊 XD
Q. Do you really feel like, you know, this was, if you could just describe the feeling of the victory tonight? Because you had some tough moments in the match.
ROGER FEDERER: Yes, I think it was ‑‑ it was really entertaining, not only for the fans, but for both of us. I don't remember if I ever played an entire five‑set match on center court. I remember playing Andre in five sets, but that was over two days. Other than that, I don't quite remember that many, you know. I don't give myself the opportunity that much, you know, because I always win easily, and then five‑setters don't happen, you know. (laughter.)
Like this, it's different. It's fun for a change. Same as the Australian Open when I beat Tipseravic 9‑7 in the fifth. Being part of some dogfights, it's fun for me.
I was really happy because in five sets you go through different stages of feelings, of playing well, playing bad. And in the fifth set you try not to make that many errors, and hopefully, you know, you'll get off on a good start. That's exactly what happened.
I was just really pleased with my fighting spirit.
這點我認同~ 我也很滿意你的fighting spirit啊~~~
Q. It wasn't an easy match for you, but were you surprised at some of the choices he made, and especially from third set going forward? Some of the decisions he made?
ROGER FEDERER: He made?
Q. Yeah.
ROGER FEDERER: No, I mean, you know, he's a risky player from the baseline. He takes incredible chances, especially with the forehand. I was struggling in the beginning to really serve. I think he really has got some serious pop on his serve. He's got a great second serve. Nice spin on it, nice pace, as well. So it makes it really hard to really get on the offensive from the start, you know. He was dictating play, so of course he's going to try to change it up a little bit.
No, I mean, I think he played a good match from beginning to end.
Q. Many people are curious about your health situation. On a scale of 1 to 10, how much do you think you are over your mono that you were working on earlier?
ROGER FEDERER: Well, I feel I'm over it, but, you know, maybe I'm not playing, you know, my best yet, you know. Who knows?
But I need to play my best, you know. What I need to do is get through the matches. Hopefully the best match will come at the end of the tournament. That's what I'm looking forward to. I have no complaints. I don't feel I'm extra tired. I'm not scared to be super tired tomorrow. I don't think physically it was that much of a problem. Those are all good signs to have right now.
Q. Going back to the second game of the final set, how much was the turning point emotionally for you? Did you feel it was all downhill from there?
ROGER FEDERER: Well, I wasn't really expecting to make a break in that game, because I was sort of against the wind, so I was just trying to ‑‑ hoped to, you know, put pressure on him, and he had I think a bad serving game. I think he had many ‑‑ especially on the deuce side, he missed many first serves. That allowed me to get into the rallies a bit more.
It's hard for him, every shot, you know, to hit winners all the time. So I just hoped to make a little bit less mistakes, and then maybe come up with something when I had to. That's exactly what happened.
So it was sort of a bonus, and I was actually quite disappointed I didn't make a second break. Either on the other side with the wind and then against it again. That put me under a lot of pressure when I had to start serving break points again. So the fifth set was quite a thriller.
Q. Besides being really happy or elated at the end of the match, you showed a lot of raw emotion throughout the match, especially for you in the fourth round. I'm just wondering if that's sort of indicative of letting off steam from what's been a frustrating season?
ROGER FEDERER: It hasn't been that frustrating, you know, to be quite honest. It's just fun to play on center court, you know. I mean, it's why you practice hard, that you play, you know, good when, you know, when it's crunch time. I'm happy with the way I played today when the pressure was the highest, and the crowd gives you that, you know, that feeling of going crazy a little bit.
So that's exactly what happened to me, same as at the Olympic Games. I think I'm at a stage today where I just really enjoy playing, you know, much more again. Whereas maybe for a while it was quite, always the same for me ‑ go on court, you win all the time, so maybe you don't take it for granted that much anymore.
So it wasn't because I'm frustrated in any way or because it's been a frustrating season. I don't see it that way.
Q. I know you said playing the fifth set was fun, but you lose the fourth set, do you remember your emotions right at the start of the fifth set? And, you know, were you thinking, What do I have to do differently? What were you thinking going into that fifth set and losing that fourth?
ROGER FEDERER: Well, first of all, I didn't think I was playing that bad in the first set, for instance. He just got off a great start, and I was always running behind. Actually, I felt I was hitting the ball okay, serving well, and just needed a little bit of luck here or there, and maybe an error from him. That's what I got towards the end of the first set and the same thing in the fourth set.
I think it was very even, you know. I just had sort of one game maybe where things didn't really go that well for me. I thought, you know, no excuses. It was two flashes that went off in the first two points of that game. I was down Love‑30. Then I got unlucky with the net cord. I'm not saying I would have won that game without those things, but during five sets you go through tougher periods.
He had a good game there, and that put me under a lot of pressure and I thought he was serving well in the fourth, so it was kind of difficult to break.
Q. Gilles Muller came into this tournament as a qualifier. He knocked off Tommy Haas, and then went on to beat Almagro. He came into the press room and he said that he's coming in with an attitude that I have nothing to lose, I think I can beat Davydenko, and he came out and beat him today in really a remarkable display of tennis. How dangerous is an opponent like that, who feels so empowered, you know, in that he doesn't have anything to lose, really?
ROGER FEDERER: It's been like this for four‑and‑a‑half years. This is nothing different for me. It's just a guy who's got even less to lose, you know, than all the guys from four‑and‑a‑half years ago. It's really the way it is, you know.
I mean, definitely he's on an unbelievable roll. He maybe should have never been in the quarters because he could have been knocked out in straight sets by Tommy. We could have had a completely different quarterfinal. He did well, he fought incredibly well in all these matches and you have to give him credit for hanging in there. It just shows you if you believe, and if you're right there, when you ‑‑ you know, it pays off. And I think that's his credit, you know, because I heard he couldn't win matches anymore in challenges, and now he's in quarters in the US Open. He played the greatest matches here of his life.
I'm definitely aware of how well he's playing. I saw a little bit how he plays. He played aggressive. Serves well. He didn't beat Andy for nothing here a few years ago. That's why I definitely won't underestimate him because he's a good player.