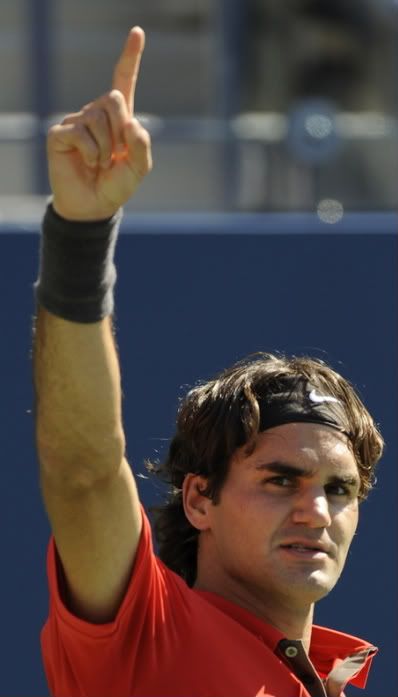 6-3, 6-3, 6-2
恭喜小費復仇成功
之前輸的那場我還記得說
今天對手比起那天的情況 算差了
而我們家的小費 跟那天比 算優了
第一盤 小費先發
對抽穩定 好的開始
第2局 3破發點
在最後一個破發點 反拍直線穿越破發2-0
發球不錯3-0
第七局失誤太多被破發
還好第八局 3個破發點 破發
最後自己保發
這局有一分
對手挑戰自己的出界球
判斷是in
這分重打 小費馬上來記ace給他
封住他的嘴啊~~~~
(這段匆匆帶過 完全是因為轉播亂播啊 怨~)
反拍萬歲~
第二盤 對手先發
小費保發很快
第7局 本來40-15以為沒機會了
但我後來還是冀望小費可以拼deuce
沒想到對手連續失誤到最後 小費破發啦!!!
第9局的小費反拍很勇猛啊
在對手雙誤後 自己反拍直線穿越 取得1破發點
但隨即在對手的二發 回擊失誤 Deuce
但對手一個好球ad後
小費再度來了一個反拍穿越的winner 又回到deuce
then 反拍高吊 對手沒去救 進了!
最後 又是反拍穿越 破發 小費大喊C'mon
拿下這盤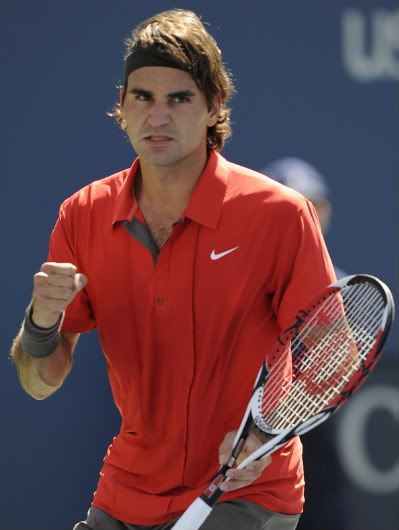 第三盤 小費先發
第4局破發
then 保發4-1
小費最後一局破發6-2
口|| 完全看計分板敘述
這次大半的時間都在PTT看Fed板渡過
大家察覺到Roger的移位變慢了
經他們這麼一說
一開始看不出來
後來偶爾可以看到
這點讓我有點小難過
但Roger還是這麼的拼命
真的要為他鼓鼓掌了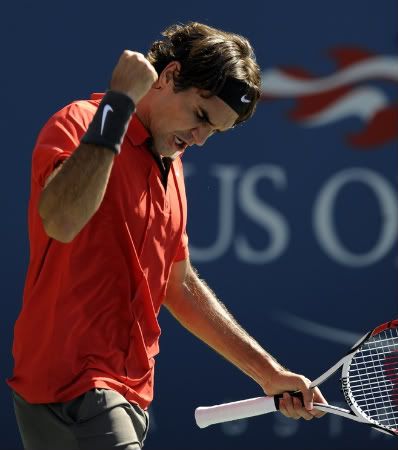 最近場下的小費低調 場上的小費情緒大發洩 而且對抽整個很Man啊~ 沒在怕的感覺
這次美網打得比較慢
星期天竟然沒休假
不知道是不是因為北京奧運的關係
另外~
特地熬夜看比賽
竟然給我亂轉播啊~~~~
討厭啊~~~
尤其是Almargro和Muller
= = Almargro明明就贏了前兩盤
還給人家倒趕到決勝盤 最後還輸掉
Muller明明第五盤有很多次機會提早拿下比賽
最後偏偏要打到第12局才罷休
真是氣死人了
小費比賽比他們晚打 提早結束
第三盤 什麼也看不到~
計分板 又中途掛掉 口||
不過還是要恭喜Muller
聽說是會外賽打進來的啊
生涯第一次進這麼多輪
如果小費下一場贏了
他又打敗Davydenko
小費就要對上他了
或者 他輸的話 小費又要對上Davydenko
這次在八強對到 總覺得有點早
以往都在四強~
不過前提是 小費下一場要贏
Anyway, 走一步算一步
最近小費表現進步 我很滿意
希望小費能繼續保持穩定囉~
小費 你那是什麼燦爛笑容啊~~~ XD
小費迷 8/31照片更新
看完覺得... 小費 你的姿勢也太漂亮了吧
 ***
記者的問題大同小異
每次看到Roger進來訪問 要坐下來的時候
都會聽到疲累的喘息聲
THE MODERATOR: Questions, please.
Q. You seemed to have very few unforced errors on your forehand side today. That's been an issue since Wimbledon. Is that something you've been working on?
ROGER FEDERER: No, not really. I mean, depends on day form sometimes. And today was pretty breezy, and so you try to keep the ball in the court, you know, not go for the lines too much.
Obviously you're going to have a little bit less errors, you know. He's quite aggressive off the baseline, so, you know, when there's an error it's usually a forced error, that's why the unforced errors count is not so high.
Q. You've come in here last several years with an aura almost of invincibility. Obviously coming in this year a lot of the players are talking about, Hey, James Blake was saying the other day Rafa has every reason to be confident. Other people are saying maybe there is a chink in the armor. Do you think in the course of one two‑week tournament, with commanding performances like you had today, you can reestablish that aura by the latter rounds, should you get there?
ROGER FEDERER: Yeah, I mean, I would think so. I mean, that's the advantage I have, you know. If I were to win a big tournament, you know, again, one of those Slams, whatever, right away I have the invincibility factor again, which is great for me.
So that's why ‑‑ that's what I'm working for, you know. I was that close in Wimbledon, you know, so I hope to go a step further and win it this time.
That would definitely help for momentum for the rest of the year.
Q. Do you have that in mind when you're out there playing, to send a message, essentially, you know, in these earlier round matches so should you...
ROGER FEDERER: Not really. It's good for me, you know, to not waste any energy. I'm playing well and moving on in the draw.
At the end of the day, what counts is winning the tournament. And anyway, you forget who you beat, how you won. You forget all the unforced errors you made, and all anybody's going to talk about is the finals. That's how I look at things. I don't try to impress anybody in the early rounds. If it happens, that's great. I don't really care that much.
Q. To play Radek, who did beat you earlier, albeit earlier on clay this year. Is there a special satisfaction in going out and beating in straight sets one of the nine who did beat you earlier in the year?
ROGER FEDERER: Yeah. I mean, it's nice to beat him, but I think he did well, you know, played really great in Rome. He served excellent against me. He served and volleyed first and second serve on clay and beat me that way, so it was a pretty tough loss for me, considering Rafa was out of the draw and maybe having an opportunity to back up another great week on clay after winning Estoril and being in the finals of Monaco.
So it kind of hurt, you know, but it's a good win for me. I'm moving on, and that's what I care about right now.
Q. Now that Etienne has decided to step down and you're a new board member, can you discuss the qualities that you would like his replacement to have? And is there one chief issue that you would like that person to really focus in on?
ROGER FEDERER: Well, I mean, he's still around till the end of the year, so it's not something I would like to discuss in public, first of all. I mean, it's very important role, and I think the players are much more aware today than they used to be, you know.
So I think it's really interesting times at the moment. We are getting together and really thinking, Should we have somebody from already the sport of tennis? Should it be someone just in sports in general?
Or maybe go further, you know. That's what we're looking at at the moment. Should be interesting to see who in the end it's going to be.
Q. How did you feel going in today? You obviously played a great match. Fewer errors and you only lost serve once. Did you really feel on from the get‑go?
ROGER FEDERER: Yeah, I did feel good today. Conditions were pretty similar than the last round match, so maybe that helped, you know, having a little breeze out there and playing exact same conditions.
I think I returned well, you know, especially in the second serve. I didn't allow him to really have that many different options, you know, off his second serve, and he decided to stay back.
I was good off the baseline. I think I moved well today and really hit some great shots when I needed them. I think all in all I'm really happy. I'm serving well for the first three rounds, and that's always a good sign for the rest of the tournament.
Q. It's been so long since you've not been in the second week of a major, in fact even in the final weekend in a major. Do you remember what you did the last time you were not in the second week of a major?
ROGER FEDERER: Um, I mean, I don't know if it was second week when I lost to Nalbandian here five years ago, but I think it was fourth round or so, as well. But other than that...
Q. Kuerten at the French, third round.
ROGER FEDERER: Against Guga?
Q. Yeah.
ROGER FEDERER: So, I mean, yeah, I don't know. I guess I took a couple days off and I went early to Halle. Maybe that's what I did. I remember those first round losses at Slams, you know, back in the day when the pressure was on. This is nothing anymore. This is easy to handle today.
Of course I'm very proud and happy about my run at the majors, and it's always nice to be a part of the final group, either the final four or final two, you know. That's what it's about. That's why I work out hard.
Have to put myself in the position, and it's always a good feeling. I feel like it could happen here again.
Q. We're approaching the end stretch of the season. What would you consider a successful season for you this year?
ROGER FEDERER: We'll see. See what happens here in a week's time, and we'll see how the indoor season goes, you know. Got an Olympic gold. I played solid throughout the year, even though it was difficult, so it's not the time to analyze a season yet, you know.
I mean, very important stage of this tournament, so that's where my focus is right now.
Q. As you said, you've had difficulties. What would you say was the low of this...
ROGER FEDERER: The low of?
vQ. Discouragement.
ROGER FEDERER: How do you mean? I don't understand.
Q. Well, when you felt the worst about what was going on, losing and...
ROGER FEDERER: If you mean losing is worse or just which loss...
Q. Well, that period you went through with an awful lot of losses, and I wonder when you felt the worst.
ROGER FEDERER: I never felt terrible, to be honest. Because every time, you know, maybe things weren't looking that great, either I was in the final of a Slam or I was able to win a tournament, like in Estoril or in Halle.
So I always bounced back right away when things were not looking that good, and same thing after Wimbledon. You know, maybe I was a little bit disappointed but it's still ‑‑ the buzz was bigger about the great match we just played, so I couldn't really look at this match and be completely disappointed.
And then went through maybe the summer didn't win a whole lot of matches, but I won the Olympic gold in doubles.
So I guess I always had sort of a good spirit. I was working out hard. I was in practice and never really down, because this is, I think, when you feel it most, when you go out on the practice court and you wonder what you want to do or change, and I never really felt I had that.
That's a good thing, and I think that's why I'm always very, very positive, still, right now.
Q. James lost last night. Do you think there's any Olympic effect on players, or will be on some of them ‑ maybe not you ‑ but other players?
ROGER FEDERER: Whew, possibly. I would think so on a few guys, you know. But then again, the other guy maybe just had a better day. Who knows? I think Mardy played great.
For instance, yesterday there was not much James could really do. It was at Beijing such a hard call. I don't know. But I think also it's a thing you can judge at the end of the tournament, who really had the big effect.
At the moment, I feel not tired at all anymore, which is a good thing. So that's from my side. But I don't hear many players complain that they're really tired in the locker rooms, which I think is a good thing, at least.
Q. What's been the greatest comeback in your career? And the opposite, the worst‑blown lead in your career?
ROGER FEDERER: The worst‑blown lead, maybe Davis Cup against Lleyton 2003 in the semifinals, serving for the match, two points from it, two sets to Love. But.
My best one, I don't know. Maybe Rafa in Miami. I was down two sets to Love and came back and won. So I guess that.
個人很喜歡看Roger爆青筋 XD
PHOTOS FROM
RF.com