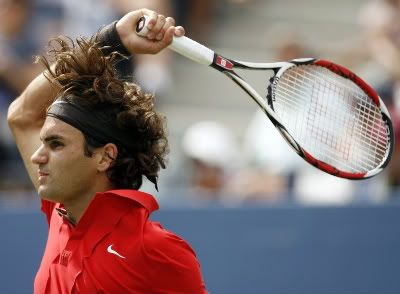 最近的反拍比之前要勇猛漂亮了
6-3, 7-5, 6-4  Roger的第600勝
風還頗大的說~
一開始找不到轉播
因為大家都在播Hass
後來就先看HiChannel
沒想到HiChannel也是跳來跳去的
因畫質太差 所以等Hass打完
我就用Sopcast看eurosports
eurosports沒有跳來跳去的~
畫面也很清楚~
Video -
Roger抵達比賽場地
今天的對手 = =
一直叫一直叫的
我最討厭這樣的人了
叫那麼大聲是幹嘛
要拼也不是這樣拼的啊~~~
第一盤 小費先發
第八局 2破發點 對手雙發失誤
又莫名奇妙的破發了
第二盤 對手先發
第一局 就有9個deuce
小費讓人感覺無法一股作氣的破發
失誤穿插 好球不連續
第三局也是 明明有3個破發點
卻都沒把握住
而且這時看UE數據 果然暴增
不知道為什麼 這盤的失誤跟之前的一樣莫名奇妙的出現
掛網掛上癮了
第五局 2個破發點 反拍帶出去很好很漂亮
但是殺球卻失誤了 口||
又浪費掉了
第六局 反拍失誤太多 搞到deuce
好在連兩球發球得分保發 對手挑戰也沒用
第11局 終於一記漂亮的反拍穿越球
小費被自己前面的表現悶到抓狂
這次也喊了C'mon 1破發點
then 對手失誤 終於破發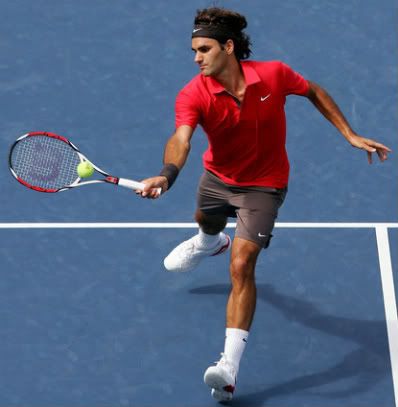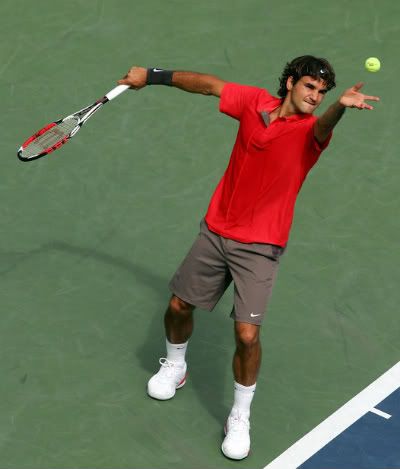 第3盤 對手先發
抓著對方上一盤最後被破發的心理
第一局 對手狂失誤 2破發點 對手再度掛網破發1:0
第3局 那剛剛好的小球 一過網就下墜 1破發點
但還是沒有破發
第六局 小費失誤太多 被破發 3:3
第七局 1破發點
第九局 正拍好球 2破發點 對手失誤破發5:4
最後一局 小費love game
最後一球 不知道誰挑戰的
但是兩人已經走到網前
我ㄧ開始不知道有挑戰
還想說他們怎麼閒聊這麼久啊
後來挑戰的結果是 小費的好球完完整整的壓線
瀟灑的等待挑戰結果...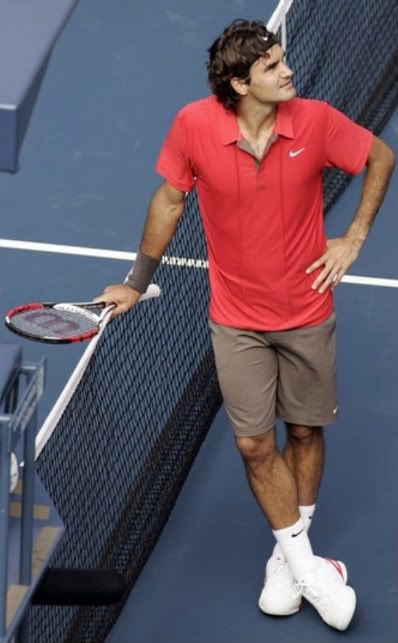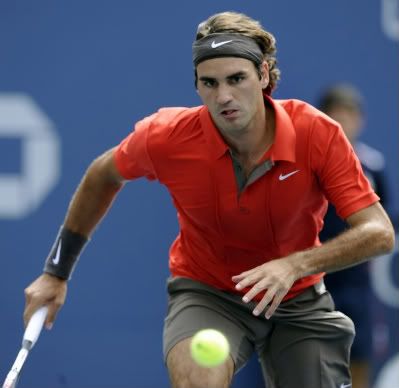 這次打真久 不知道是不是因為風的關係
整個很難打
雖然小費這次UE暴增
可是我還是覺得很滿足
因為好球還打得出來
不像之前UE多就算了
好球 手指頭都數得出來 = =
反拍的回擊和穿越角度也很漂亮
今天也有反拍直線 可是都被對手回擊回來
賽前睡覺 又夢到了小費
而且又是小費出局的夢 @@
美網的比賽 我已經夢到兩次這樣的情形
雖然看比賽時頗冷靜的
可能是我潛意識太擔心小費了~
不過已經做了最壞的心理準備
這樣看比賽反而輕鬆~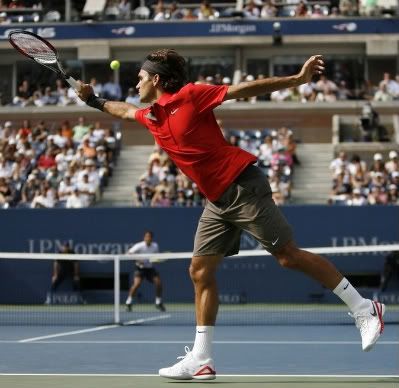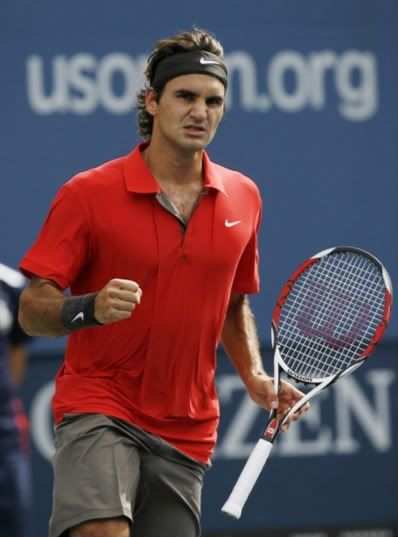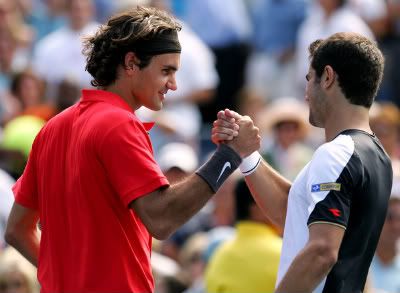 Alves(BRA) / Federer(SUI)
1st Serve %: 67 of 125 = 54 % / 61 of 95 = 64 %
Aces: 2 /
19
Double Faults: 2 / 2
Unforced Errors: 30 /
46
Winning % on 1st Serve: 40 of 67 = 60 % / 49 of 61 =
80 %
Winning % on 2nd Serve: 31 of 58 = 53 % / 19 of 34 = 56 %
Receiving Points Won: 27 of 95 = 28 % / 54 of 125 = 43 %
Break Point Conversions: 1 of 3 = 33 % /
4 of 15
= 27 %
Net Approaches: 11 of 24 = 46 % / 24 of 42 = 57 %
Total Points Won: 98 / 122
Fastest Serve: 125 MPH / 128 MPH
Average 1st Serve Speed: 111 MPH / 110 MPH
Average 2nd Serve Speed: 88 MPH / 92 MPH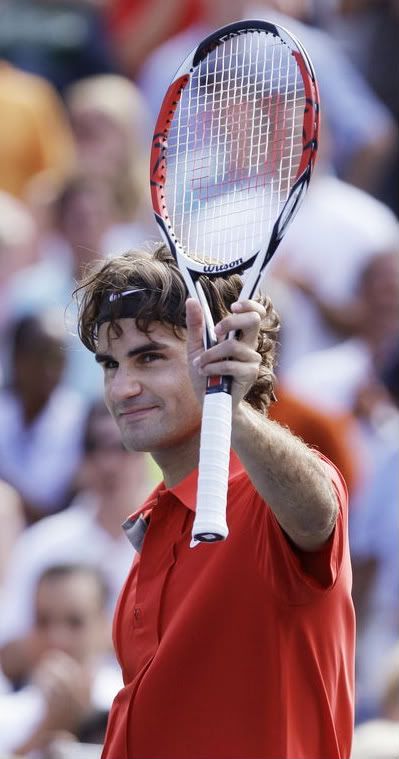 小費 你這是什麼可愛笑容啊... 衣服還是這顏色好!
PHOTOS FROM
RF.com
 ***
THE MODERATOR: Questions, please.
Q. You said during the off‑season you missed 20 days of practice because of your illness. Can you put into perspective what that 20 days means? Is that something that you can make up, or does that affect your preparation for the entire year?
ROGER FEDERER: No, it will definitely affect me throughout the year, you know, because I've got to work during the year, you know, to catch up, which makes you a little bit more tired at times.
This year was difficult because I couldn't really take tournaments off, because I always had to, you know, chase the rhythm of playing on that particular surface that I was wanting to play on.
That's the reason why maybe it was an important 20 days in the beginning of the year this year.
Q. You missed a few volleys today, and I just wonder, are we looking at things because of your year that when you miss a volley, saying, Oh, look he's doing that and he you didn't do it last year and it was not that big a deal?
ROGER FEDERER: Well, I guess we're talking about it today and if I win the title you forget about it again. That's usually how it goes. No, but I was struggling to see the ball at the net a little bit with the crowd in the back.
He did well to scramble back, you know, quite a few balls. But I wasn't comfortable at net from the start, you know. It just made it hard, you know.
And they be in the second set when it got tough, you know, he dug out some shots and everything seemed to go against me on those break points. So it was kind of difficult mentally, but it was actually fun playing this well and really got the crowd into it.
I was never really in danger, so it was actually pretty good for me. I knew the longer the match would go the more tired he would get, so it was was a good match for me.
Q. I read that tennis players get a smaller percentage of overall revenue than basketball players, baseball player, et cetera, other athletes in other fields. I was curious what your thoughts are on that.
ROGER FEDERER: Well, we heard that, as well. I mean, I know that tournaments, you know, all around the world are raising prize money, you know, more and more.
I mean, obviously very happy where tennis has gone over 40 years ago, so that's a good thing. But I agree that I still think the biggest tournaments, they're supposed to share a little bit more with the players, but we'll see how it goes in the future.
Q. Will this lead to more unionization, perhaps, a place to organize? Make sure you get an equitable part of the pie?
ROGER FEDERER: We'll definitely have conversations, you know, over the next year or so, as we usually have. There's a quite a bit of change in the ATP at the moment. I think that's one of the issues on top of the agenda.
Q. The two matches you've had this week have been some of your more comfortable wins over the summer. Winning the gold medal in Beijing in the doubles, even though it's a different discipline, is that confidence you've been able to take into your singles game moving forward?
ROGER FEDERER: Well, maybe wasn't confidence. It was fun. It was good for ‑‑ it inspired me. It was an unbelievable couple of weeks for me, and I left it with good spirits instead of leaving, you know, on a quarterfinals that I lost.
So from that perspective it helped. I really thought I played, you know, great in doubles throughout the tournament. I really carried Stan through a few matches, you know, and then after that he really started to play well.
I was just happy that I was finally playing good doubles again, because I never really did that well anymore in doubles, which was really disappointing for me.
Then it was hard. I was really tired of getting in here from Beijing. But after that I've actually felt fine. I was really eager to practice for the singles again, which was good.
Q. Is there a good feeling about this court, sort of home sweet home where you've done so well helping your spirits?
ROGER FEDERER: Absolutely. It does help, especially starting off with the night session. I think that's always the best way. I really feel great crowd support this year, you know, with the parade, first of all, but also now with the two matches I played on center court. Both times was an unbelievable experience.
Again, you know, after everything I've got through already, these are the early‑round matches, so it will only get better from here.
Yeah, so I'm really happy to be playing well. Everybody's cheering me on, so it's a nice feeling.
Q. You've been sort of on and off with different coaches. Where are you now with that?
ROGER FEDERER: Um, well, José's here, you know, for Robby. For the tournament I had the preparation week for José, but he tries to see my matches and practices as much as he can.
It happened that me and Robby were playing at the same time, so I don't know if José is going to stick around. But.
I have my Davis Cup captain here as well Switzerland, and I've been doing the entire year anyway with him already. So that's the situation here.
Q. Have you been following Nadal's matches? Like did you watch him last night on TV, or...
ROGER FEDERER: No, I missed both matches, actually.
Q. Why don't you just zero in...
ROGER FEDERER: I schedule my life around my life, not his life. (laughter.)
I was gone for dinner and he decided to do it quick, so I missed the ‑‑ I was expecting five sets. I was there for four and five, but he wasn't there anymore, so that was that was problem.
And the other day, I don't know where he was when he was playing Phau. I guess I was in the city.
Roger整個過得很愜意
真的是有工作 有生活 才是人生啊~
Q. You played obviously the late match, and then you played a relatively early one. There's a lot of discussion, because this is the only tournament with night matches whether people more comfortable day or night. Does it matter to you?
ROGER FEDERER: No, I feel good in both. I have no preference. Of course, there's days, you know, you're like maybe next match you'd rather play at night. You can sleep in and have more time.
Depends a little bit, you know, the scheduling. But I don't feel superior in the day session or the night sessions. There's always usually more wind during the day. So I think that was good I got used to the wind actually today, because in Beijing there was zero wind, you know, for like two weeks.
Took me a little bit of adjustment, even though in practice there was wind, you know. But in match situations it's different. You can't just, you know, play your normal way. You have to play with the wind a little bit, and today maybe I struggled at times a little bit.
Q. I don't want to ask you if you like Hawk‑Eye or not. It's been here for a while. How do you think it affects matches the way it's sort of evolved?
ROGER FEDERER: I don't think it's affected a whole lot of matches. I don't know how many times it's saved a match, because that's what it's there for really, you know. But at the big tournaments at the big courts, you know, usually you have the best linespeople, as well.
The worst linespeople are usually on the outside courts where you need it more. You know, that's my problem with the system, you know. I mean, we only have it on the two biggest courts. Grandstand already doesn't have it anymore.
I guess as you go down, the umpires get less experienced, same as the linespeople. Look, at least you have it on the matches that are really covered with the TV, so you're not going to have a big scandal anymore like maybe a few years ago. That was more possible back then.
Q. Is it fair that they have a system not for all courts?
ROGER FEDERER: You ask the other guys. You ask the other guys. I don't care, you know. I mean, if it's there, it's there. It's not my problem. Exactly. But I wish it was no problem for nobody.
Unfortunately for the lower‑ranked players, it still exists, you know, so they are the guys that are maybe sometimes not happy.
Q. Since having mono, has there been a residual effect where the normal fatigue that before you would have considered just a normal part of your season you pay more attention to, or, you know, how do you differentiate between just normal fatigue and maybe fatigue that could be signaling a recurrence?
ROGER FEDERER: Mmm, I mean, the fatigue, honestly, I've had it many times through my career, so I never look at it as, Is it back, you know, something like this.
I never really looked at it in this way. I mean, I was so tired after Beijing coming here, and then of course I'm a bit worried. But then I look back, maybe two years back, prior to Wimbledon I couldn't move for a week. I still was able to win Wimbledon after that.
Once the tournament gets underway you find energy somewhere, you know. So this is not the first time it happened, and so I don't put it down as my sickness, you know.
Maybe I put it down as sickness when I still feel a little bit slow sometimes. These are the moments when I might think, you know, this is maybe lack of practice still a little bit.
But with recuperation I never really feel like I have a problem to recover, which is a good thing.