LOVE YOU, Roger...
現場下大雨
根據
ITF現場文字評述
小費在休息室和瑞士隊員打牌啦 XD
5.44pm: With the rain continuing to do its thing, Roger Federer is playing cards in the athletes lounge with Stanislas Wawrinka and Swiss Davis Cup captain Severin Luthi. With all the money Federer earns, shouldn't harm his pocket too much if he loses a few hands of poker!
4-6, 6(2)-7
兩盤都是James Blake先發
小費今天狀態不佳
發球一發一直被喊出界
二發又多半因為失誤而失分
而且狂掛網 太傷了
然後調整一下 又打出界
真的不知道在幹嘛
從一開始到最後
幾乎每一個發球局都被逼到deuce
第一盤在最後小費的發球局被破發
第二盤也是小費一開始的發球局(第2局)
被破發
後來小費一直到第五局Blake發球局
整個非常振作和積極
連拼了幾個好球
又加上Blake的出界 終於破發
之後仍然辛苦保發拼到搶七
搶七魔人今天不見了口||
小費的一發 幾乎都出界
二發失誤 這種狀態一直持續到搶七都沒有改變
小費被破了2分
Blake 今天打得還可以 不差
底線還算蠻穩的
小費則是一直失誤
也很少上網 上網就會被Blake救球給穿越
Blake幾乎回擊都打得超用力的在進攻
而小費 一想進攻就出界或掛網
只有反拍的回擊還能看
口|| 不能奪單打金牌了
不管是小費發球局也好
回到休息區也是
今天比賽好幾次聽到
現場觀眾一直喊
Roger 加油!
C'mon Roger
小費離場的時候
大家還是在那邊狂吼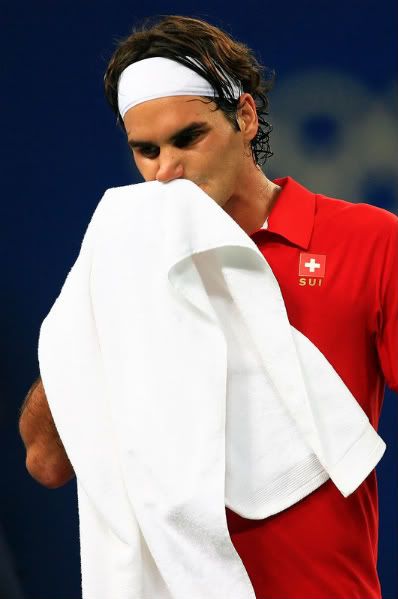 另外還有個小插曲
就是第二盤小費的發球局(8)
40-30
Blake 跟主審抱怨小費後方的觀眾
不知道在說什麼
但鏡頭照的時候 好像是他拿著相機要拍照
可能是有閃光燈還怎樣
反正後來休息的時候 現場廣播說:不能用閃光燈拍照
總之, 那個觀眾 沒有遵守規則
還勞動小費 不知道對他說了什麼
旁邊的觀眾好像叫他out (不知道有沒有聽錯)
吼 可千萬不要是小費迷啊~
我們小費迷都是很守規矩的!
小費~ 我們都愛你!!!
我們繼續努力吧~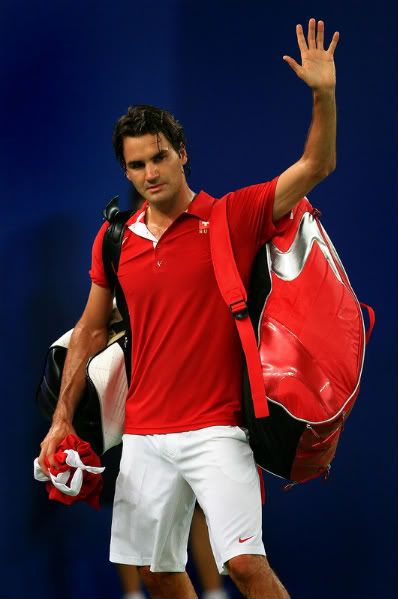 FEDERER Roger (1) / BLAKE James (8)
1st Serve %: 55 / 55
Aces: 3 / 2
Service Winner: 13 / 11
Double Faults: 2 / 2
1st Serve Points Won: 34 / 27
1st Serve Winning%: 69 / 75
2nd Serve Points Won: 18 / 20
2nd Serve Winning%: 45 / 69
Break Points Converted: 1 / 2
Break Points Opportunities: 1 / 6
Break Point Conversion : 100 / 33
Net Points Won: 12 / 12
Net Points Played: 15 / 15
Net Points Winning%: 80 / 80
Total Points Won: 34 36 70 39 45 84
Winners: 14 / 13
Unforced Errors:
56
/ 38
Forehand Winners: 9 / 12
Backhand Winners: 5 / 1
Volley Winners: 1 / 1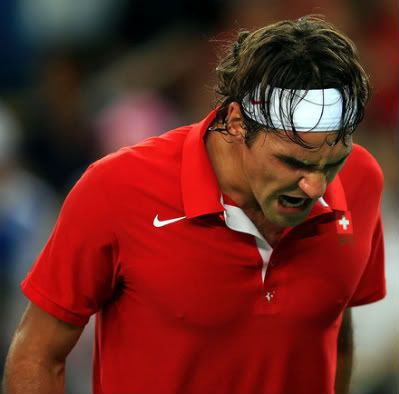 昨天(14)打到一半的double
在等雨停時 兩人開心的閒聊~
PHOTOS FROM
RF.com
 ***
August 14, 2008
Roger Federer
BEIJING, CHINA
J. BLAKE/R. Federer
6-4, 7-6
THE MODERATOR: Questions, please.
Q. Talk about the singles match and then just about the craziness that we're still here at 1:40 in the morning.
ROGER FEDERER: Well, big disappointment obviously. You know, it was one of the goals of the season for me to do well here. So obviously the quarterfinals is not going to do it for me.
I think James played well. I can only, you know, really say how well he played. I mean, he went full out and hit everything he needed I thought tonight. And I've played him on many occasions, but I think this was the best I've seen him. I'm happy for him. He's a good guy. I hope he can go all the way now.
Q. Did you feel like your forehand in particular let you down tonight? How would you assess your game?
ROGER FEDERER: Well, maybe an occasional shots here and there. It was okay. I mean, James plays very aggressive. We know that. So you only get a handful of chances sometimes to attack.
But I didn't serve my best today. But conditions were quick. James was keeping me on the back foot. So it made it hard.
Probably maybe wasn't my best night out there, but it wasn't bad. It's a tough loss.
Q. You're very dignified in defeat, as always. I know it's not a bad year. By your own high standards, is there something wrong? Is there a problem in your game, in your approach, anything that needs addressing?
ROGER FEDERER: Well, I mean, lack of practice. I haven't had time to practice whatsoever since February. I mean, I can maybe blame myself for not, you know, taking time off, maybe skipping Toronto, Cincinnati. But that's all the preparation I need to get ready for the hard court is the Olympic Games, so I never really got an opportunity to get that practice in.
I think that's maybe what I feel most this year. You know, just losing too many matches, which I maybe should have won - maybe Wimbledon, maybe some other matches, as well, now in North America.
But, you know, it's been okay this year. But I agree, I'm not happy with this tournament. You know, I wish I could have done much more. But I've still got to look forward. I look forward to the US Open. I still have really this and then the Masters Cup in Shanghai to really do well now. Try to save my season.
You know, but this obviously is a big blow because I expected more. But at the same time I know the danger of best-of-three set matches. They're over in a hurry. You could feel that today. You know, I was down 6-4, 3-Love in no time. I guess that's a danger in these kind of competitions.
Q. You're starting to lose against guys you always won against, like Karlovic and Blake. Do you feel something in your confidence now when you go onto the court?
ROGER FEDERER: Sure. When you lose maybe five matches a year, I mean, it's a different type of, you know, confidence you have.
But at the same time I think it's always been difficult to beat all these guys. You know, I've beaten Karlovic in the past 7-6 in the third, but nobody knows where that was and when it was, you know. But today I can't hide under the radar any more. You know, No. 1's in the world, when they lose, it's always in the headlines. That's maybe why it also looks a little more extreme.
But I've had tough matches against many of the players. Even though my records might be 5-0, 10-0, whatever it is. It's just not so easy to keep it up all the time. Eventually sometimes they get you, like Andy got me this year or James got me this year, and Fernando at the end of last year. These guys all play good tennis. So when it all doesn't comes together, and maybe I just don't play my very, very best, it's obviously not enough.
Q. At some point does it become difficult for you guys to be playing at such an hour or is this just something you're used to?
ROGER FEDERER: Well, I mean, we're not used to practicing at 2 in the morning. But it happens, you know. We, the players, have to be ready for those things. I mean, we're used to waiting, you know, and going to the next day, coming back the next day, maybe it's raining the next day, coming back the next day again. It's obviously not the ideal preparation much, but at the same time it's the same for both.
I mean, I don't think it really comes down to who handles it better. It's just a matter of coming out there and trying to do well. Sometimes, you know, you come out there and you play incredible tennis, and sometimes you're just maybe not as good, you know. And sometimes that has -- maybe the weather had an effect, sometimes not.
But I think we try our best, you know. That's all you can do really. But I don't know, I mentioned it I think yesterday, I think it's why we're still here, it's also brutal because we're playing this tournament in one week. It really doesn't make it a whole lot easier to us as players. That's why they almost have to keep us here. We're almost happy to finish tonight in case we win so we don't have to play again tomorrow, so we don't have to double up. I think that's a bit of a shame. But I don't have that problem any more, so I don't care (smiling).
from
ASAP Sports
 ***
James Blake的訪問
關於Roger...
Q. You've had a lot of respect for Roger, and you still have. You've praised him very often, as well. Now, of course, this year his results haven't still been that awesome as they have been in the previous few years where they were on the top of the top. How do you see that? Is that a good sign on one hand? But on the other hand, with all the praise you have for him, do you feel a little bit sorry for him or...
JAMES BLAKE: I think his results, considered being bad this year, is a product of how high his level has been. Similar to Tiger Woods. When they don't win every single week, it's called "a bad year." And Roger's been in two finals of a slam, semifinals of a slam, I think about 17 or 18 straight Grand Slam semis, and won two titles this year. And to consider that a bad year is just proof that he's been the best in the world for so long that we expect great things out of him every single time he steps on the court.
You know, I've been unbelievably impressed at how he's handled that for four straight years, that every single time he goes on the court, he's battling history. He's not just facing an opponent that has absolutely nothing to lose; he's facing Pete Samprases, Bjorn Borgs, the records of so many before him. I honestly don't know how he's dealt with that for so long. I think almost anyone in the world would crack under that pressure, and he never has.
But after all this time, to be considered a bad year, that he's having at No. 2 in the world, is just amazing. You never see him lose his cool. Never see him break a racquet. Never seen him berate an umpire. So I still have a ton of praise for him. I still have a ton of respect for him as a man. And as a player, he's still one of the best in the world for sure.
As far as if I feel sorry for him, I'm sure he's flying home on his private jet and he's doing okay for himself, seems to have his family happy and healthy around him. So I don't feel too sorry for him. And I think he's still gonna probably go down as the greatest of all time. I can't cry myself to sleep over Roger Federer (smiling).
from
ASAP SPORTS
Blake 真的是一個很nice的人