6-2, 6-4
Roger打得沒有很順手的感覺
今天也是花了一小時5分鐘
小費時間都算好好的=ˇ=
對手我看的不是很順眼
不知道哪來的 只知道他和納豆同名@@
就從練球開始
沒看過練球就開始那麼用力的
還有Roger在練發球的時候
他好像還要去接 想順便練個接發球= =||
兩盤都是對手先發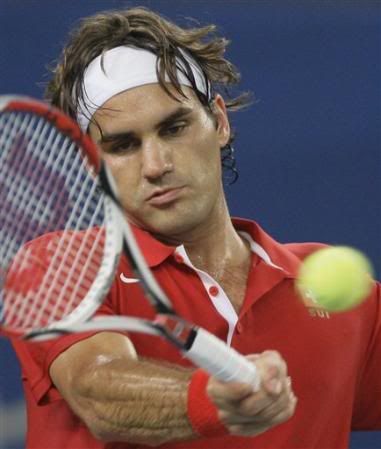 感覺很累的小費...
第一盤
小費的兩個進攻好球
加上對手自己的失誤
對手一開始就被破了發球局
其中一好球 是小費本來處於劣勢
他只是在救球而已
而對手乘機上網
小費可說是被壓著打
但小費最後跑出場外救球
從場邊打進去in了
後來忘了是在哪一局小費又破發
小費這兩盤實在是浪費了太多破發點了
因為對手實在是打得很糟糕
莽莽撞撞的
發球動作又特別多 所以動作很慢
明明口袋裡已經有一顆球了
還要跟球童要球來選球口||
就算是跟納豆和小德打
我都沒看過小費發球會為了等人就位
而拍那麼多下的球
吼 今天超累的
打得我都快睡著了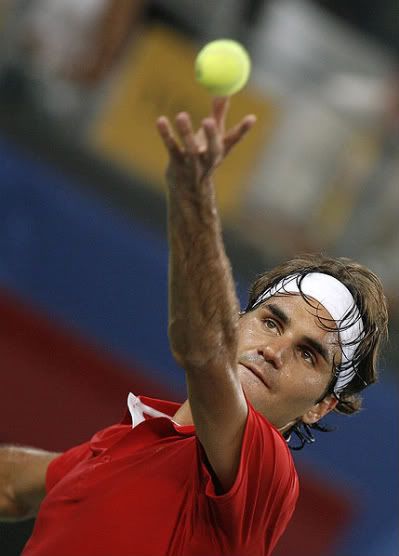 小費:我要睡著了... = =
第二盤小費一開始本來有機會破發
卻浪費了
到第3局 浪費了0-40的3個破發點
deuce後 才終於破發
而且這場比賽 小費真的怪怪的啦
掛網出界不說
狂上網ㄝ
感覺是不管怎樣 上網就對了
當然一直被穿越回來啊
其中一局小費發球局的破發點就是這樣出來的
要不是對手真的打得不好
我看小費就凶多吉少了
小費今天流了好多汗
臉頰也紅紅的
是太熱還怎樣嗎?!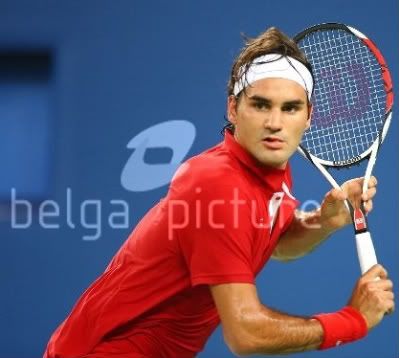 下次是碰上之前在奧運
終結小費的選手Berdych
加油! 加油!
小費 拿出你奪金的決心來~~
小費的雙打搭檔好像出局了是吧?!
對了 野兔在搞什麼啊
就算不能贏
本來希望他和納豆纏鬥一番的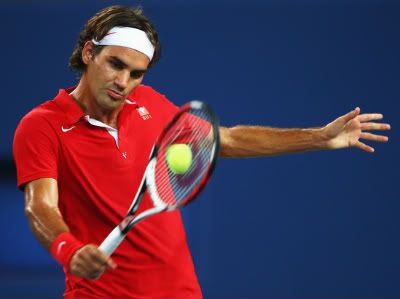 FEDERER Roger (1) / AREVALO Rafael
1st Serve %: 48 65 57 77 70 73
Aces: 7 / 0
Service Winner: 3 / 7
Double Faults: 0 / 2
1st Serve Points Won: 21 / 24
1st Serve Points Played: 27 / 43
1st Serve Winning%: 78 / 56
2nd Serve Points Won: 16 / 10
2nd Serve Winning%: 80 / 63
Break Points Converted: 3 / 0
Break Points Opportunities: 10 / 1
Break Point Conversion: 30 / 0
Net Points Won: 12 / 4
Net Points Played: 24 / 9
Net Points Winning%: 50 / 44
Total Points Won: 62 / 44
Winners: 20 / 10
Unforced Errors: 27 / 30
Forehand Winners: 14 / 5
Backhand Winners: 6 / 5
Volley Winners: 9 / 2
今天Winner少
非受迫性失誤跟昨天一樣多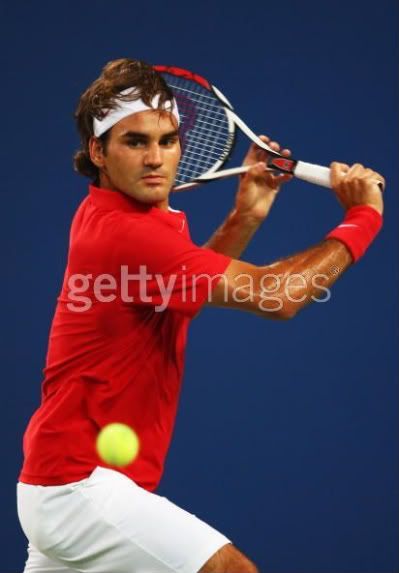 不知道哪一場結束時拍的 應該是和美國籃球隊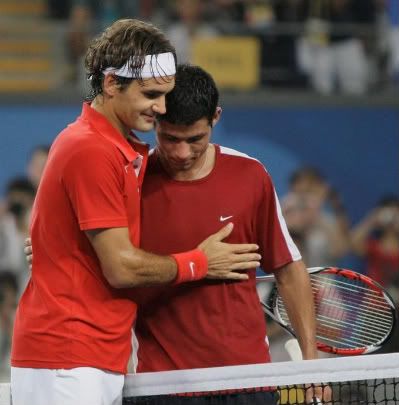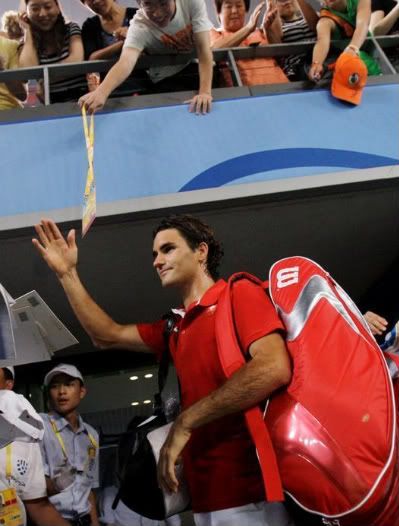 PHOTOS FROM
RF.com
 ***
August 12, 2008
Roger Federer
BEIJING, CHINA
R. FEDERER/R. Arevalo
6-2, 6-4
THE MODERATOR: Questions, please.
Q. You will play Tomas Berdych. Time for Olympic revenge?
ROGER FEDERER: I guess in Olympic terms, yes. We've played almost everywhere since. You know, it was our first match four years ago. And we've played on many occasions - some very good matches against each other, some less good, you know, when he was maybe a little tired or injured, Wimbledon, Paris.
But I always thought he had a great talent. To this day, I don't think he still has lived up to his potential yet, you know, because I think he has got a great game. So obviously I'm aware of the danger tomorrow.
Q. These games are a lot about Michael Phelps. Have you seen any of his races and what do you think about him in general?
ROGER FEDERER: I only saw highlights when he won the relay, for instance. But I've never met him before. You know, I've been in, how do you say, like awards shows, nominated in the same category, Sportsman of the Year in the Laureus, for instance. Obviously what he's doing is quite incredible. He's been doing it also now for many years. He had a great Olympics last time around. You know, to come back next time and basically do the same thing again, or maybe even better, it's quite incredible.
And he's doing it in different competitions, you know, different lengths. So he's obviously very impressive and he's one of the greatest athletes out there at the moment.
Q. I wanted to ask you about the crowds here. Sometimes they start cheering if there's a particularly long rally before the point is over. Jankovic was annoyed by that. Hewitt thought it was great. What are your thoughts about the crowds here?
ROGER FEDERER: I think they're good, you know. I think they're really getting into the whole tennis thing. Same thing in Shanghai. You know, they get excited for different reasons, you know, here in China, it seems like.
Like you said, sometimes before the point is over, sometimes on a double-fault where you're like, okay, double-faults happen. But they're like, oh, no, how bad for the other guy, or something like that. So it's actually quite a unique experience. It's a different cultural experience, in a way.
Honestly, I enjoy it. I've played great in Asia. At times they're reserved and then at times they really get excited. I think it's especially night sessions here, I think, are obviously even more special than the day session. I think they feel like this is the big stage, you know, with the lights and everything.
It was a nice experience tonight.
Q. What do you think about Arevalo?
ROGER FEDERER: Obviously, for me a very interesting match, you know, in such an tournament in my life to be playing a player with a very low ranking in a very big pressure situation for me. I have nothing to win, only to lose.
It wasn't easy today. But I think Rafael, he did well. I think he played like a clay courter to me. You know, he kept the ball in play, played it with a lot of spins. Really, I felt like he believed in his chance, which I think was key in terms of mental approach in a match like tonight, where he could easily go into this match and hope, Okay, I hope I play a good match, a few games, and I'm happy, you know. But I think he wanted more.
I hope for him that he will be -- I'll see more in the future and he'll reach really the big men's tour.
Q. You're getting a fair bit into the tournament now. How do you assess the way you're playing, the form, before playing Tomas Berdych?
ROGER FEDERER: I thought my first round was very solid. You know, didn't have any lapses, served well, had a great second set, and then against a dangerous player. That was a good match.
Tonight, I can't really rate this match too much. It was all a matter of getting through, you know, hopefully not getting a fright or anything, which I didn't. So it was just an okay performance, you know. I had to play to win, not to please anyone. And it's kind of tricky to play this way.
But it was a good way to also maybe get used to center court at night in case I progress in the tournament. Tomorrow I think I play second from 4. So that might be under the lights again.
I think for this reason it was good. I'm pretty happy with my form. But I think tomorrow will be a bigger test. I can tell you again more tomorrow then.
Q. We see you week in, week out. We know what your achievements are. The same goes with Tiger Woods. The name Phelps being mentioned, where would you place him among the elite sportsmen like yourself and Woods? Would you put him up there on the same level even though his name will really come to the fore once in every four years?
ROGER FEDERER: Well, like you say, yeah, it's a bit more difficult to follow than maybe golf or tennis because maybe swimming doesn't have the world stage like we do or Formula One does or even Moto GP. It's a little bit maybe more difficult for them. But they shine really a lot during the Olympic Games, which is their big advantage.
It's hard for me even to really tell exactly what he did the last few years. I just know he's been very good. You know, he's been winning almost everything. But I don't even know how many races they swim a year. So I think that, like, in between sort of the most famous sports and the sports that just show up, you know, sort of once every four years.
But I think swimming is a beautiful sport. You know, I think it's definitely one of the big sports here at the Olympic Games, still considered bigger than tennis, which I agree with. You know, but I think if you have a solid Olympics like he has twice or three times, it's correct you're mentioned as one of the best athletes out there at the moment. I think he's achieving that right now and he's writing history maybe. I hope he does it because I always think it's exciting, you know, when you break records.
from
ASAP Sports