8/6 訓練照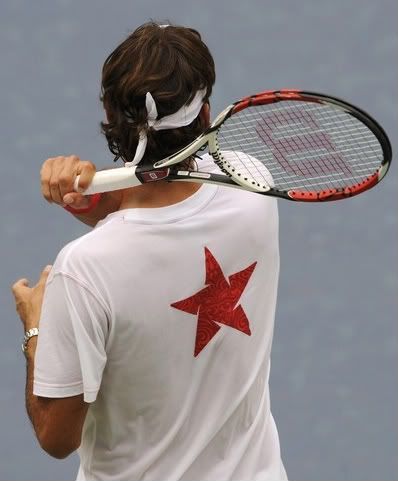 我喜歡它的星星背面啦
Roger中途換了套衣服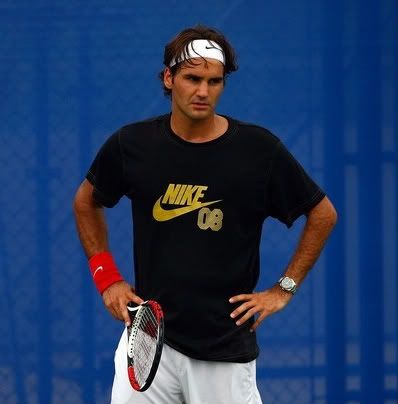 金色款 XD
奪金吧!!!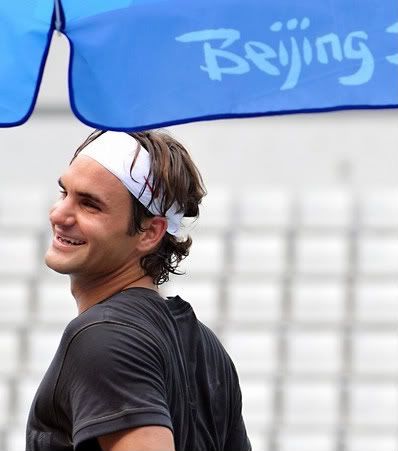 ***
簽表出來囉~ *.pdf
Mens Singles draw
、
Mens Doubles draw
from:
ITF Tennis
這邊有官網辛苦整理出來
小費區內簽表遇到的對手以往比賽情況
FEDERER Roger (1) SUI
35 TURSUNOV Dmitry RUS...2-0
96 LEE Hyung-Taik KOR...2-0
AREVALO Rafael (INV) ESA...First meet
22 ROBREDO Tommy ESP...8-0
33 SEPPI Andreas ITA.....2-0
21
BERDYCH Tomas
CZE....6-1
18 KARLOVIC Ivo (14) CRO.....6-1
13
SIMON Gilles
(10) FRA.......0-1
41
SODERLING Robin
SWE............7-0
277 NIEMEYER Frederic (A) CAN...........First Meet
64
CANAS Guillermo
ARG..............3-3
82 BELLUCCI Thomaz BRA..........First Meet
266 HRBATY Dominik SVK.............1-2
↑這是小費的好朋友嗎?!
90 GUCCIONE Chris AUS...............First Meet
8
BLAKE James
( USA...............8-0
4
DAVYDENKO Nikolay
(4) RUS............12-0
38 GULBIS Ernests LAT...............First Meet
27 MATHIEU Paul-Henri FRA...............3-0
67 LAPENTTI Nicolas ECU...............3-0
LOGLO Komlavi (INV) TOG.................First Meet
109 ANDERSON Kevin (IP) RSA...............First Meet
366 MIRNYI Max (IP) BLR...............11-3
19
KIEFER Nicolas
(15) GER..............7-2
15
GONZALEZ Fernando
(12) CHI...............11-1
453 SUN Peng (IP) CHN................First Meet
32 CILIC Marin CRO...........First Meet
37 MONACO Juan ARG...............1-0
72 ROCHUS Olivier BEL.........6-0
80 MINAR Ivo CZE.............4-0
45
TIPSAREVIC Janko
SRB.....2-0
5
FERRER David
(5) ESP............8-0
(Thanks to
RF.com
-Aastha343)
而小費的double第一輪是跟義大利的人打
 ***
8/7
小費在媒體中心接受訪問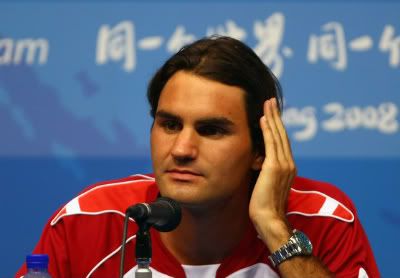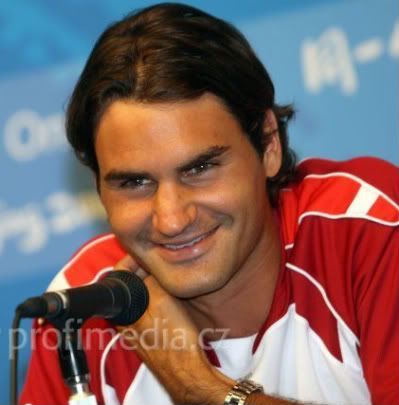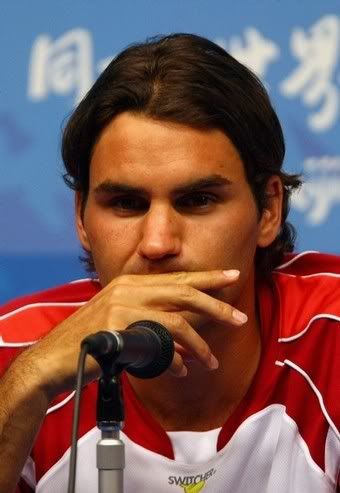 今天小費在媒體中心的訪問大約20分鐘
現場約3、4百人吧 各國記者、攝影師、電視記者
看到如此情況的小費說:
"I do a lot of press throughout the year with a lot of media,
Obviously, this is a little bit bigger - and better,
maybe - so hopefully I'll get some good questions."
現場不時有叫攝影師坐下的聲音出現
喀嚓 喀嚓的照相聲 讓小費得請發問記者再repeat問題一次
"I didn't hear again. The photographers are too loud."
關於No.1,有記者問他感覺自己還是No.1嗎:
"I guess until the ranking changes in the computer, I do, yeah,"
"The last couple of weeks haven't been the best,"
"I think I lost matches I should never have lost. So in a way, they hurt, but at the same time I didn't play bad by losing, which is obviously important."
"Sure, I think it's possible,"
"If I want my Number 1 ranking back in a couple of weeks, I've got to play rock-solid for the rest of the year. That means winning many tournaments. I know I can do it, because I've done it in the past for many seasons now. I hope I can do it. Otherwise, I think I can get it back in 2009. It's all speculation. We'll see what happens."
"People expect more from me after my great last five years. But I hope I can still save this season with either this or the U.S. Open,"
"Right now, the focus is on the Olympic Games ... not the rankings.
"Winning Wimbledon, I was only a few points from that. That hurt, but I'm over that and looking forward now. Anything that comes now — the Olympic Games or the U.S. Open would help my confidence a lot."
小費~ 你是眾人的No.1
關於在生日那天要掌旗:
"It's one of those moments you always dream about, one of the great moments of my career, This will probably be my most unique birthday of all-time.
unless I have a baby on my birthday, but that's not planned yet,"
"It'll be very special. I'm thrilled it's on the opening ceremony, that I get to carry the flag for Switzerland. The whole combination is really, really nice. I hope I don't stumble walking into the stadium. I'd like a nice day . . . a nice cake."
小費真愛開玩笑 XD
小小費如果也出生在8/8 真的還蠻妙的~
關於參加奧運在他心中的價值:
"It's something that's very important to me... It ranks up there with the Grand Slams. It's a little bit different because you're representing your country. (Winning) would mean as much as a Wimbledon victory."
關於他不住在奧運村:
"I'm going there once in a while to see the other Swiss athletes and get the Olympic feel, I was there the other day and it's not possible, really. I cannot escape. There are so many athletes who want pictures. I don't mind it, but every day for I don't know how long, it's not the ideal preparation for trying to win a gold medal."
"I hope to see more sports this time. In Sydney I saw some sports but in Athens, for some crazy reason, there was too much going on and I was unable to see any other sports."
"I would like to see some athletics or basketball"
"I went through (living in the village) in Sydney and Athens. I had those great experiences. I know what the Olympic Games are all about. I have the option to go back to the village if I want to, but if I don't want to, I can get away from it all and really prepare in a perfect way. That's what I'm trying to do this time around."
關於北京糟糕的空氣:
"It's very warm. That's always going to make the competition harder. But (smog) isn't going to play a role in who's going to win or how you play. I'm not scared of it in any way."
關於有些人對於小費不住奧運村的批評:
"Some of (the athletes) are millionaires, some are not. It doesn't matter. We're all chasing the same thing — the Olympic dream, an Olympic gold and not money."
關於提出抗議抵制中國舉辦奧運的舉動,小費的反應是:
"I saw the torch relay when it was in Europe and I was disappointed. It's supposed to be a celebration. I know there's issues. I hope (the Olympcs) helps us to get to know the Chinese people and the other way."
關於掌旗和遇見Mirka:
"Ummm, different kind of circumstances, Meeting my girlfriend at the Olympic Games was obviously also a highlight in my career. Carrying the flag was a different highlight. I don't know what's nicer, but I guess it was meeting the girlfriend because we've been together for eight years, whereas the flag was only there for 10 minutes."
Mirka 是無可取代的 :D
關於對手納豆:
"I think our rivalry is great for tennis right now, It's not just Wimbledon . . . He's only 22. I'm only turning 27, so I have a feeling we're going to play 20 more times. It should be great for the next generation as well."
"It's good to have rivalries because I didn't have maybe that many rivals in the last four years. I've had rivals on and off but I think with (Nadal), there's something special to it because we've already played six times in Grand Slam finals. We have very different characters, but it's very much on the fair-play side, which I think is very nice for not only tennis, but for sports in general."
"Rafa has done very well in the last year or so to become the No. 1 in the world, but that's not my focus right now,"
"Before the U.S. Open, maybe there will be more talk. But we're a few days ahead of the Olympic Games, where I hope I can do well."
Video-Interview
(很久沒聽到小費的聲音了... T.T)
以上訪問來源:
Federer forced out of village by athlete fans
Roger Federer draws a full and rowdy house
Federer gunning for top spot
Gold in Beijing could help save Federer's season
 ***
今天8/7的訓練照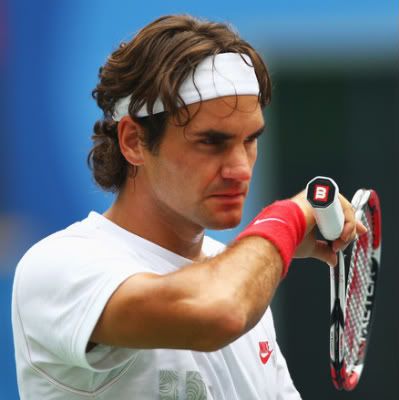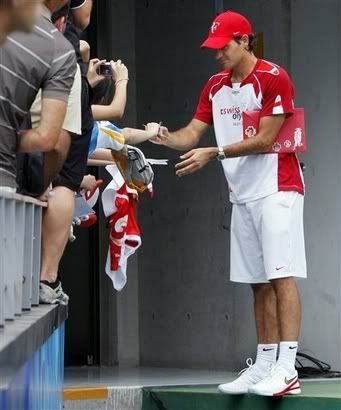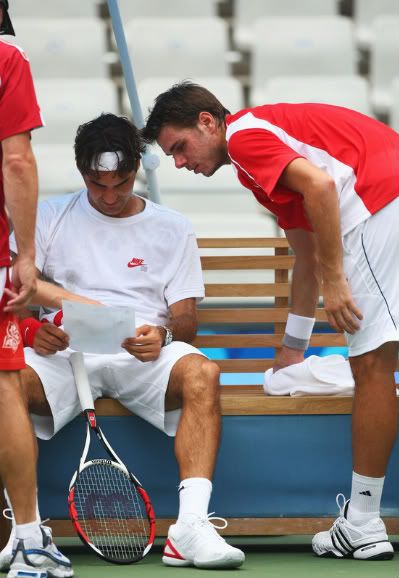 ---
PHOTOS FROM
RF.com
Thanks to the fans in Beijing.