Wow! 我們前進了!!! ^^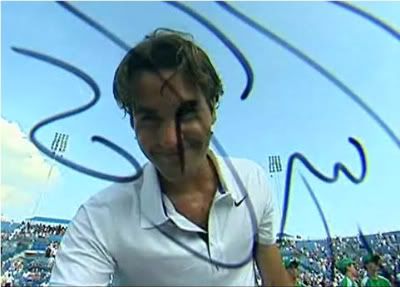 久違的畫面
6(2)-7, 7-6(5), 6-0
對於小費今天的表現
感覺平平
情緒的影響蠻大的
把水拿去冰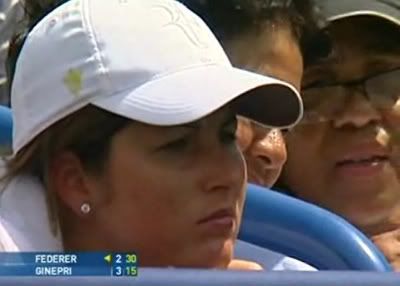 Mirka好像很少戴小費帽 今天的Mirka戴了溫布頓的帽子
昨天九點就睡了
早上兩點爬起來看球賽~
肚子整個很餓
最討厭北美硬地了= =;
第一盤 對手先發
一開始的前7局 我對小費的表現非常滿意
我感覺到小費的進步
沒有什麼出界
角度打得出來 還有球打在線上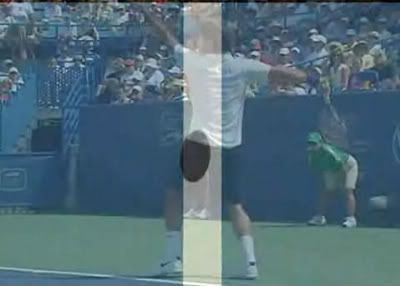 連救球 都可以打進in
幾次對手發球 小費馬上就來記回馬槍
這些都是最近很少看到的畫面啊~~~
害我是驚呼連連 都安靜不下來XD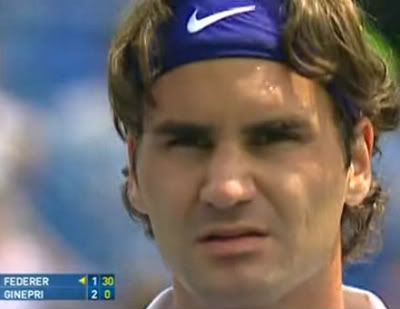 小費吹電風扇~ 現場好像超熱的 看觀眾拿扇子搧個不停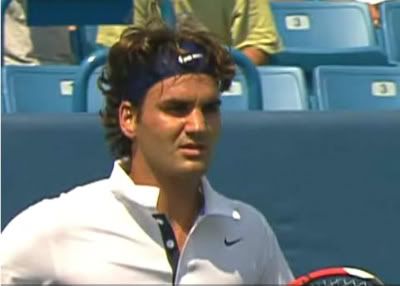 跳躍中的小費...
第七局 對手一球打出界很多 線審沒喊 小費挑戰成功
後來小費馬上破發
但誰知道 小費下一局就被破發口||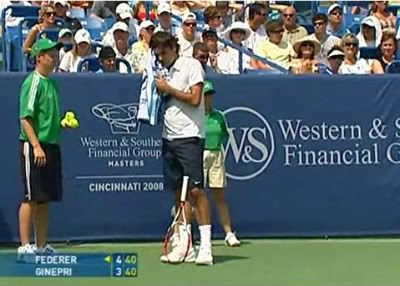 then 第9局 關鍵的一球
小費打到網子 球彈得很高
失望之際 沒想到球竟然掉在線內
對手也是小心應對 但小費最後還是擊出好球破發啦~~~
but... 接下來小費發球局
發球超級糟糕的 發球都飛得超遠的 不然就是掛網
double fault 還出現在關鍵分
小費是不是太心急了啊?!
最後被破發了
所以進入到tiebreak
我從來沒看過小費有這麼糟的tiebreak
記得之前 應該是在大滿貫吧
tiebreak 落後有四分之多
小費最後都追得回來 還贏了
but 這次小費整個失控了口||
看到0-5 最後輸掉了這盤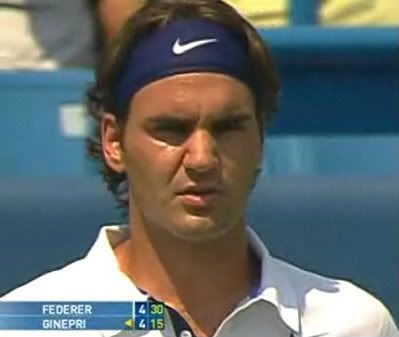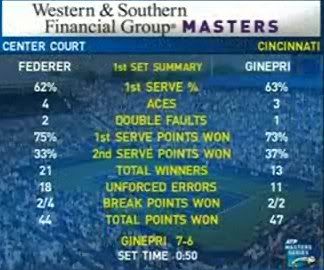 第二盤小費先發
狀況依然沒有調整回來
真的是又回到了最近的小費了
明明第一盤的前七局好球都打得出來
現在卻是出界一堆啊~~~
印象最深的是 轉播畫面顯示小費的非受迫性失誤
正拍4個 反拍16個
反拍多到球評都用scary來形容了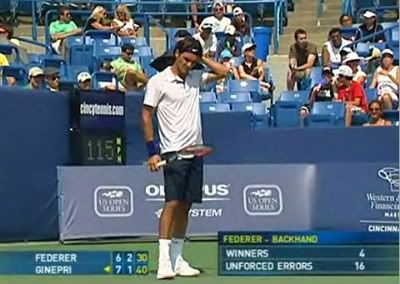 我的心情也轉為平靜 心臟真的是被練強了
小費在最後第11局被破發
好在第12局又破了回來
才沒又被終結掉
這盤的tiebreak 小費情形有稍稍好轉
但是還是不如以往
也有失掉發球分
現場蠻high的
球評忍不住說:everybody calms down
(我看最緊張的應該是你吧XD)
還好快要結束前 破了對手一分
自己發球保了兩分
才扳回了一盤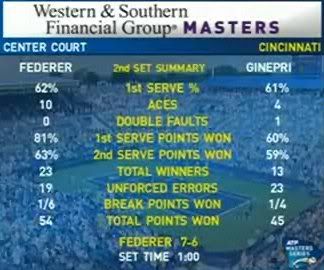 看到這裡 我突然有個瘋狂和不可思議的想法
小費賞他個貝果吧
ㄎㄎ 以小費這種狀態 怎麼可能啊
沒想到對手自爆
第一局 小費就破了他的發球局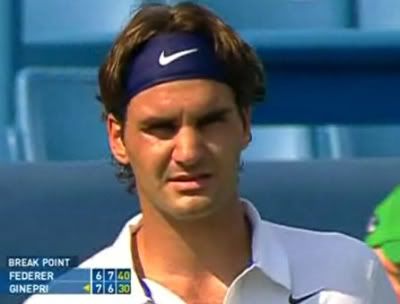 之後小費發球局發球變好了 都穩穩保住
第3局小費有3個破發機會
對手保了一個 但又因為雙發失誤 被小費破了
then 最後小費終於贏了
真的是讓我們等好久的一勝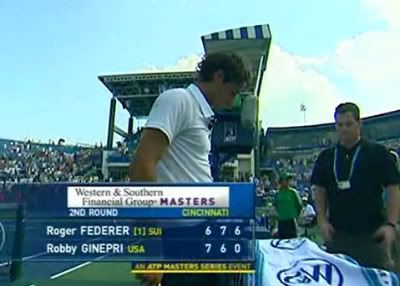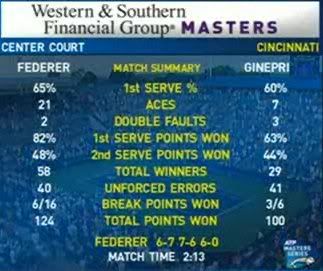 有16個破發機會啊~~~ @@
Challenge
今天的對手 我不怎麼喜歡
賽前心態不佳
說什麼以小費現在的狀態
這是他最好的機會可以擊敗他
比賽中情勢好的時候不說
情勢壞的時候 沮喪到自爆
雖然說可能是因為哪裡出問題了
所以第三盤一局也拿不到
但是醫療師進來檢查 不知道怎樣
對手上場 球打出界 又不時露出不舒服的姿態
啊 是到底有沒有怎樣啊?!
我還以為你想傷詐咧 (詐傷還傷詐?! XD)
 ***
專業的球迷相簿持續更新中
新增了小費6/30的訓練照以及昨天的比賽
(感覺這位球迷坐的位子視野蠻好的)
其中一張後面還可以看到納豆和Lopez坐在一起
好像往小費這邊看
這張
是Andy和Safin在聊天啊
後面則是辛苦的小費在練球呢~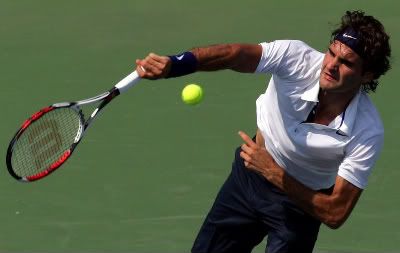 個人覺得這張放大蠻漂亮的
小費賽後訪問
 ***
2R Final Few Games
2R Highlights PT1
2R Highlights PT2
2R Highlights PT3
 ***
July 29, 2008
Roger Federer
CINCINNATI, OHIO
R. FEDERER/R. Ginepri
6-7, 7-6, 6-0
THE MODERATOR: Questions, please.
Q. The opening matches in tournaments can sometimes be the hardest, but if you survive then things change. Do you think both of those things showed in this match?
ROGER FEDERER: Yeah, I mean, we, the top players, always know the fear and the danger of the first round. We saw it here last year when Rafa lost early and Novak lost early, right? I've lost early here in the past as well.
It's a tough tournament, you know. It's a Masters Series, and here in Cincinnati the ball flies quite a bit so it's hard to control.
But, yeah, I don't know. With this place there's just a little bit more danger around maybe because of the quickness coming from Toronto where it's actually very slow.
Takes a little bit of an adjustment, and some guys who were here maybe longer and played a match before, and we have the seeds all the time. It's just maybe we tend to feel that maybe just a little bit more.
Q. Did it make you feel about what happened three years ago when you played him?
ROGER FEDERER: Yeah, it was a tough three-setter. Yeah, I mean, I've played him as well, in when was it, Madrid maybe last year. He's a good player, you know, especially in the States.
Obviously the Americans are always, you know, most dangerous. I think this court suits him, and he's been playing well recently, you know.
Yeah, I mean, I actually played okay I thought throughout the match. Just missed some opportunities. Thought I was the better player actually throughout the match. Was down a set and 6-5 with the break, you know.
So it was dangerous today no doubt, but I believed in my chance all the way to the end.
Q. Talk about the conditions out there today. Seemed like your unforced errors were a little bit higher than normal. Was that true?
ROGER FEDERER: Well, like I said, it's so quick. Depends always who takes the stats. How much do these people know? But, well, you got to go for you shots here.
I think in some ways you'll always see a little bit more unforced errors, and I think Robby played me in a way that I had to go for big shots. Unforced errors is a common thing then.
Q. He said yesterday that he thought this time period right now would be the best time to play you. He was hoping to pull off an upset based on you coming here losing two straight matches. How much would you agree with that?
ROGER FEDERER: Who said that? I said that?
Q. Robby said that yesterday.
ROGER FEDERER: Well, I mean, maybe. You know, I don't know. I've come here with, you know, four weeks no tournament in the past and came here and won, so I don't know. I don't think there's ever a good or a bad time, you know.
But maybe for him in his case, yes, because he's been here and played another match before. Like I said, he's got that advantage. He's had more preparation here in Cincinnati than maybe me. All these things, maybe for him, made that quote come out.
Q. I guess he thought you would be pressing to hold onto the top ranking.
ROGER FEDERER: Well, I don't feel the heat because of that, to be honest, so that's not the reason why he would have a better chance.
Q. With so much of that talk lately with the ranking possibly switching, what is your take on being No. 1? Seems you're so nonchalant about some things in your game. Is that one of the things that it's not all that important to you at this point?
ROGER FEDERER: Well, it is important. But if Rafa were to get it, look what he had to achieve to get it, you know. That's what I like to see. I would have been disappointed if I would have lost first round in Paris and Wimbledon. Then I wouldn't be sitting here being so nonchalant about it.
If he gets it he deserves it. He's been No. 2 for a long, long time. Let's not forget about that. He had his chances in the past and now he's closer than ever just because he could really get Wimbledon. I think that was a big one for him, you know, and he's been on an incredible roll.
He hasn't made it yet, you know. I'm still hanging in there, and I hope I can now get on a roll after this match today.
Q. Your goal wasn't necessarily to stay at No. 1, it's to...
ROGER FEDERER: Well, of course it's my big goal. But what are you going to do? I'm going to try to win match by match, and I cannot say I want to be No. 1 in the world and not play tennis anymore, you know.
You got to go out on the tennis court and win the matches. Then you break it down and go point by point. That's unfortunately the grind you have to go through.
I'm now I'm back with a one-match winning streak. Let's call it that way. Because last week was ridiculous that I lost that match. I thought I should have never lost, so that sort of hurt me. Today would have been similar again if I would've lost.
So I'm happy I could turn it around today. Let's see what happens now.
Q. How do you feel right now? Are you happy and relieved a little bit that you finally have that win?
ROGER FEDERER: No. I mean, not that crazy relieved, but, you know I would've just been disappointed having lost another match like I did last week here again. Didn't happen, so it gives me sort of a second life.
I know how well I can play once I get on a roll. It's just the beginning of the whole American hard court season and everything, so maybe it's not always that easy to get right on a roll again after playing on clay and grass for so long.
I've been able to do it many times in the past, so that gives me obviously great confidence to know that I can do it now again. Looking ahead, it's important to know that I'm in good shape for the Olympics and the US Open. I'm looking at the big picture, you know, right now.
Q. What was the key of the match today? First two sets were so closely contested. Did you do anything different in the third set?
ROGER FEDERER: Well, I thought maybe -- I just felt he was getting tired, you know. He had trouble breathing or whatever it was actually throughout the second set, whereas I had absolutely no problem.
I really hoped, because I was on top of him all the way through the second set, that I would get that crucial break and then I could sort of race away with it.
He just started to tee off that one game and he broke after I had a 30-Love lead. So it hurt to go down like that. But I knew at once if I could just turn it around a little bit things would swing my way.
Obviously once I was back on even terms, you know, he let his head hang a little bit. Obviously he was feeling even more tired. And I took advantage of it, which was nice for me.
Q. 6-5 when he was serving for it, I noticed that you might have change the game plan a little bit. Seemed as though you went a little bit more defensive. I don't know if consciously did that, but everything we saw other than breakpoint were slice backhands and you just allowed him to miss. Did you think he was going to get tight in that situation, and did you consciously tell yourself that?
ROGER FEDERER: Well, hope he misses and makes four double faults. That's what you hope for. That's not the way you want to break. I mean, it doesn't give you a whole a lot confidence if the guy just gives it or to you.
Sure, it's a situation where you want to give the guy an opportunity to miss. You don't want to just start to go for outright winners and then you miss four and he wins. You want to make it a little bit difficult for him. I don't know what exactly happened, but it was important to get ahead in the score. You know, Love-15, sort of Love-30, maybe 15-30.
That's what I got, and that maybe made him a little bit more nervous. In those situations I'm usually very good, so I handled it well today.
Q. He broke and then you broke back, in the first set actually reversed there, but how do you stay cool? How do you not just lose it when you know you have an opportunity?
ROGER FEDERER: Well, I mean, I was disappointed that the first break I got, you know, at 40-15 I hit this ridiculous backhand slice into the corner. You know, that's sometimes how close it is. A match can turn around because of one shot like this, and it did actually.
I shouldn't be crying about it, because I'm still leading 40-30 and it's quick conditions here and I'm serving. But it is, it's a momentum shifter sometimes. One shot like this and he got back on even terms and all of a sudden was in the match, you know.
I mean, usually I stay very calm, and I did again today. For me there's really no reason to freak out in anyway. I'm playing well and trying my best.
As long as that's happening, you know, I don't lose it, whereas before I always had the feeling maybe just a completely wrong game plan, I trying too much and expecting too much. Then you have a tendency to obviously go crazy a little bit more.
Q. Are you enjoying at all this challenge of trying to hold onto the top ranking when it's getting so close?
ROGER FEDERER: Well, yeah. I mean, I have no other choice, you know. But I do enjoy the challenge that I'm the No. 1 in the world. Yeah, I like that, so what more can I tell you?
Rather it be me than rather it be him. So I've had -- I'm on a great run with my No. 1 ranking. If I would lose it I would want it back, so that's an obvious situation. I hope I can get on a run and then got two massive tournaments ahead of us.
So far it's just been disappointing that my hard work hasn't paid off with a Grand Slam win after being so close at Wimbledon. That definitely hurt, you know. But I'm over it now and I'm looking forward.
Q. Do you get the sense that the guys are playing you any differently now than they were maybe two, three years ago?
ROGER FEDERER: Not a whole lot. The guys are pretty one dimensional all out there, you know, baseliners, good returns.
The big difference I see from eight years ago when I came on tour is everybody has a good serve today. Everybody can serve clutch serves when they need them and they serve so close to the lines.
Everybody's got a good second serve I would like to say, because I think you always say you're as good as your second serve. Today nobody has a shocking second serve anymore like some of them had in the past.
That's why people were really struggling on grass, some of them, because they just had such a bad serve. Today that doesn't exist anymore, and you neutralize your opponent much more with such a good baseline game and with a decent first serve, and especially a second serve.
That's also one of the reasons now I think everybody is doing much better on all kinds of surfaces.
from
ASAP Sports