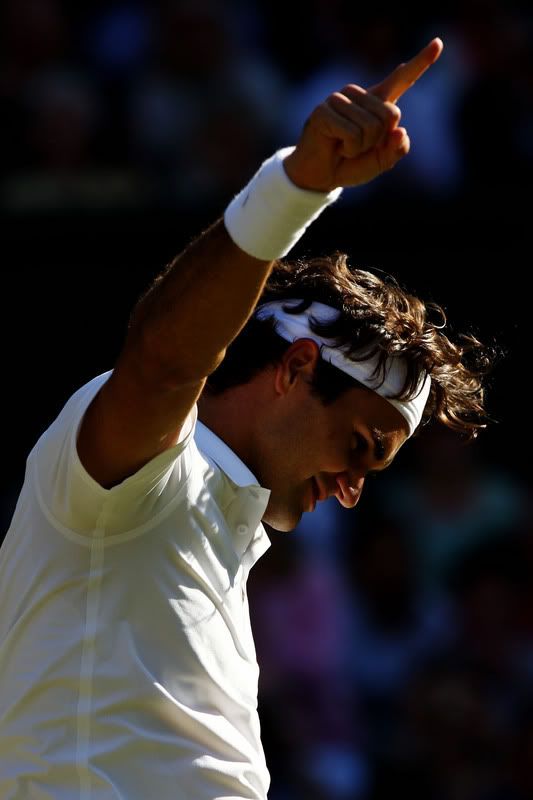 (
明亮版
)
6-1, 7-5, 6-4
小費賽後訪問
這場比賽因雨延後
第ㄧ盤打完即中斷= =||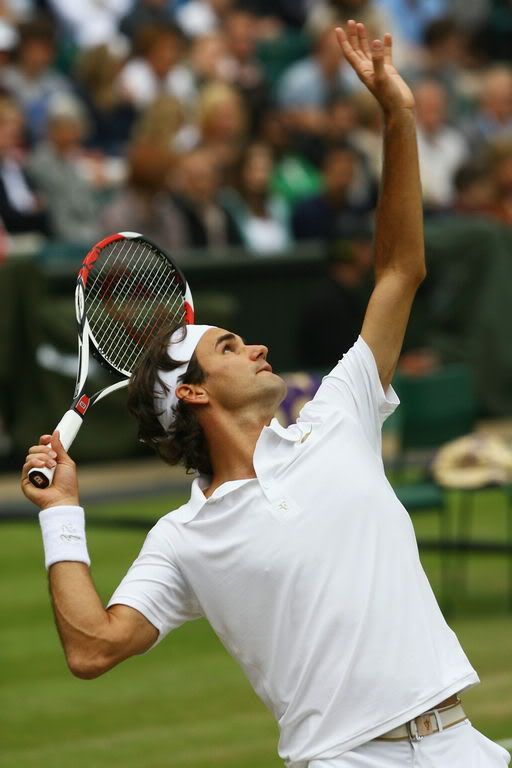 等比賽等了好久
終於看到遮草地的布拉起
開始前還蠻擔心小費的
該不會又受雨的影響
比較慢暖機
then 瑪力就乘此機會變成超級瑪力
可能會纏上個4、5盤
口|| ㄧ想到就覺得累
不過第ㄧ盤超級瑪力沒有出現
是太想攻擊卻頻頻失誤的瘦弱瑪莉遇到大魔王小費
小費雖然很積極有在進攻
不過還是多虧了瑪莉多次的掛網失誤
而小費是越打氣勢越出來了
因為馬利很愛上網
so 小費就切球或是打到腳邊之類的
反正就是讓瑪莉掛網或者失去平衡
(瑪力是不是太高大 所以容易失去平衡?)
向前衝...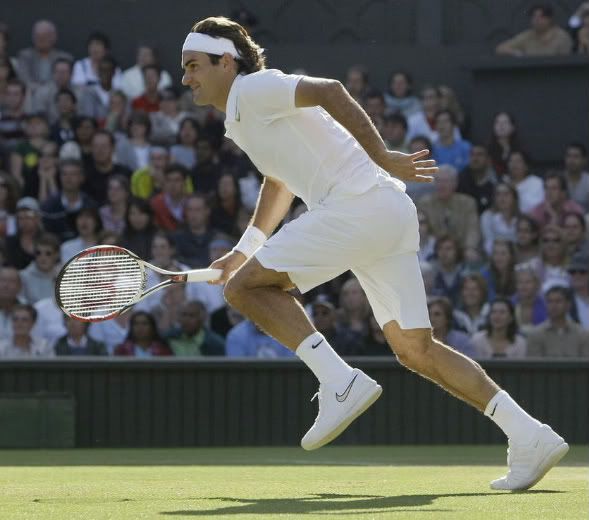 雖然PTT的版友說這場比賽畫面很好看
因為是2枚帥哥在場上打
but... 瑪莉失誤了碎碎念(我知道你非常懊惱)
好不容易打出ㄧ個好球也碎碎念(我知道你是在為自己加油)
果然 還是氣質和個性重要啊!!! @@
我個人沒有很喜歡看到碎碎念的畫面 = =||
下了小雨
接著打完第ㄧ盤 就把布拉起來了
等了很久 雨都還沒停
因為隔天被逼去聽無聊的研習營 要早起
so... 就決定要早睡
但是呢 又很不放心小費
第ㄧ盤 這麼輕鬆 這麼順暢
現在來個暫停
豈不是讓瑪莉有起死回生的機會
小費要是受影響怎麼辦?!
超擔心的 在床上翻來覆去 睡不著
10點就給他躺著 躺到11點半之後
忍不住起來開電腦 看看開打了沒有
看到瑪力15-0 喔喔 才剛開打!!
then 電腦就開著
安撫著自己趕快睡著
後來半夜醒來 馬上開螢幕看比分
第二盤瑪力狀況好像有好轉
但還是直落三盤~
很高興的 又回去安心的睡了
被擊潰的馬力 這ㄧ幕也太戲劇性了吧?! 小費脫手 影帝換人當了
(衝著這張 我就想重看比賽了 小費走過去該不會還把他扶起來吧?!)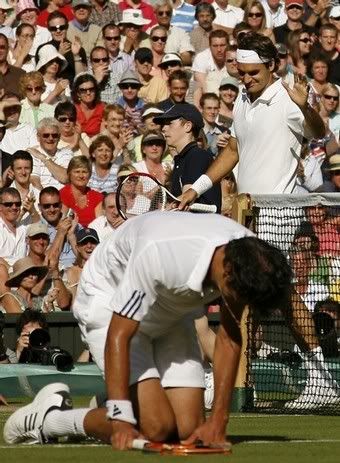 這畫面個人覺得非常有趣...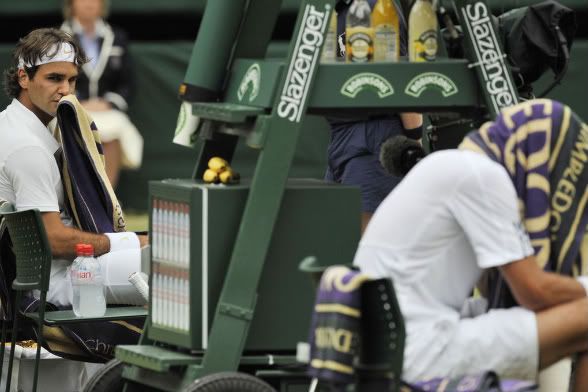 今天去研習營
本來有想要好好聽的
但是都聽不懂 專有名詞太多了
這是平常未碰過的領域啊~~~
so 中午我就逃跑了
早知道今天就別出門了
昨天就可以等小費比賽 把比賽看完= =||
被擠壓到的可愛小孩...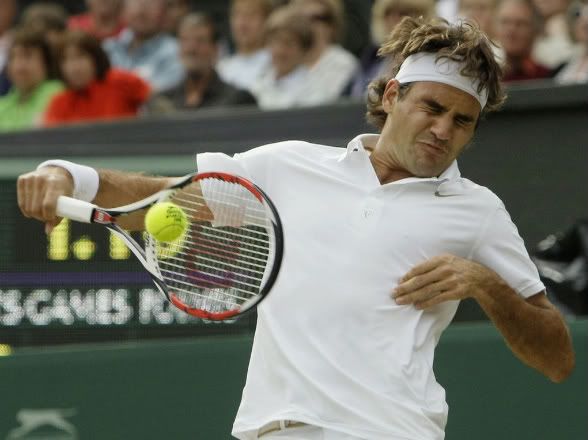 下一場是Safin
Safin今年大復活
應該是改掉了易怒的脾氣
以及抱持著沒什麼好輸的心態
ㄧ輪一輪晉級的
這種人特別有爆炸性的威力
小費 要小心了~ 千萬要撐過!!!
是說 本來還希望Tip可以和納豆對上
沒想到 竟然出局
納豆決賽之路 未免也太好過了吧!
最後的天氣竟然是大太陽的晴朗 這是什麼鬼天氣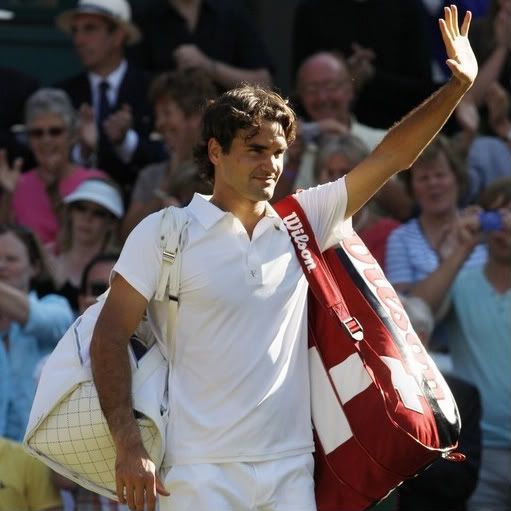 ***
Federer (SUI) / Ancic (CRO)
1st Serve %: 49 of 71 = 69 % / 58 of 95 = 61 %
Aces: 15 9
Double Faults: 0 2
Unforced Errors: 6 16
Winning % on 1st Serve: 43 of 49 = 88 % / 41 of 58 = 71 %
Winning % on 2nd Serve: 18 of 22 = 82 % / 17 of 37 = 46 %
Receiving Points Won: 37 of 95 = 39 % / 10 of 71 = 14 %
Break Point Conversions: 4 of 10 = 40 % / 0 of 0 = 0 %
Net Approaches: 10 of 13 = 77 % / 21 of 50 = 42 %
Total Points Won: 98 / 68
Fastest Serve: 129 MPH / 130 MPH
Average 1st Serve Speed: 121 MPH / 124 MPH
Average 2nd Serve Speed: 93 MPH / 101 MPH
這次不知道是小費打得太好 還是馬力打得太差
還是小費就是馬力的剋星?!
小費的數據還真是驚人
ace 15個 沒有double fault
最令我驚訝的是非受迫性失誤只有6個
應該是今年最少的吧 1發和2發得分率都80以上 口||
下一場對上Safin 希望小費也是以最好的狀態上場
這是我最愛的戲碼...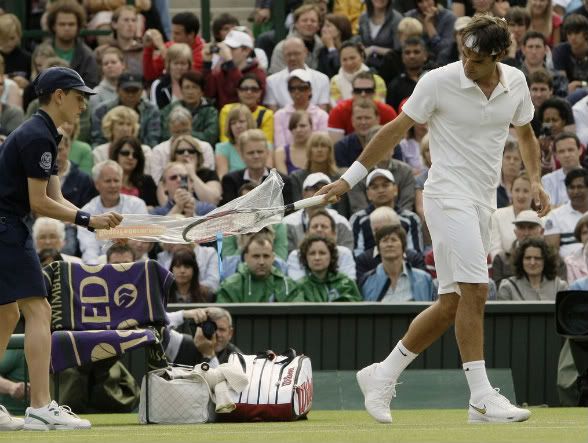 ***
Wednesday, 2 July 2008
Roger Federer def. Mario Ancic 6-1, 7-5, 6-4
Q. How would you describe the state of your game at this point in the tournament compared to previous Wimbledons?
ROGER FEDERER: Well, it was, again, a different type of, you know, opponent today, so you always have to adjust a little bit. But I think I played well today and throughout the tournament so far. You know, I've had some better draws, some tougher draws over the years here at Wimbledon. I was able to come through, you know, all of them the last five years, so I'm happy that this time it's worked out again as good. I really feel like I'm playing as good as the last few years.
Q. And your level of confidence at this moment compared to when you've been in similar situations during your run of five straight titles, how would you describe it?

ROGER FEDERER: I would consider it normal, meaning very confident, you know, just because I'm on such a great winning streak on grass. Coming from a win in Halle, winning another four, five matches here, it just really helps your confidence. I feel so comfortable on this Centre Court that my confidence level is obviously very high.
Q. Were you more pleased with the way you served or the way you returned today?

ROGER FEDERER: Well, I knew both were gonna be key. But most importantly I prefer to serve well and, you know, return poorly, to be honest, so at least I'll stick with him, you know, sort of on the service level. No, I think I played smart today. I served really the right way against him, because he's a dangerous player, you know, and he tends to take net away. You know, I feel like I already serve already pretty well in Paris. Of course, Paris and Wimbledon are different. But, again, you know, he's a big server. When I get the ball back against him, especially when he's at net or at the baseline, I find ways to get past him. I think all in all it was a good performance, not only my returns.
Q. The last match you played with him, does that seem like ancient when you see that?
ROGER FEDERER: Well, I mean, I played many, many matches since, you know. But, I don't know, it feels sort of -- it's there but it's not as present, let's say, as the Wimbledon match against Sampras, for instance. That's much more right there in front of me, you know, because all I remember is maybe the match point I've seen in a highlight. I haven't seen anything else of the match. It's one of those things you just try to forget. It's more something I've been talking about than seeing really, whereas the Sampras match I saw it, I don't know, 25 times. That obviously changes it a little bit.
Q. Could you talk about your recollections about your match with Pete? Is it clear almost in a game-to-game...
ROGER FEDERER: Yeah, I mean, pretty much. I mean, I know which shot was played almost in what set, to a degree. Yeah, I mean, there were many points, you know, but many great ones. I've seen many times also the highlights of that match. So, yeah, they're very, very present.
Q. At this stage in your career, when you go out to practice your serve, is your serve at a level where you're practicing just to sort of keep it sharp, or are you still trying to perfect and develop new places in the court to hit? I mean, are you still working on developing it or is it maintaining it?
ROGER FEDERER: When I serve, honestly I don't hardly practice it. I find when I hit, let's say, 50 serves in a row, you know, the shoulder starts hurting, the whole thing. You have to also remember what it does to your body, you know, the whole serving, especially only serving, you know, and not playing a rally and maybe taking time. You know, when you hit 50 serves in a row you can do that almost in a few minutes. That's maybe not as good for your shoulder. But at the same time, I think you've got to do it sometimes when you have time. That's usually the off-season. But, honestly, for my serve, it doesn't really matter much to practice on it because it's about being consistent with it and being concentrated on it, because it's really the only shot I can control. That's why the serve is such an important part of my game, or anybody's game.
Q. You've been involved in a lot of streaks. Where does 17 semis rank or mean to you?
ROGER FEDERER: I mean, it's something fantastic, no doubt. Because I know the streak before that was way lower, you know. Getting so far in every Grand Slam I've played for so many times in a row, it's something that means a lot to me. I already mentioned that in Paris, you know. Being back here in the semis at Wimbledon, it's just fantastic.
Q. How dangerous is Safin now? Obviously he's not the same player as 2005, but he's got the two Grand Slam titles and he's obviously motivated again. Do you see him at the same danger level you might have a few years ago?
ROGER FEDERER: Well, yeah, I mean, you've got to look at these guys, Ferrero, Roddick, Safin, Hewitt, these guys who have been No. 1 in the world and have won Grand Slams, you take them like they would be No. 1 in the world in some ways, because one day anybody can play great, especially the former greats like them. So I never looked at Marat like No. 89 in the world. I mean, that's ridiculous. You know, he knows that himself. He's finally showing again what he can do. It's just quite surprising he does it here at Wimbledon in some ways, because he used to dislike playing on this surface. So it should be interesting, because last year I wasn't happy to see Safin in my draw. I'm never happy. He probably knows that. Just been disappointed with the way he's been playing lately, but hopefully he's got a second thing going here in his career. I'm looking forward to playing him in case he wins this.
Q. What stands out most in your semifinal in Australia three years ago against him?
ROGER FEDERER: Just being part of a great match and going through unbelievable pain. I was struggling with my feet and I could hardly run in the end. But, I mean, I fought, and he was better in the end. I saw some highlights of that. I can't believe how well we actually played, because I really thought Marat was playing at his peak and I was playing almost as good as I could, as well. Went, you know, deep into the night. I almost came back in the fifth, which I couldn't believe, you know. He almost handed it over to me in the very end. Obviously it was the match point that really hurt losing that match because playing Lleyton maybe in the finals there would have been also quite an awesome experience for me after playing Agassi as well at the US Open.
Q. That first set was pretty exceptional. Is there one match in your head that you have as sort of the ideal, where that's been as well as you've played? Is there one match that ranks above the others in terms of quality?
ROGER FEDERER: Well, one match that comes to mind is probably the Hewitt finals at the US Open when I beat him 0-6-0. That was just right from the start until the very end. I didn't hardly have any lapses, except the second set, where you could say, okay, he was close or whatever. But I just felt like everything was in place there. I mean, I know I had plenty, plenty other matches like against Andy maybe in the semis at the Australian Open one year where I beat him very easy as well. So thankfully I get those moments quite often, actually.
Q. Do you have a sense to how close you are to that level?
ROGER FEDERER: Well, I mean, today I was in complete control. I was never really under pressure. I served well. I think I didn't have to save a breakpoint, as far as I remember. When you go through a match like that, not having to save breakpoint and the other guy has to work extremely hard to win his service games, you know you're in a good and comfortable position. Playing against a guy who's serving well on top of that, so he's always going to win his fair share of games. But today was excellent, as well.
Q. Unless I missed something, you seem to have gone through virtually the entire tournament without being under real intense pressure, in a comfort zone. What does that say that you've been able to get all the way to the semis that way?
ROGER FEDERER: Like here, you mean?
Q. Yes.
ROGER FEDERER: Well, I mean, I don't know, losing a set is not a problem. Sometimes it gets hyped up a little bit too much, having lost a set till the semis, finals, whatever it is. I don't think it matters that much, you know. I think it's important to be able to rely on a good game, you know, day in, day out. That's what I've been able to have the last years now, and also this tournament. So I'm just very happy I didn't have to burn unnecessary, you know, energy. I've been playing very consistent, been moving great. This is obviously a perfect situation, looking at the semis.
Q. When you play as well as you did today, is there any reason why you shouldn't think in terms of not just a sixth title here but perhaps even a seventh?
ROGER FEDERER: Sure, I mean, I'll have a chance to win this tournament for the next five or 10 years, you know. Doesn't matter how I play from here. You know, I think my game's made for grass. There will always be tough opponents, dangerous opponents. That has been the case for the last years, as well. But I found a way to win always. Of course, my dream is to not only win this year, but many more years to come. If it doesn't happen, I'll try to win the next one again. This is what it's all about for me at this stage.
Q. How the quality of your game is connected with other parts of your life, social, personal? Is it all together, or the quality of your game is separate?
ROGER FEDERER: I don't know what you exactly mean. But I'm very laid back in my personal life, as well, like I am on the tennis court. Sometimes I tend to look quite serious, but it's got nothing to do with being serious, it's just got something to do with being focused, you know, on the particular moment, not trying to have any lapses.
But I try to actually sort of separate, you know, my tennis life with my private life. It's something that has been working for me for the last years.
Q. They showed how earlier in your career you used to smash racquets when you were a teenager. Where did all that anger go? Does that ever still seep into your mind now? You've learned to be more calm on the court?
ROGER FEDERER: I don't get the anxiety like on a match court any more so much, you know, to throw racquets, to toss balls out of the court, whatever you name it, scream and stuff. I almost laugh about it a little bit more today when an opponent does it, like inside, not obvious. But that's something for me that's not a problem any more. But in practice that comes out much more often, you know, the frustration and just, let's say, disappointment, the anger and stuff. But, I don't know, it's just something that's sort of gone away over time. And I think, as well, especially on the match court, it's just a respect towards, you know, the fans sitting there, not embarrassing myself, you know, in front of millions on the tele, as well. And maybe kids watching, as well. I want them to have a proper example. Even though I enjoyed watching Goran, McEnroe, these guys throwing racquets. I thought it was funny. But at the same time, I don't think a tennis player needs to act this way. I think there are different ways, as well and I hope that kids get inspired by this more than throwing racquets. But then again, I think it's okay, too, to throw a racquet here and there. It's not a problem.