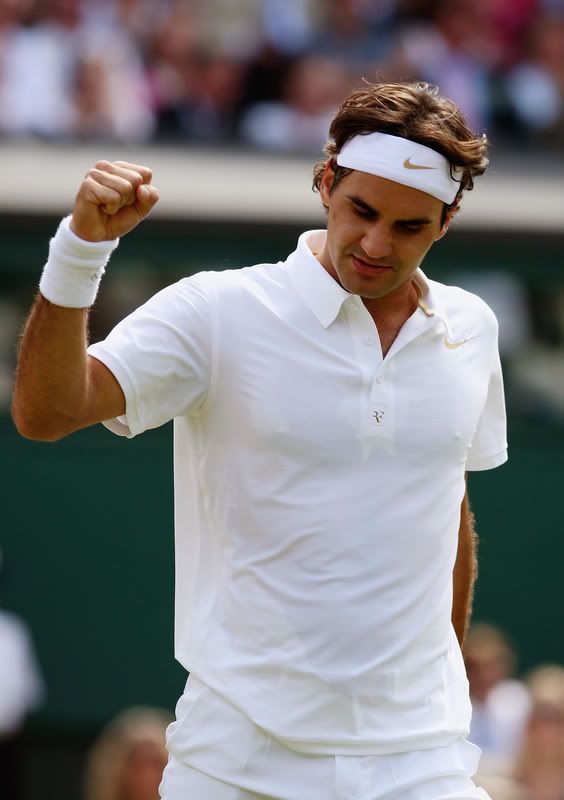 7(9)-6(7), 6-2, 6-4
直落三盤啊~~~
第ㄧ盤一直到最後才開始播
剛好趕上搶七局 兩人比分很近
雖然小費有幾個賽末點
但還是因為失誤 就差那麼ㄧ顆球
Hewitt也是
最後小費終於打出好球拿到第ㄧ盤
現場有一位球迷已經穿了小費的羊毛衫 是說 不便宜吧@@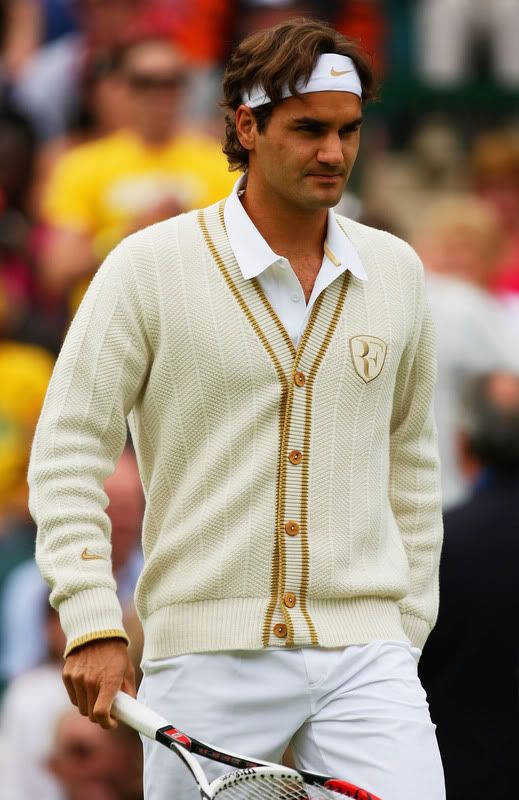 第二盤
因為Hewitt的失誤變多
小費一開始就破了Hewitt的發球局
後來比數ㄧ度到4-0
小費在這盤破了2次Hewitt的發球局
而自己的發球局 雖然也有被逼出破發點
但都ㄧㄧ保住
其中印象最深的就是那個4個aces的那一局啊
看得超過癮的
今天內角ace發得太好了
而且都在關鍵時刻幫了小費不少忙
沒錯! 這是以前的小費啊
不過外角 ㄧ直發不好 @@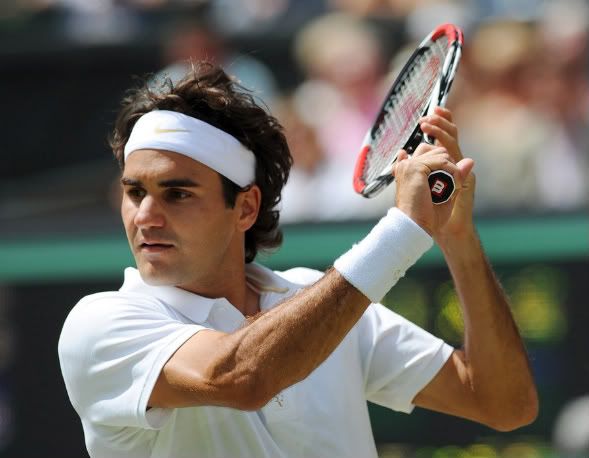 第三盤
Hewitt又有點難纏了
不過也是在開始沒多久
被小費拿到2個破發點破發
ㄧ直到最後Hewitt的發球局很難拿到破發點
多虧了稍早的一次破發優勢
而小費的發球局 也有被逼出破發點
但也是全部保發
只能說 這場看小費保發實在是太過癮了XD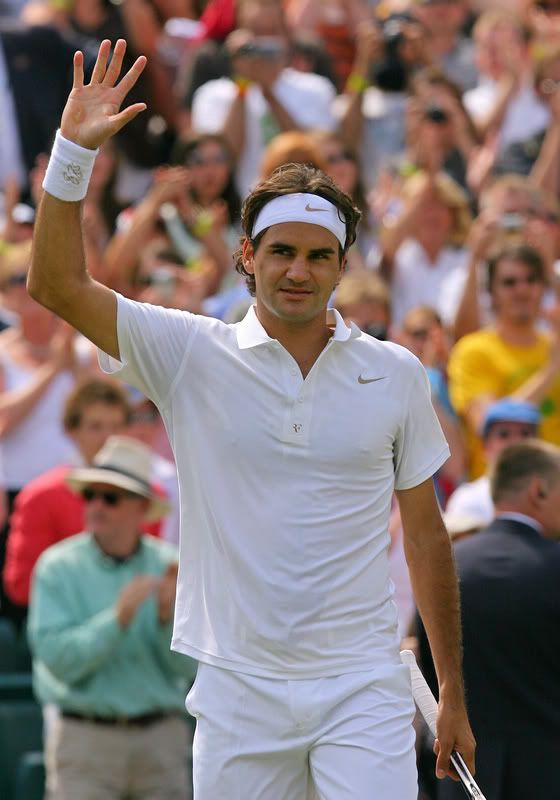 今天我ㄧ直在注意小費的頭髮
感覺今天的頭髮應該很好摸
好像軟軟鬆鬆的樣子
好想摸喔~~~
對了 今天的護腕應該是給澳洲球迷撿到吧 真好
小費還因此笑了一下
M.Ancic和F.Verdasco
打到第五盤沒完沒了
最後第五盤M.Ancic13-11拿下比賽
上次小費打到10-8我都要吐血了
這也太會打了吧
聽說M.Ancic在草地是危險的球員啊~~~
雖然我好像沒什麼感覺
可是還是不要輕敵好了!!!
小費加油!
今天的表現我很滿意~
另外 納豆那邊的種子球員
好像都要不見了的感覺><
現在有點在指望Tip
可是 這樣真的好嗎?!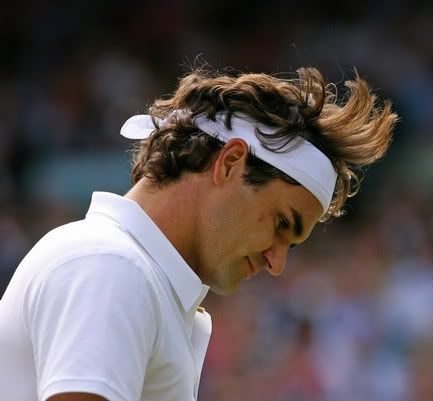 ***
Federer (SUI) / Hewitt (AUS)
1st Serve %: 62 of 98 = 63 % / 55 of 87 = 63 %
Aces: 21 / 8
Double Faults: 3 / 1
Unforced Errors: 22 / 13
Winning % on 1st Serve: 53 of 62 = 85 % / 43 of 55 = 78 %
Winning % on 2nd Serve: 18 of 36 = 50 % / 15 of 32 = 47 %
Receiving Points Won: 29 of 87 = 33 % / 27 of 98 = 28 %
Break Point Conversions: 3 of 3 = 100 % / 0 of 8 = 0 %
Net Approaches: 13 of 17 = 76 % / 15 of 19 = 79 %
Total Points Won: 100 / 85
Fastest Serve: 127 MPH / 127 MPH
Average 1st Serve Speed: 119 MPH / 118 MPH
Average 2nd Serve Speed: 94 MPH / 95 MPH
 ***
關於衛視... = =||
有人說 不要罵台灣衛視 因為他們沒辦法掌控
不能罵的時候 只有無奈往自己肚裡吞啊~~~
因為去年亞洲球迷投訴
搞到現在都以亞洲球員為主了
要是衛視開兩台分1、2
ㄧ台以當地球迷為需求
另一台播大熱門球員
可是卻又沒這個錢 口||
超無奈的~~~~~~~~~
狂播亞洲球員就算了 至少還是溫布頓
可是啊 我怎麼覺得廣告變長了的感覺?!
小孩子臉...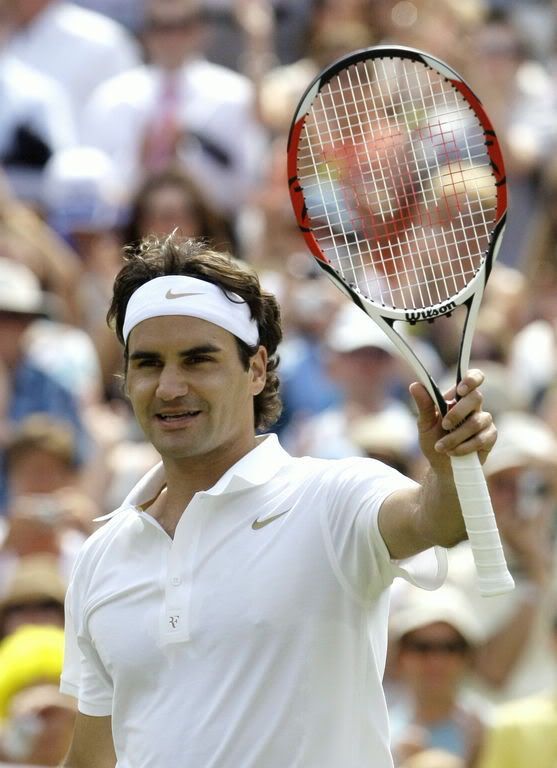 ***
Monday, 30 June 2008
Roger Federer def. Lleyton Hewitt, 7-6 (9-7), 6-2, 6-4
Q. Do you think Lleyton Hewitt has the ability to get back up into the top three or four players? People talk about his speed and strength, but perhaps he doesn't have the shot making ability. Is that the difference that makes it harder for him against you and Rafael Nadal and the others?
ROGER FEDERER: Well, I think for him the recent years has been more of an injury problem, really getting over that than being able to play, you know, a proper schedule from January till November.
But the thing is, as well, I don't think he cares that much about his ranking any more. I think he has the potential, obviously, to be top 10, top 5. I don't think the ranking is his driving thing here. I think it's about being in the slam, playing me, then hopefully beating me, which didn't happen today because I think he was a bit hurt, you know.
At the same time, I think this is really what he looks at. He doesn't look at the rankings. I think if he would play 25 tournaments a year and be on top of his game, yes, he has absolutely the chance to be at the top, you know.
But he unfortunately doesn't. For this reason it's probably not the rankings but tournaments. So does that answer your question? I think it does.
Q. Could you reflect on playing Mario again. When he beat you here, did you think that this was a guy you were going to have a rivalry with for years and years?
ROGER FEDERER: No, that's not how I felt when I played him. I completely underestimated him back in 2002 when I played him. I played a great Wimbledon the year before. Came in as maybe top five, six seeds, I think maybe four or so.
I mean, I just thought, you know, I'll play a little bit of serve and volley. I expected him to stay back and it was the opposite. I couldn't serve and volley because I thought conditions were slow. He serve and volleyed first and second serves almost, I can remember.
I got completely surprised. He played well till the very end. I was a little shellshocked and didn't know what happened to me.
That was my problem when I played him. It was more the shock than anything else than thinking about a potential rivalry, because he was just new on tour and then he lost in the next round against Vacek. I was like, Oh, God, what a shocker that one was, as well.
I was just really disappointed when I lost to him.
Q. Have you learnt from that? Did you learn for your future matches?
ROGER FEDERER: Well, what it taught me was not to underestimate any opponent, no matter where they're from, what technique they have, what ranking they have. It's just a matter of going out there and, you know, preparing well and trying to get all the facts together from your own style and then their style and putting it all together and giving it a hundred percent.
I think I had a tendency to sometimes, when guys maybe didn't have the proper technique or were new on tour, I would sometimes not give them the respect maybe they deserved.
Q. At the press conference you held before the tournament started, you spoke a little bit about people who have written that you might be vulnerable, you might be in decline, and all of that. How have you maybe answered all of that with how you've played this fortnight?
ROGER FEDERER: Well, I mean, I'm just happy the way I'm playing, you know, so far. No real problems so far. I've been serving well. I've been playing well, beating dangerous opponents, such as Soderling and now Lleyton. I think Lleyton was a tough draw to get in the fourth round.
You know, if I were to lose next round, I mean, I don't think it's gonna really calm down. For me, still some work to do because I guess all the people will be quiet.
Q. There's been a bit of an issue raised today. Maybe it was a little disrespectful to put Venus Williams, a four time champion, out on Court 2. Would you, if they scheduled you there, have felt it would have been disrespectful, being the defending champion, not to be? She didn't raise the point. She took the high road.
ROGER FEDERER: The thing is Pete played on Court 2 after winning seven years. Who deserves what here? It's the club who decides in the end. You know, we're happy to be playing here. They can put us at Aorangi or Roehampton if they want to, but we have to accept the fact.
I wouldn't be disappointed if they put me on Court 2. More just like, Why can I not play on Centre Court or Court 1 because they're such nice courts? Again, going back on Court 2, sometimes it's also kind of cool. You're closer to the crowds. It's kind of a different feeling out there.
I hope that day will not come for me, that I will have to play on Court 2. I understand there's a little bit of, you know, disappointment maybe, but I don't think it has anything to do with disrespect. I don't think that's what this tournament is all about.
Q. How have the courts changed here from when you won first in 2003 until today?
ROGER FEDERER: Nothing. I really don't think so. It's been the same pretty much through. People are talking this year is slower. I completely disagree with that.
Q. What do you see as the biggest similarities and the biggest differences between you and Rafael Nadal?
ROGER FEDERER: Well, I guess we're good competitors, both of us, you know. I think that's it. He's a lefty. I'm a righty. He likes to play completely different than I do. We have different characters, as well.
Not a whole lot in common really.
Q. Can you elaborate a little bit on the differences?
ROGER FEDERER: Everything's different. Different person.
Q. How does that affect your matchup, do you think, the appeal of your matchup?
ROGER FEDERER: I think it's even more intriguing because of that, you know. He appeals especially to the very young generation, I think, coming up because he's very entertaining to watch in terms of, you know, his physical ability, you know, the way he handles himself.
He's always very respectful. I think that's great. He's been really terrific for tennis. I mean, I have only compliments to give him really. He's been great. I think that's why our rivalry is so good.
Q. Hawk Eye do anything to get back a little bit in your good graces, that call in the breaker?
ROGER FEDERER: Which one are you talking about? There were two.
Q. The overrule on the lob.
ROGER FEDERER: Well, I mean, honestly I couldn't believe the ball was called in at 2 0. For me, that was a call that was way long, not even worth challenging almost. It was challenged and it was in. It's not even in, it's halfway in on the line, which I couldn't believe, instead of just touching by a little bit.
That one got me completely by surprise. That just makes me wonder. That's why I probably never will really like it.
Then, of course, I got a little lucky at 7 All. I couldn't believe it was called out, because to me it looked in all the way.
Q. You still don't think that beats the alternative, which would have been two wrong calls basically?
ROGER FEDERER: Well, 3 Love for me, then we'll see what happens. That's how it would have been.
Q. You look at your stats after this match. Reconfirming the way you would have wanted to play, adjusting for your next match, how much of what you'll do next match will depend on what you read there?
ROGER FEDERER: No, this is just like information. For me that doesn't really matter much. I see I have many aces. I felt also like I served well, especially when I had to today. I'll always play aggressive on grass. That's anyway not a surprise to anyone. So I'll just try to keep playing the way I did.
But then obviously Ancic is a different type of player. He maybe doesn't move as well from the baseline. But he's very much an attacking player with a potential serve and volley. It will also depend on how he'll play early on to give me a feeling.
I just played him in Paris. I beat him quite easily. I've played him here in the past, and at Wimbledon also I was able to beat him a couple years ago. I played great.
So we'll see really what happens. But I'm just really happy the way I'm playing, and we'll see what happens against Mario.
Q. He's a former No. 1. He's won some slams. Now he's struggling, he's had injuries that were pretty clear today. When you're on the court, do you have capacity for empathy? Do you look across the net and see a former playing struggling, gritting it out, or does that not come into your thinking out there?
ROGER FEDERER: I mean, I feel bad for him that, you know, he's injured. That's where I feel bad for him for a split second. But at the same time he was still dangerous. You know, he still had breakpoints in the third.
You never know. All of a sudden maybe he won't feel that hip maybe that much any more if the adrenaline starts to come along for him.
I mean, I just feel bad, you know, that he has so many injury problems, that it's just not really working out for him. But by beating him, not in any way, no.
Q. The extra day. A good weekend?
ROGER FEDERER: That's nice. It's sort of pretty nice here, you know. You know when you play Monday, Wednesday, Friday, same thing in second week if you keep on winning. Also I haven't had any tough matches. I didn't really need a crazy amount of treatment.
Yeah, a good weekend.
Q. Watched the soccer?
ROGER FEDERER: Watched that, as well. I think the better team won, so I think it was fun.