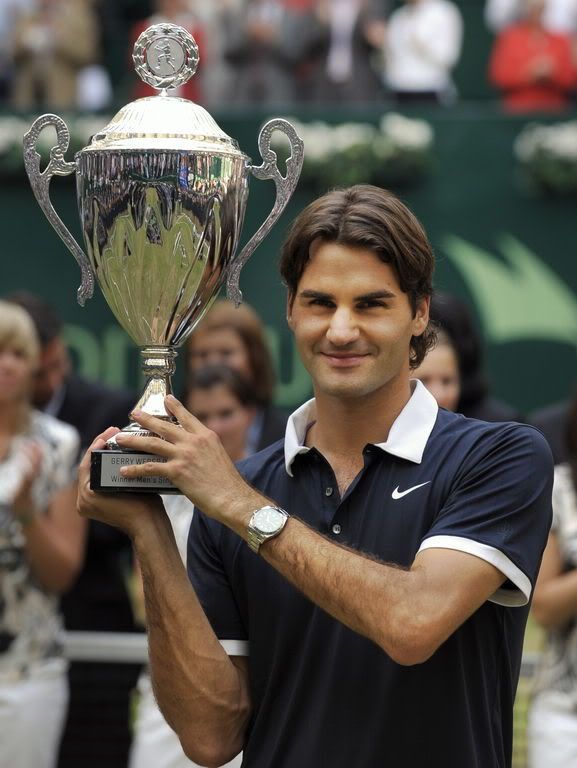 6-3 6-4
我沒有看比賽
因為隔天就是我的期末考啊~~~
要早點睡覺才行
不過我還是有看到記分板6-3了 then 就很安心的去睡了
還是依照慣例來貼一下相關的東西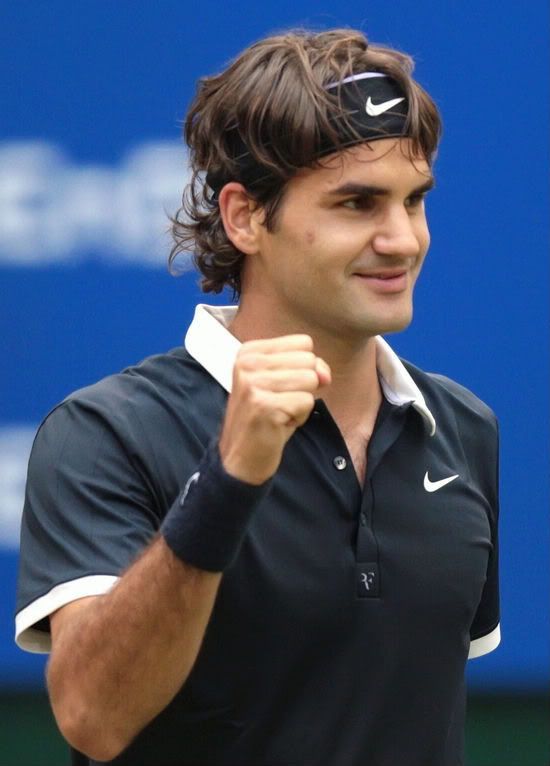 這次小費一盤未失 也全部保發
Final final game
Final Highlights PT1
Final Highlights PT2
頒獎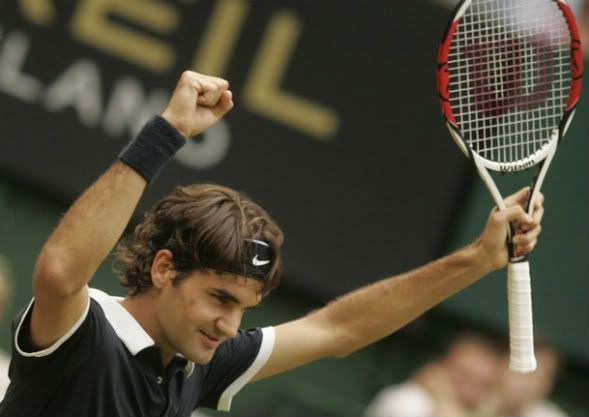 Q: Did you get what you wanted out of this week, after Sunday night you weren't quite sure if you were going to come here for various reasons. And here you are and you won without dropping a set?
FEDERER: I guess once you take the decision to commit and come somewhere, you hope for a good week. But there is never a guarantee. I was just hoping not to have a bad tournament in the first couple of rounds and then look back on maybe four days. It would have been really tough for me loosing on grass again for the first time and having just lost in Paris the final. It would have been a rough few days not having gotten through to the semis or finals. For this reason, I am really excited the way I played, never dropped a service game throughout the week. I think the first time in my career I achieved such a thing by winning a title. So, I couldn't be more happy. I beat quality players and also my level of play was very good. So, I'm really pleased with my performance.
Q: You look energised. Do you feel that way?
FEDERER: Yes, I feel fine. I never had problems of fatigue this week. Just had some soreness in my legs here and there from the change of surface. Suddenly the calf hurts, then the feet hurt, but then the next day it's gone. It's just a matter of getting from clay to grass. The body fells that. But other than that, I felt great, I felt like I had a spring in my step. That's also a very good sign after what I've gone through in the first part of the year.
Q: As usual you played better the important points?
FEDERER: Yes, I wish I could have again returned his first serve a bit better. But we are on grass, so you have to accept it. I just think I didn't time my forehand return that well. Maybe all week, but again today I struggled a little bit. So, I gave him quite a few easy games early on. But sometimes there is not much you can do about it. I thought he played well in the beginning. From my end, I think important was the passing shot on break point to stay in this first set. Then I guessed well in a few of his serves. I don't think he served that well anymore as the match went on. I started to get much more my teeth into his service games. This was really when I felt that I was getting the upper hand. From the baseline I was playing very smart, very well, not missing much and when I attacked, I attacked well. So, it was a good performance.
Q: Based on your first answer, did anything surprise you about how well you played this week?
FEDERER: Well I guess a little bit. You come here, you hope for a good week but you never know. Then, when you get through the whole tournament not dropping a service game and not dropping a set, it is a little bit of a surprise, especially I did two hours of practice of grass. It is possible, I've showed it as well going from grass to clay. I've done that in Gstaad one time with a half an hour practice. It is feasible but it's not perfect preparation. I know that. But it's nice to see that in tennis things like this are possible. Sometimes you can recuperate throughout the tournament. I really didn't feel that I had to because Paris wasn't that physically difficult this year.
Q: You say you have a spring in your step now. Do you feel that you needed this week to get your mind into the proper mindset for Wimbledon?
FEDERER: Well, I guess a first round loss would not have helped a whole lot. A few wins, once through to the semis is considered a good week. It's something you can look back on and say 'okay, I gave me some matches here.' If you were to lose, you take a few days off, go to Wimbledon and get ready there. But it was never a problem for me because I never lost. So, I don't have to look at it. I felt the pressure earlier on but played well all the way through. Now, I'm really happy. It's been a great week for me. It's only my second title of the year but, again, I've been in many finals recently. So, I'm definitely able to back up good matches.
Q: With 10 titles on grass you equalled Sampras today. What does it mean to you?
FEDERER: Well, I didn't know, but it's nice. Obviously the consecutive streak is more important to me than equalling a number like ten on grass. There's not many people, who have grass court titles. Tim Henman for instance never had one. But equalling the 10 titles is not so important for me now. The focus is the bigger picture and that is Wimbledon right now.
Q: Do you think you raised your level every match or do you feel you hit peak earlier than today?
FEDERER: Honestly I think I played well all the matches, except the second round match. That was difficult in terms of my opponent. He played very different tennis. It was awkward for me to play against him and I struggled earlier on. But the other four matches, honestly I felt good out there. I served well, didn't have that many unforced errors. Actually I thought I played well from the start.
Q: For the big picture: Did you keep an eye on Queens because Nadal won the first set?
FEDERER: No, I'm not up to date with that, but I saw the scores in the semis. It's nice that they also can back it up right from Paris. Especially Rafa was in the finals against me. To see him doing the same thing is great. I think it's exciting for tennis that we have two, three players at the moment, who are regularly in the finals and fans can relate to. I think it looks like they are also going to be in great shape for Wimbledon.
這張讓我想到去年溫布頓