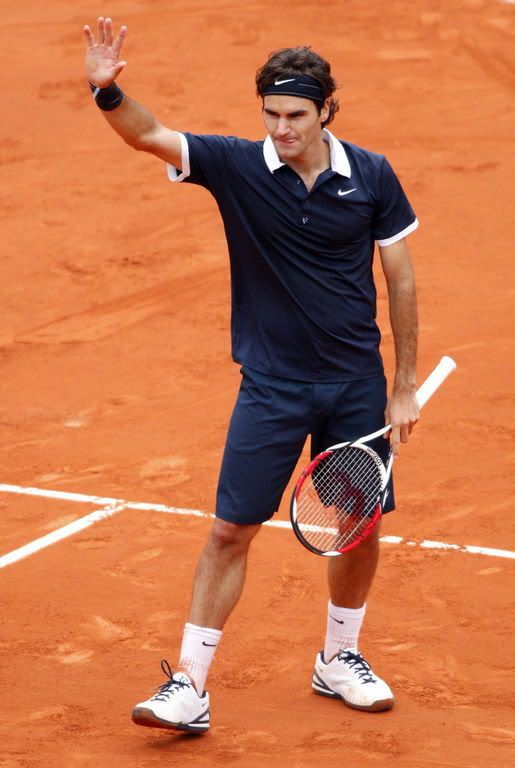 6-2、5-7、6-3、7-5
這場看得超累的 小費~ 做什麼你
本來和小殭屍ㄧ起看
可是第二盤開始整個緊張起來
我根本說不出話來啊~~~
(是說法網的礦泉水超大瓶的)
第一盤 對手先發
對手好像太緊張馬上就double fault
加上小費反拍接發回擊好球
3個破發點 小費隨即破發 我還以為出界咧ㄏㄏ
小費局 面對對手上前
小費臨危不亂2次截擊好球2-0
then 對手發球局
反拍切邊界小球drop shot
小費beautiful正拍 deuce 沒有破發2-1
到第7局時 2個破發點 deuce好幾次 終於破發5-2
後來小費發球局拿下第一盤6-2
目前感覺想要打出的球 都打得出來
狀況不錯 誰知道 這場會打到3小時多啊~~~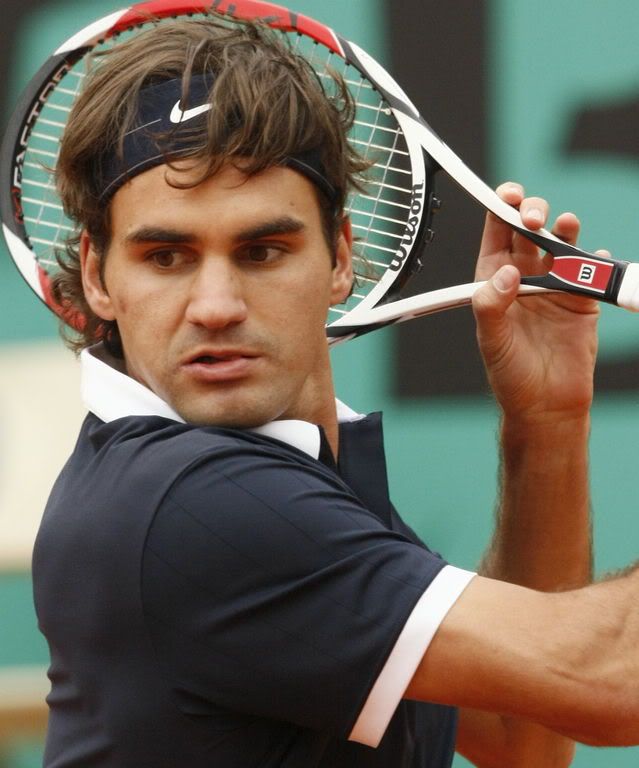 第二盤 對手先發
第3局 對手出界 1破發點
對手上網 小費反拍穿越破發2-1
但接下來小費局 ㄧ直失誤 對手正拍又攻進 被破發了2-2 ><
第6局 小費發球局
ㄧ開始就來個強力快速的正拍 好啊!!!
但後來對手幸運球+進攻穿越得分15-30
小費反拍打完 要追去救球跌倒了
還好對手球出界 40-30
對手再度出界 化解危機3-3
(隱隱感覺到小費戲癮又開始上來了= =)
後來對手氣勢出來 角度也打出來了= =
不過愛打角度 也容易出界
對手幾個好球之後 double fault 穿插2次deuce
最後是小費2次出界 沒有破發3-4
第10局 小費出界2次0-30 口||
正拍+扣殺15-30
後來小費正拍將對手帶出場外
對手救球 小費沒大意 救到場邊網前小球
對手救球滑倒 小費打向另一邊
後來deuce 小費ㄧ度危機
對手出界才化解5-5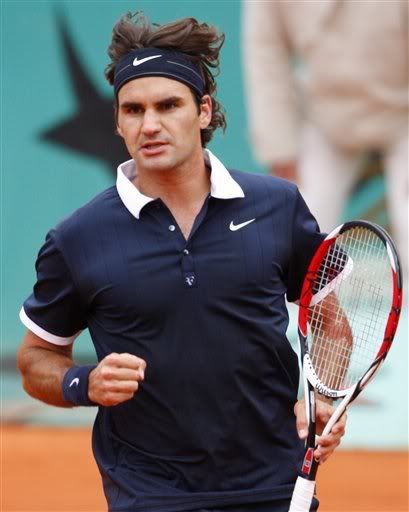 (教練也帶RF帽了XD 是小費送的嗎 哈)
對手局 本來15-40
小費靠正拍+反拍drop shot deuce
小費掛網+沒啥彈跳的正拍deuce
對手上網得分ad
小費輕輕截擊將球不彈跳的推向後場deuce
最後又是敗在小費的失誤2次 沒有破發5-6
(小費邊喝水好像邊在看大螢幕 很可愛)
第12局 deuce好幾次
小費出界被破發 5-7
第三盤 對手先發
小費又失去平衡跌倒了
休息時小費拿礦泉水洗手
我本來以為他是要倒水清洗傷口 口||
在紅土受傷應該會超痛超髒的吧
第2局 小費love game
此時統計小費在第二盤的非受迫性失誤
正拍:13
反拍:5
(正拍在打棒球啊~~~~)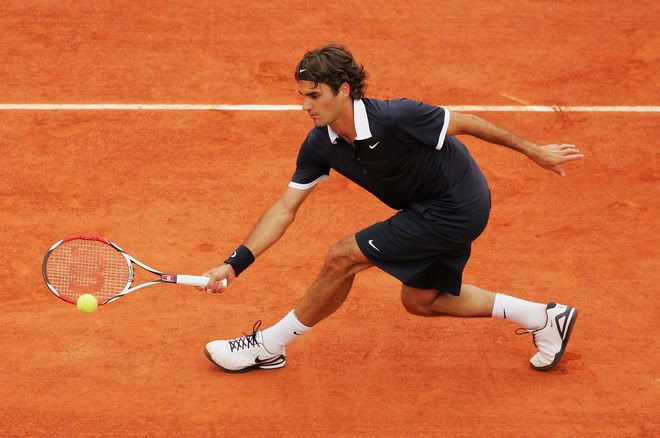 第3局 小費慢慢上網 扣殺後終於有1個破發點
對手出界 破發2-1
接下來 小費每局的保發都超辛苦的
都會到deuce
小費打出drop shot
對手救到 後來扣殺打向另一邊得分
小費發球 還好判in
小費狂用正拍打向同一地方
每次角度越來越大
對手終於無法回擊保發3-1
第5局 1破發點 對手上網 小費正拍破發4-1
第8局 2被破發點
幾次deuce後被破發5-3 口||
最後一局 對手out 1破發點 deuce
對手和小費有精采的網前小球對戰
對手出界
6-3
這個6-3是小費苦拼的結果啊~~~
看到跌倒的小費 還有坐在休息區的小費
那表情 看起來真是可憐 ><
第4盤 小費先發
小費使出drop shot 40-0
扣殺love game 1-0
第3局 小費2次俐落截擊 後來deuce
上網出界 出現被破發點 then deuce
這局最後結束在小費的截擊精采表現
還好小費反應快 我覺得是被Monfils練出來的ㄝ
真是嚇死人了 保發2-1
第4局 來回好幾次之後 小費突然drop shot
反拍從場外打進邊線 1破發點
但是對手上網得分deuce 最後沒有破發2-2
第5 小費局 雙誤+正拍失誤 2被破發點
then 保發3-2
小費 你就是要讓人家激發你的潛力是吧
第7局也是 上網掛網 2被破發點
對手出界 保發4-3
第8局有1破發點 小費失誤浪費了 4-4
接著小費局
對手太囂張 舉雙手要觀眾繼續大喊
小費扣殺 對手跑錯邊30-0
對手出界 love game 5-4
啊~~~~~~~~~` 到底什麼時候要破發啦 ="=
對手放小球 小費上來救球 對手回擊 then小費扣殺
小費突然drop shot
被拼進 現場觀眾加油聲大
小費截擊 2破發點 小費出界 1 對手發球得分deuce
小費掛網ad 小費反拍drop shot deuce
對手上網&發球得分5-5
最後一局 小費反拍
將對手帶出場 對手回擊
小費截擊扣殺至另一邊 1破發點
小費反拍截擊
終於比賽結束 7-5
主場優勢真的是超煩人的啊><
小費決賽加油啊!!!
拿出最好的狀態來喔~~~
就算是5盤大戰 我也奉陪到底
是說 小費最近是不是狂練drop shot?!
變成小費的新武器了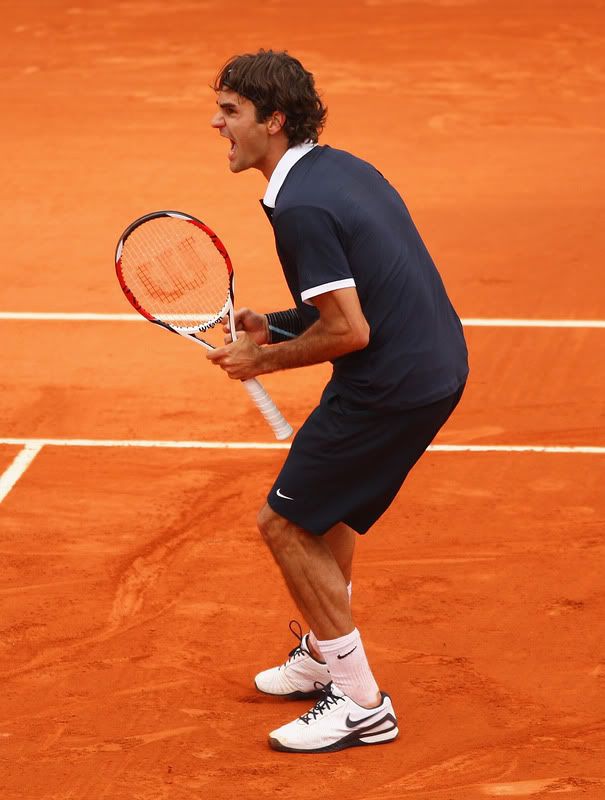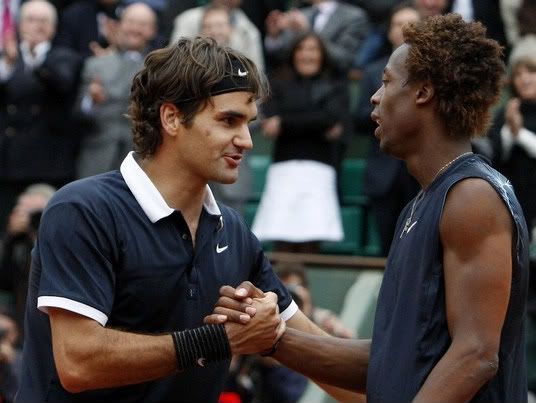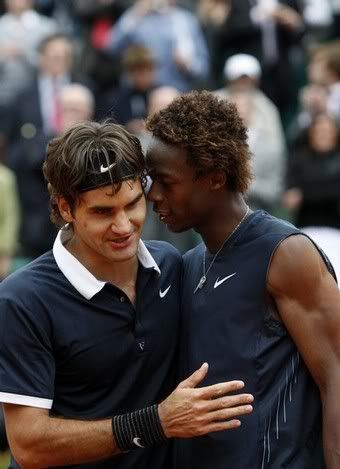 溫布頓五連霸前輩 也有來看小費比賽啊~~~
球場外的巴黎民眾~
***
這次的訪問還蠻有意思的
包括和納豆的決賽
還有納豆說的話
以及小德又再找藉口
不過小費幫他找到了更好的輸球藉口
Q. Kind of same time, same place, same opponent, same emotions getting to the French final again and playing Nadal?
ROGER FEDERER: Yeah, I mean, this is what it's all about. I mean, I've been hoping for this to happen a few weeks and months back. I'm where I want to be and I'm playing well, so, yeah, it's a big, big thrill to play Rafa again the final here.
Q. Can you have a match like that with all the variety of strokes intervening like that on any other surface, or can it be as nice on any other surface as clay?
ROGER FEDERER: Like today, you mean?
Q. Yeah. Something about the clay and the sliding and the movement that makes it maybe the most beautiful tennis when it's played well.
ROGER FEDERER: Look, I don't know. I mean, I think grass makes you come in a little bit more, you know, so you see also more many passing shots and everything. Ball stays nice and low so it's always easier to hit.
Hardcourt is something sort of in between, so clay then comes to the extreme. But I agree that if you have, you know, two good guys playing against each other, you now, that sort of match up well.
So maybe me and Gaël today I thought was exciting. It's great, how you can dig deep, get back into the point, and you have to construct the whole point from zero again.
So I agree with you. You know, it can get very entertaining, but it can also be tough on the players, you know, because some rallies never end. If there's sort of a bad match you see only errors. That's sort of the bad part about clay at times, I would say.
Q. Novak today observed that Chatrier Court is playing considerably slower than Lenglen court No. Court No. 1, and this favors Nadal. He said it was so much harder to hit winners past him today him. Do you agree that Chatrier is a slower court? And if so, do you think something should be done to make it quicker, perhaps in time for Sunday?
ROGER FEDERER: Honestly, I thought it was quicker than Lenglen, so two different players, two different opinions, you know. So, I mean, it's always hard to tell. I guess today what didn't favor Novak was the wind, as well. I think there was a wind factor, as well.
Rafa, with his margin, is always going to have an easier time in the wind, I would think. But Rafa has been tough on Chatrier, you know. Nobody has beaten him before. I guess that's more the problem than the courts he's played on.
Q. You just said that you played well. Before you, Rafa Nadal who played unbelievable well, said that his match was quite perfect, but he said also maybe to be almost perfect is not enough to beat Federer. So what do you think about yourself? Do you think you're playing almost perfect to beat Nadal, or you need to play better?
ROGER FEDERER: It's going to be a different match, you know. So, I mean, you cannot draw too much out of the matches played so far. He can take more out of the match with Djokovic than I can out of Monfils, you know. Because Rafa is a lefty, you know, that changes the whole dynamics of the match.
So we'll see how it goes, you know. I've been able to get off to good starts in the last few times I've played against Rafa, and I hope I can do the same again on Sunday. I feel I have the right tactics, I have the right game, and I have the fitness to beat him.
You know, I wanted to be in this position, you know, like I told you a long time ago. That is, Rafa again across the net. I think it's the ultimate test on clay. It would be ‑‑ it's so much better to win the French Open by beating him, as well.
It looks good for Sunday, for me anyway.
Q. French people had a lot of hopes on Monfils today. Did you play the match in your head before the game? The match, how it evolved, was it pretty much as you expected it score‑wise and game‑wise? And later, do you think that as the sun was coming down, that a fifth set maybe could not be finished in time? Was there pressure like this over you?
ROGER FEDERER: Well, first, with the weather, I didn't know. I don't know what time it is now, actually. So, no, I was never really worried it was not going to not finish. So that was never the problem. And the first part?
Q. The first part is, did you play the match in your head before? Was the game as you expected it to happen, score‑wise and game‑wise?
ROGER FEDERER: In the way the points were played, yes, this is what I expected. Gaël is not going to change overnight. I was lucky enough to have played him in Miami and Monaco, so I played him just recently, which I could see, you know, how well he was playing, actually.
I didn't have easy matches against him. He plays from really far back in the court. He has a fantastic serve and great athletic abilities, so I knew that part was going to happen.
It's exactly the way I imagined the match to go, you know. I had to be the one, you know, leading, you know, taking the chances and, you know, mix up my game, and I think I did it very well today.
Q. Especially in light of the fact that you have a new coach, how important are tactics versus just form of the day, that sort of thing? You just said, for instance, tactically you have everything. So where does the coaching or any change of tactics really fit in, if anywhere?
ROGER FEDERER: Well, look, I mean, against Rafa, obviously there is some sort of ‑‑ the way the points are being played. It's normal, you know, because of his forehand. Same with me, you know. If I serve and I come attack with my forehand, points are played in a certain way. You try to make it to go your way, and that's by, you know, choosing the right tactics.
I think maybe three years ago when I played him the first time, you know, in the semifinal here I just ‑‑ I guess I just came in and I thought I could blow him off the court. I didn't expect myself to win necessarily, but I really felt like I had the game ‑‑ you know, by just playing my style of game, you know, I could win. I was very close. I was up a break in the fourth to push it to the fifth set, you know. So it was close, after all.
So just, I think, today over all the years I've been able to improve. That gives me more variety, gives me more opportunities, and, you know, varied more with my tactics. And I think that's why in the end, when two such big guys clash against each other, comes down a lot to who's got the better day.
Yeah, because, I'm the one probably pressing again, you know. It should be entertaining to watch.
Q. When you're second on like that, how closely are you watching what goes on on the court? When you went out there and knew Rafa won and won pretty handily, how did that affect your mentality out there?
ROGER FEDERER: I thought of Gaël, actually. If he wants to win the French he's got to beat me and Rafa. I didn't necessarily think about me, but...
I enjoyed the match, you know, to be honest, to watch it. You know, it's easier when you play second, because I could enjoy the entire match watching it. If I would have played first, you know, I would have been sitting in press conference, trying to get back to the hotel, and maybe only seen one set.
So by them playing first I saw everything, and I thought Rafa played fantastic for basically the entire time, you know. He should have put him away earlier, you know, but Novak hung in there and got very close.
But I think Rafa was, yeah, was supreme on the day.
↓下面兩個問題很有趣 讓我笑了出來
Q. I know nothing is 100%, but you said in Toronto in 2004 that you didn't believe in the dropshot. (Laughter.) Have you changed your mind a little bit?
ROGER FEDERER: I guess I have a little bit, you know. No, I mean, look, it's something I always knew that was probably necessary on clay, just to have the option. It doesn't work against everybody, you know.
Because some guys play really close to the baseline. They play shots in a way you can hit a dropshot. There's other guys who play really far behind the baseline, like Gaël today. I think it's good to mix it up sometimes and have this extra option.
I've been trying to do it for the last three or four years, but it's just something that didn't come very natural to me because I always thought the dropshot was a panic shot, you know. I tried to just end the point early.
But I think this season especially I've been able to use it in a great way. Today it came in handily again, you know, to put Gaël under pressure. We'll see if I'll use it again against Rafa.
Roger 你Drop shot打得這麼好 早該用了!!!
是說 這麼久遠的東西 記者還可以翻出來 也真是不容易
記者說不定也是看著小費長大的小費迷呢XD
Q. Do you ever feel guilty now when you use it?
ROGER FEDERER: No, I feel like it's actually fun, because I'm not missing them in the bottom of the net. I just feel a little bit better about them.
Q. You had the 5‑1 in the first set in Hamburg, 5‑2 in the second set, and at the end you lost that final.
ROGER FEDERER: Against whom? Rafa? (laughter.)
Q. Yeah.
ROGER FEDERER: I played many Hamburg finals, that's why.
Q. Yeah, the last Hamburg final. The other one you won it. Did you think about that situation? Did you think about a way to avoid the repetition of such a situation against Nadal?
ROGER FEDERER: Honestly, I prefer to be up 5‑1 and lose it, but it's not going to come back every time, you know, to be pushed up against the wall like that.
He did well to hang in there, you know. Maybe a shot here and there could have changed the whole match around. It was unfortunate, you know, I couldn't at least win a little bit more, you know, and push him a little harder. But I think the match in Hamburg was tough, and hard‑fought. You know, anything could have won there.
Monaco, I think I deserved a set at least, but didn't get it. Look, I haven't thought about it. I just came from winning against Monfils. But I think it's something I just have to keep on doing what I've been doing against Rafa, you know, and then play better on the day.
Q. Do you get a sense, as the years go by and as these meetings in Paris go by, that you do have a better chance this time? As every one has gone by, you've improved your chances? Do you see a much more confident man than even perhaps last year?
ROGER FEDERER: I mean, I feel better every year. It's no joke, you know. I really do feel well. I mean, I'm fitter than ever. I mean, how you want to feel on clay, anyway.
Rafa has been, you know, sublime this tournament, you know. He hasn't had any problems whatsoever. It isn't like he's not been improving, you know, so I think it's great what's happenings in the game. We have similar guys always at the very top, and we are testing each other, you know, over and over again.
So I think it's very entertaining. Of course, I believe. I believe very strongly that this is my year. I did the hard work so far, but I think the toughest test is yet to come.
Q. To follow up Tom's question, I saw Starace hitting 12 winning dropshots against Nadal in Hamburg. I'd like to know if you're thinking that they could be effective against Nadal, too, the dropshot, I mean? And the second question is, today most people expected a more balanced first semifinal than the second one. Instead the second one, yours, was probably more balanced. There were break points for Monfils and so on. Were you surprised, too, or did you expect the other way around?
ROGER FEDERER: No, I mean, with the dropshot we'll see how sort of the points are constructed from both ends, you know. Like I said, if Rafa or me, we have length, you cannot hit a dropshot. You need the guy to hit it short to do it. But then when it is hit short, you know, the options open up. This is when you have to take the right decision at the right time. I'll make that decision on the court, and we'll make a call beforehand, you know.
Now with the matches today, I wasn't particularly surprised, you know, that Rafa beat Novak, you know, pretty handily today. I knew that ‑‑ I mean, Rafa is tough to beat here. I mean, I've had it three times in the past, but I got a set off him every time, you know. I think Novak really let his head hang a little bit for quite a while, you know, and Rafa just ripped through him.
So, for me, it was very interesting to see, you know, them play, of course. Because I thought he was much, much closer in Hamburg, where today I didn't think he had a chance, you know.
My match, honestly, I knew it was going to be always tough against Monfils. He stands far back, doesn't make many mistakes, and he's got a great serve. That puts a lot of pressure on you. If you cannot move him around enough it's always going to be hard, so I always try to press and put him on the move.
Unfortunately, I didn't win the second set after being up a set and a break. So it was tough, you know, but I think it was always me who was in control of the match. It was fun. I had a great time.
THE MODERATOR: French questions, please.
Q. One question: Rafa was very impressive in this tournament, but after his defeats in Hamburg, don't you have less pressure for this final?
ROGER FEDERER: Well, I don't think what happened before the clay season matters very much. Matches in Hamburg and Monaco were good for both of us. It was good for us to see where we stand with regards to our game. We learned positive and negative things, both of us.
For me it was rather positive even if I lost, because I have had more of a more difficult season than him so far. So for both of us it's a good clay season. He had a fantastic season on clay so far.
At this moment, at this stage, I want to focus on the final. I don't want to think back on what happened. The past is the past. Now I need to believe I can do it.
Q. At the end of this match you showed lots of emotion, so what crossed your mind?
ROGER FEDERER: Well, I had a break ball to win, but then he started serving at 220 kilometers per hour and you go into a tiebreak. Honestly, I felt relief I came through. I played extraordinary points and games to make the difference. I was just happy about my performance.
And then five seconds, ten seconds afterwards, yes, I started thinking about another final. That's where I want to be. Great satisfaction.
Q. What did you think about Gaël Monfils? Was he a surprise to you?
ROGER FEDERER: I have great respect for such a beautiful player. He started off not playing well in the first game, didn't play the first games very well. I took the lead immediately, and then I played a very good first set. I put pressure on him all the time, played very well with my forehand, just the opposite as against González.
So I hoped I would put more pressure on him during the second set, but then I was a break down. That was a bit stupid, because I made lots of mistakes and I almost gave him that game.
But then I started feeling Gaël was starting to put pressure on me, started playing better and better. At the end, I never felt I was going to lose, but at one stage in the fourth set I felt anything could happen. I had to save many break balls, and this is when you think, Well, anything can happen. This is the danger playing a player playing at home. The crowd is always supporting him. This is why I had more pressure at the end.
Q. It's not very often the entire crowd is against you. Some players like it. Hewitt said he likes it because it's quite motivating. How did you feel about it?
ROGER FEDERER: Well, this is not what I felt. I think they were very fair play. I was playing Gaël Monfils in a semifinal in Roland Garros, and I really expected the situation to be far more uncomfortable for me.
I was very happy to realize that I also had people supporting me. I knew that in key moments they would make a lot of noise, quite normal, but they were very fair play during the whole match, and it was a great pleasure for me.
I've played in far worse conditions, and it was a pleasure for me today. I also like it when the public shows their emotions, whether for him or for me.
Q. Can you say a few words about the final? Do you feel more confident than the two last years? And if so, why? Can you tell us why you feel more confident this year?
ROGER FEDERER: Well, I think Rafa is going to tell you exactly the same thing. I think I'm more confident because we both made progress over the last two years. You find new solutions to win.
Today I have ‑‑ well, I have won many matches because I have more experience and I have a greater variety of shots available, so I have a great chance. I'm very confident for this final, but I guess he is, too, so let's wait and see.
Q. Nadal said...
ROGER FEDERER: You like telling me what the other one said, eh? Okay. I'm ready. Go ahead. What did he say? (laughter.)
XD
Q. Well, he also said that the best Roger he had ever seen on clay was the Roger who played against him in Rome during the final. I wanted to ask you if you agree with that or if you felt you were better during another match?
ROGER FEDERER: I think it was a very close match from the first point to the last one. I think it was 7‑6 in the first set, 7‑6 in the last one, so it was very close. 7‑6 in the last set, it's very close, even if you have match points.
I played a very good match. I was very aggressive. I made very few mistakes on my attacks, on my volley shots, and it's in Hamburg that I managed to dominate him totally.
And then there were other matches that were very close, very ‑‑ in Monaco when we played four hours, tiebreak in the fourth set, and I was leading in the tiebreak. So I think I've played quite a few good matches against him on clay, which is his favorite surface.
So I like this challenge, playing against him on clay, and I really am in a position to win. I'm the only player who managed to win against him on clay, and I hope I'm going to do that again on Sunday.
Q. You said you had fun during the match. During the whole tournament, I thought you were very focused, but almost a bit worried sometimes.
ROGER FEDERER: What do you mean, worried? I don't know. I need to work probably more than in the past, so perhaps I'm not as present with the press and the media as I used to be.
But I'm not 19 anymore, and I'm a bit tired of answering questions. Maybe next year when I'm back I'll do a bit more. I don't know.
But over these two weeks, I wanted to leave the headlines to others, and maybe this is why you feel what you feel. But I'm fine. I play well. I'm happy.
***決賽前訪問***
Q. Bjørn Borg believes tomorrow you have a really, really good chance. He expects you to play perhaps more aggressively than in previous years, using your forehand more. I mean, what kind of strategy are you going to go into the final with?
ROGER FEDERER: No, I think it's important to have an aggressive mindset, no doubt. You know, just waiting for a mistake from Rafa, I think that's not the key, you know, to beat him.
So like I said yesterday, it's important to come up with the right plan, with the right aggressiveness, you know, knowing on which points to play use what type of play.
So that's what I'm looking forward to tomorrow, what decisions I'm going to take.
THE MODERATOR: French questions.
Q. Any thoughts for the Swiss soccer team? They're going to play in your tournament for the Euro 2008 competition.
ROGER FEDERER: I'm very excited for them, because we've been looking forward to this event for quite a long time. This is a big day, and I hope it's going to be a beautiful tournament. Because I know Switzerland can achieve something over these two weeks, and I hope it's going to be a good start.
Q. Coming back on your match of yesterday and talking about Gaël, did you expect him to play such a good level? That's my first question. The second question is: What do you think for the future? Do you think he can progress in which compartments of his game?
ROGER FEDERER: I was very much surprised to see people thought I would beat him in three easy sets. I was a bit surprised, because I knew that I was playing a player, a very fit player, playing home.
He has played beautiful matches recently, and this is not the kind of player you can defeat in three sets. Gaël is a very good player. I've always said so since the very first time I played him.
He's had quite a few physical problems, suffering cramps and injuries. I think this is something on which he has improved, and that's a big asset for him in the future.
And once you have started reaching the semifinals of a Grand Slam, this is an experience you want to live again because it's huge, and I think it's going to help him. It's going to be interesting for French tennis in the future with Monfils, Tsonga. I think France is very fortunate at the moment.
Q. It is the third opportunity for you tomorrow to win this Roland Garros trophy, which you still have not won. What makes you think you can win it this year more than the other years?
ROGER FEDERER: Well, I'm again in the final, which is not easy to reach. I have the disappointments in 2005, 2006, and 2007 when I lost, whether it's semifinal or final. I was sad because I knew I would have to wait for another year.
So far I have achieved quite a few things, and so far I've never lost in three sets, so I'm highly motivated. The last matches we played were very close, so I think this year I have many assets to win. I hope I can play my best tennis tomorrow.
Q. From a tactical standpoint, would you say that you have everything you need to defeat him, that you know all his shots, and that you can anticipate everything he can do on the court?
ROGER FEDERER: He is not the kind of guy you can expect surprises from, because he's a top player, plays very well. He can play for very long matches. I know what to expect, so it's difficult on the one hand, and it's good on the other.
We'll see. I'll need to control the match ‑‑ we'll see tomorrow, but when we play each other it's always good tennis, good matches. The more we play each other, the better we know each other.
Q. You say he's not going to surprise you, but would you say you are going to surprise him, because he knows you pretty well, as well?
ROGER FEDERER: Well, I've changed my game on clay over the last month. You know, in the past I was always trying to find a key of the match to win, and in the past I was less aggressive.
He always played in the same way, so this is why I think I can surprise him more than he can surprise me.
Q. From a strictly mental standpoint as compared to the last times when you played him, would you say that in the past he walked on the court thinking, I'm going to defeat him, but would you say this time it's 50/50?
ROGER FEDERER: Well, I think it's 50/50 because, well, he's already won Roland Garros. He has a psychological advantage like I have a psychological advantage when we play in Wimbledon, because I've achieved so many successes on grass and he achieved so many successes on clay.
I had successes on clay but I never managed to win here, so it's going to be an interesting match. I don't know if the psychological has a lot to do with it. I think what matters is our shape tomorrow.
Q. If you win tomorrow, what will you think when you've raised the trophy? What will it represent for you?
ROGER FEDERER: Well, that's all I need in my career. But then, even if I win, this is not my ‑‑ this is not the end of my career. I'll still be looking for other titles. I still have many years ahead of me if my body and my physical condition allows, because I'm still very motivated.
So it's going to be a great day for both of us. Probably more for me because I'm just facing history, we're both facing history, so it's the right timing for me.