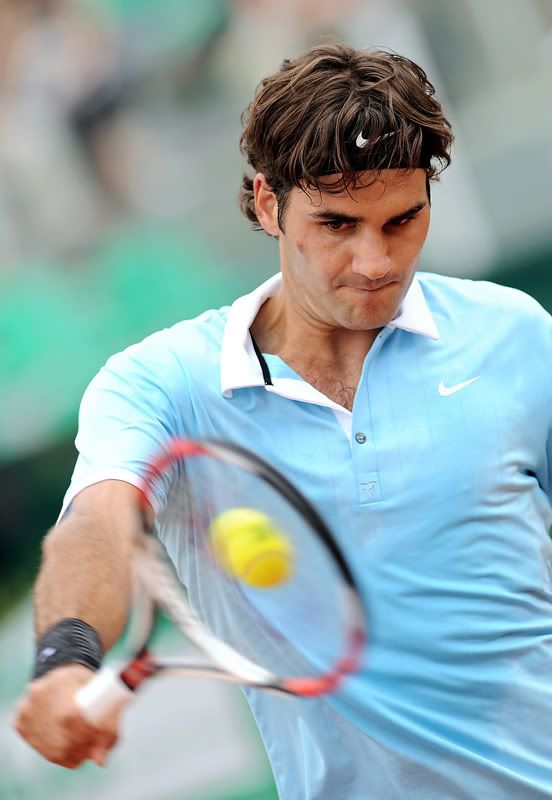 今天是去年的小費加上一點新的東西
6-3 6-3
吼 我真不知道去年小費是怎麼輸掉的
賽前 我對小費真是充滿無比的信心
心情完全輕鬆平靜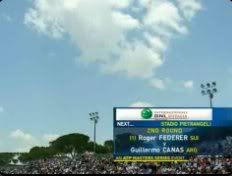 本來晴天 後來飄來ㄧ陣烏雲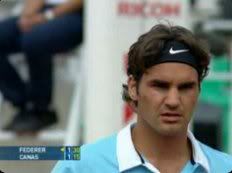 第一盤 Roger先發
馬上來個love game 乾淨俐落
Canas發球局 被逼成deuce (=口=也太快了吧?!)
不過Roger打出界 so...
沒關係 今天小費可是積極的很
而且啊 正拍都毫不猶豫的打出去
相較之下Canas看不出來有在進攻
第4局 終於出現1個破發點啦 不過咧 小費又浪費了
接下來小費局被逼成deuce 可是小費有hold住
而且啊 那種氣勢 完全是去年小費臨危不亂的霸氣啊
漂亮發球給他結束
第6局出現破發點 then Canas雙發失誤
=口=|| 成功破發4-2
小費發球局 有一球 我的媽呀 超級漂亮靠近邊界的直線backhand
then Canas發球局 2個破發點沒能拿下比賽
小費在自己的發球局 第一發來個超大外角的ace
then love game 已ace結束
6-3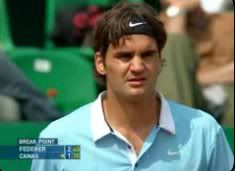 看到這 超級滿意小費的表現啊~~~
除了去年那種變化多端的球路外
今天的小費跟對方來回擊球的次數變多 又很穩
ㄧ發得分率93%
是說球童也穿得太漂亮了吧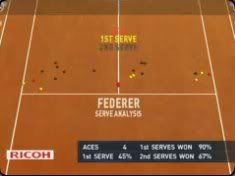 第二盤 canas先發
第一局小費來個從場外打進來的great forehand
then 小費發球局love game
後來呢 小費失誤明顯有點多= =
ㄧ直到第6局小費出現被破發點啦~~~~~
但是deuce 2次之後 終於保住發球局
最後一球球評還說:just make that shot so easy
呼 我都捏把冷汗
還好小費穩穩的保住
我看來啊 那一點都不easy啊~~~~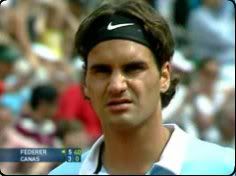 第七局是神奇的一局
ㄧ般我們看到15-40的時候啊
就會覺得沒望 then下一局吧
可是咧 Roger啊 你真是厲害
he's coming back
30-40
40-40
a-40
好幾次來回 小費截擊小球 後來被Canas回擊
小費被調到後場回擊 Canas打出界 這才結束成功破發4-3
連球評都開始讚嘆:that was a joy to watch the game
第9局 Canas不知道在幹嘛 小費馬上就40-0了 3個破發點
後來第二個破發點拿下比賽
6-3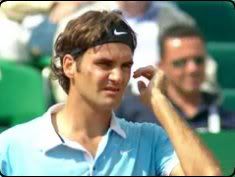 今天有8個ace
1發得分率後來被第二盤(60%)拉下來變成76%
今天的Mirka 是在拍小費的帥照嗎?!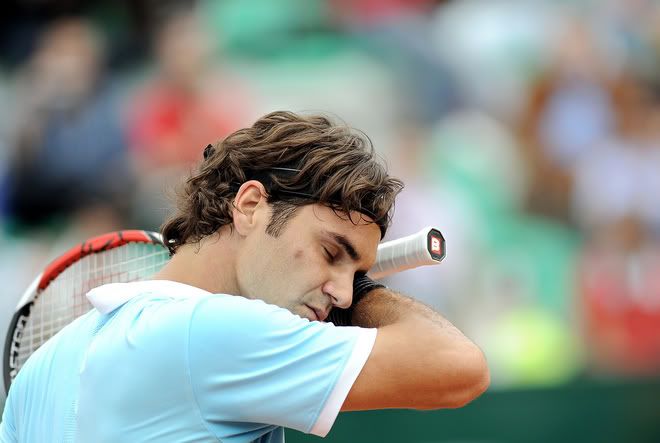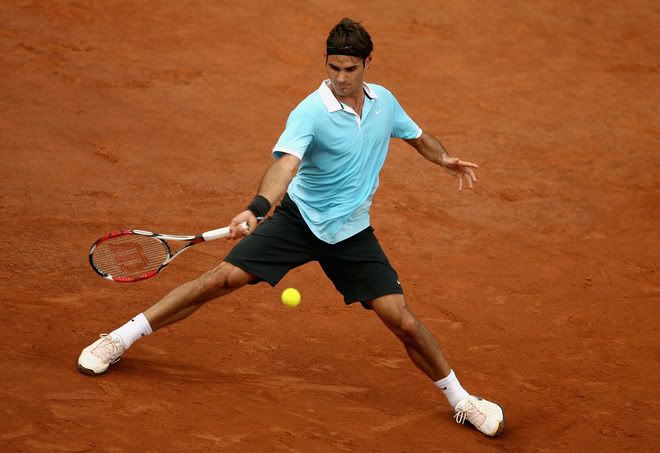 06/05/2008 17:47
ROGER FEDERER POST MATCH INTERVIEW
Roger Federer post match press conference after his win versus Guillermo Canas
Q. It's must be as solid a start as you could have hoped for.
ROGER FEDERER: Yeah, I mean, the draw was tough. You know, it was Guillermo in the first round. We've had some tough ones in the past so I knew it was going to go difficult. I think I played a tough match today. I played well. I felt like I was in the groove right away again from Monaco. I think the week off did me well, but I practiced hard as well. So things are good and I'm very happy with the result.
Q. The fact that you lost twice with him on hard court and you beat him on clay means you are a better player on this surface than him, or what?
ROGER FEDERER: Look, I mean, I guess he grew up on clay like I did. Who knows. Different times, you know, different results. I played him indoors and beat him quite easily in Madrid last year, and here I beat him again on clay. But Miami was as close as it could get. Indian Wells I think he quite surprised me the way he played. So this was a good match to start off the Rome campaign, and I hope I can move on from here.
Q. Do you feel like the keys to winning on clay are different for you or the same as hard court and grass?
ROGER FEDERER: No. I mean, you have to adjust to each surface. To me, every surface, thank God, comes very naturally, which is I think a big advantage in my game. I feel that when I play there is never this feeling of feeling completely not right, you know? I feel always good any surface I play on will, and on clay you are just got to be more patient than the other courts. Where maybe one big shot can end the point, that's not the case on clay. You got to be able to sort of build something up one shot at a time, and I quite like that play as well. I like the sliding, and always have on clay. So it's an interesting surface for me. So it's almost easier to attack and play aggressive than on hard because the ball shoots through the surface so much on a quicker court.
Q. I think I never remember to see you do as many drop shots. Is that an inspiration?
ROGER FEDERER: A little inspiration. You know, my Davis Cup captain, Severin, watched the match yesterday and he saw that it worked very well against him because he stands really far back. We all know that. That's no secret he plays far from behind the court. I tried one and it worked and I tried two, so I said, okay, I'll do a few more, and it worked even better. It's something you go with the momentum. Not every player gives you the opportunity to do it, but he definitely did. I think it was the right plan, because I won all the points except one.
Q. You said that you build it one shot at a time on clay, but it seems like do you think you are thinking more and going forward when you're on clay?
ROGER FEDERER: Because the ball is slower it's almost easier to attack. I could play hard court tennis on clay, but I think you have to take the best of clay, what it gives you with the defense, with the time. But then you have to also be patient and use the dropshots at times when it's a good moment. You just have to pick your spots much better on clay than on any other surface. It's maybe the surface, you know, you get away with most without a serve and without volleys really, because you can set up so much from the baseline with big shots. You can put your opponent in such unbelievable positions so in the end he'll miss and you'll have an easy put away volley. It's still very tactical and very physical, which is nice.
Q. Throughout years, do you like the game on clay better or less?
ROGER FEDERER: I guess more, because I mean, I enjoyed it in juniors. In juniors there's really sort of no real difference except grass. Grass just so unique. You get the first time on grass and you're thinking, Wow, this is quite a surface. On hard court and clay it's sort of what you grow up on and you feel comfortable on it. Then I came on tour I lost I think my first 11 or 12 matches on clay. I got many wild cards, which was nice, but it gave me a bad losing streak. Played Rafter in Paris, Medvedev in Rome, Spadea in Monaco. Not easy matches, you know. And then I had some tough Davis Cup losses in Belgium, so all of a sudden you're on a losing streak on clay court. I just felt like it was a hard surface for me to manage the beginning on the men's tour. Once I get into it I really love it, and I enjoyed playing on clay today.
Q. When you had this illness and all the difficulties in the beginning of the year, how did you think before coming to clay you would start a new surface?
ROGER FEDERER: I think it's a new start for everyone. You know, it's a different sort of a tour. Everything is in Europe now and everything's different and everyone is adjusting. Some don't come over until Rome, and some don't even play the whole clay court season. Some even go to South America and play. For me, I think there was three different little parts of the season already: Up until Indian Wells I started to feel better again; up until Miami everything was just see how I felt. I was feeling better, but then the clay court season came along and, again, is the big change. It was the right choice for me to go and play Estoril and, you know, give myself a chance to play matches. I think I was lacking matches at one stage when I lost in the first round of Dubai. Now I'm again back in my stride and feel like I'm playing well and nothing ever happened. It was a tough couple of months early on.
Q. When you you're playing people like Ca鎙s, do you ever envisage Rafa on the other side of the net?
ROGER FEDERER: Not really. It would have to be a lefty to feel that way. You cannot play a righty the way you would play Rafa, because it's just too different. The way he plays and the way the ball comes, you know.If I would play a lefty I would see very much Rafa in somebody's game, but not today.
2R Highlights PT1
2R Highlights PT2
Interview