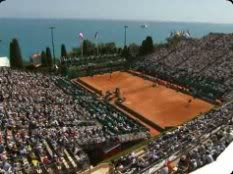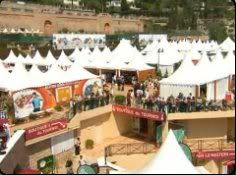 6-3 6-4
看比賽結果好像沒什麼
但其實Roger可是打得很辛苦的
第一盤Roger先發
第3局因為失誤太多 一直出界
所以被破了發球局
不過隨即得到機會 對手double fault
Roger 成功破發
後來的發球局Roger都保得很辛苦
直到第8局又破發
第9局拿下第一盤6-3
到此刻都還是0個ace 而對方都有3個了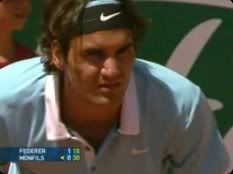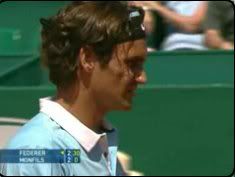 第二盤是對手先發
Roger終於開始有love game出現(2, 4)
第7局浪費3個破發機會
隨後自己的發球局 又差點出現破發點
最後Roger在自己的發球局拿下比賽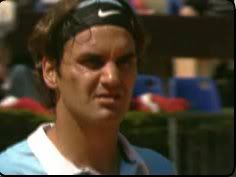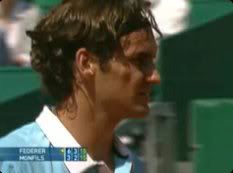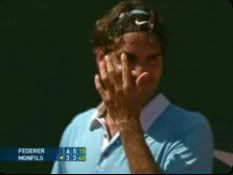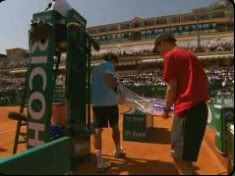 真的是吼~~~
以前面對非前10種子的選手
自己保發球局 都不會這麼辛苦
速度又很快
如果今天這場 不是對手失誤跟Roger差不多
我想Roger也是超級危險的
到比賽結束一個ace都沒有口||
對手還有7個
幸好你還沒有double fault
對手有4個
其中1~2個在關鍵時刻
等於是送給你了
不過第二盤回擊球 你有挺得住
至少大部分是對方比你早先出界了
Roger在紅土 都很常待在底線
就算上網 不是對手自己打掛
就是Roger失敗 冏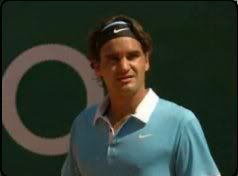 My God
納豆超強的
之前還送人家貝果
擊球穩定性又很好
真是紅土怪物
Roger加加油啊
你現在的功力
還差納豆一大截ㄝ
現在 我每天都要跟老天爺幫你祈禱了
繼納豆賞Ancic貝果之後
小德也有樣學樣賞給了Murray
人家也想看Roger賞對手貝果 = =||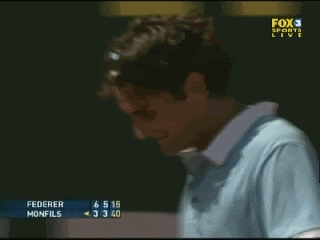 這個是第二盤的時候 對手又很威猛的攻擊 Roger馬上採取行動 直接讓開 讓那個球出界
觀眾開始笑了Roger也笑了 對手開玩笑說:what was that
photo from RF.com - Mark
相同情況的照片
最喜歡看Roger在球場上笑了 稍微放鬆一下也是好的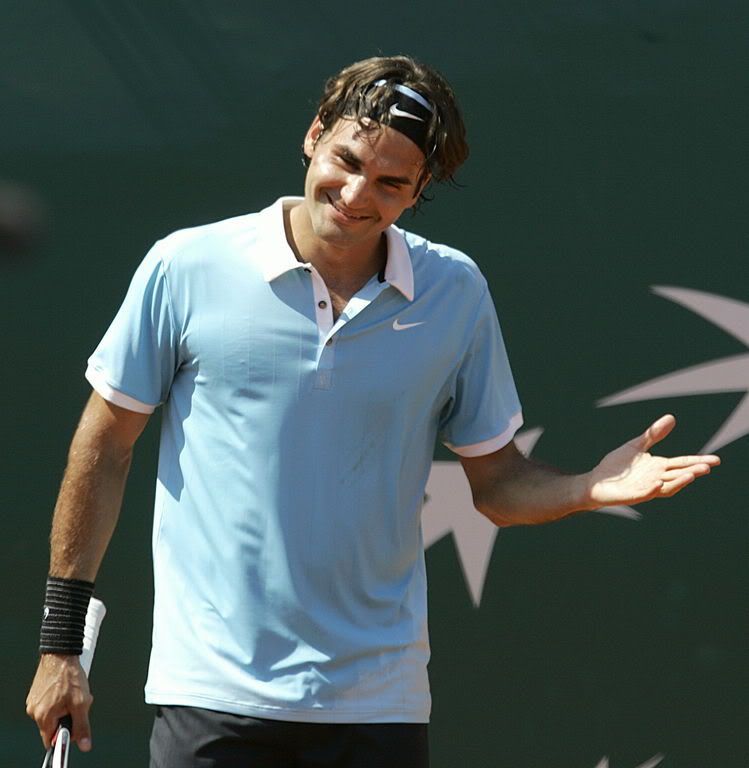 3R Highlights PT1
3R Highlights PT2
Interview
Roger Federer
MONTE CARLO, MONACO
R. FEDERER/G. Monfils
6-3, 6-4
THE MODERATOR: Questions, please.
Q. Did that feel a bit better today? More comfortable?
ROGER FEDERER: Yeah, I think it definitely was a good, tough match from my side. Yeah, I mean, I think Gaël is a good player. You know, up-and-coming. Unfortunately he had some injuries.
I think he always sort of makes you, you know -- he gives you a chance to play aggressive because he doesn't like to do the game himself. It allows you to potentially make a lot of mistakes.
So I was patient enough. My forehand worked well today. And I was just happy, after yesterday, playing so well.
Q. Do you think in some ways now that yesterday might actually have helped you a little bit, just to have that much time on court, to work through some stuff?
ROGER FEDERER: I don't know if it's necessary for clay. I just think here getting used to the conditions here in Monte-Carlo, maybe yes. But other than that, on a different day you play in a different way, a different opponent. So many things change, you know.
I definitely made some errors yesterday which I shouldn't have. You know, but today was fine again. It's good I reacted so well after yesterday's tough match.
Q. Did it play on your mind at all overnight, the way you played yesterday?
ROGER FEDERER: No, not really. Just right after, you know, I was sort of, you know, relieved, you know, I got through. And then important I think was to analyze what happened, you know, yesterday, just sort of the good things, the bad things, the end, why could I turn around the match, you know. Sort of stuff like this, it was important to go through that with Severin and Jose.
Yeah, we created a plan for today and it worked fine. It was an interesting 24 hours for me.
Q. Do you think that's a different kind of plan than you might have created when you were basically on your own?
ROGER FEDERER: No, it gives me a chance to speak to somebody, whereas maybe in the past I would only go through it myself in my own brain, you know, which is obviously most important, that I feel comfortable with the approaches to each and every match.
I guess you can, you know, just ask questions that they saw the same way. Yeah, we had similar views, which is a good thing.
Q. How do you see yourself now?
ROGER FEDERER: My serve?
Q. Yourself.
ROGER FEDERER: Oh, myself (smiling).
Q. Do you feel honestly better, more confident every day?
ROGER FEDERER: Just feel normal again, you know. Playing every day, you know. One month, no match. I knew that was my plan, you know, in the beginning of the season. But on top of that, with the sickness, it made it that much more difficult to come back and feel normal again.
Indian Wells, Miami is a tricky season. There's a lot of spare time. There's a lot of talk going on, you know, always. Almost not enough match es for the long time you're in America. For this reason, this is a good period for me now where I can play a lot of matches. When I lose, can I go home, practice on my game again. So it's just easier to hide a little bit.
I feel fine again. You know, I'm playing enough. This is a normal rhythm again, and I think that was key for me, you know, getting enough matches. I've played seven matches on clay. I've won seven. So, you know, I'm just really happy the way things have gone.
THE MODERATOR: Questions in French.
Q. How did you think he played today compared with the previous match against him in Miami? Did he improve?
ROGER FEDERER: He's a very good player. This hasn't changed since the first time I played him in Doha. I was impressed by his game, by the way he moves, and by his athleticism. I don't know how long he stayed off the courts, but it was a while, and still his game is moving forward.
He is making a good comeback. The match today was similar to the one in Miami. I was trying to dictate the game. But, of course, he was more aggressive in Miami, which is normal on hardcourts.
It is amazing how from the baseline he can read all the shots. I made no aces - Karlovic either. He has an excellent reach. I had to play well, otherwise it wouldn't have been enough against him.